Disclosure of Material Connection: Some of the links in this post may be "affiliate links." This means if you click on the link and purchase an item, I will receive an affiliate commission. Disclosure in accordance with the Federal Trade Commission's 16 CFR, Part 255. This site is a participant in the Amazon Services LLC Associates Program, an affiliate advertising program designed to provide a means for sites to earn advertising fees by advertising and linking to Amazon.
Just because you're all grown up doesn't mean you have to end your love affair with space. These gifts are definitely out of this world for any astronomy lover in your life, and they aren't astronomically expensive, either!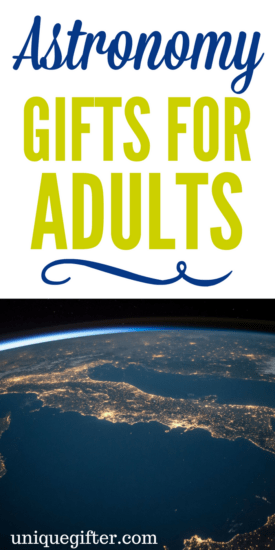 Astronomy Gifts for Adults
NightWatch Book
This book is exactly what any aspiring astronomer needs: a practical guide to viewing the universe. It's full of charts ideal for backyard astronomers using small telescopes or binoculars.
Kinetic Galaxy
A great desk toy, this kinetic galaxy is perfect for distracting an astronomer at work. Or, if they prefer, it also makes a great display piece.
Planetary Necklace
Double sided, this necklace has a detailed image and different sized circle representing 7 planets in the solar system.
Constellation Coasters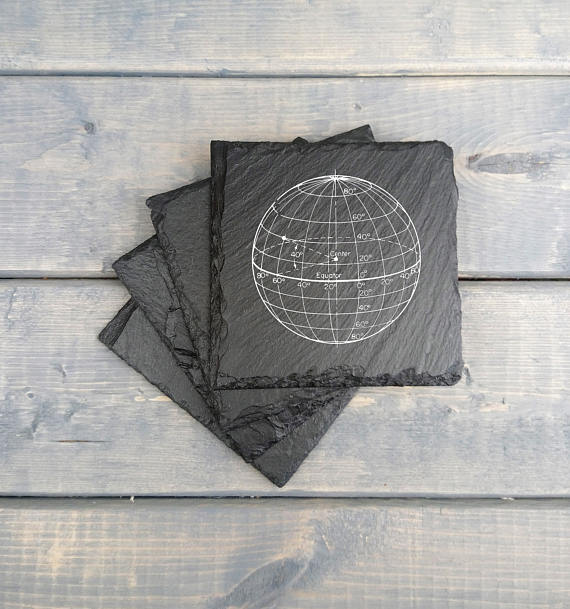 Sophisticated and modern, these coasters are etched with four of the most popular constellations.
Planet Plate Set
What's more fun than eating off a planet? This set has all 8 planets in our solar system, perfect for the next astronomy-themed party at this gift recipient's home. If you're wondering yes, there are matching bowls out there.
Astronomy Magazine Subscription
Magazine subscriptions make great presents because they're the gift that just keeps on giving all year long.
Pluto Shirt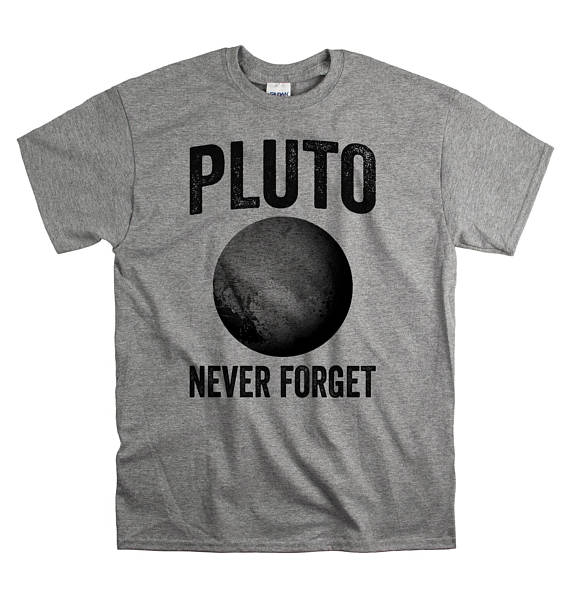 We all have one friend who just can't accept Pluto's loss of planetary status. Help them show their Pluto pride with this shirt.
Solar System Art Print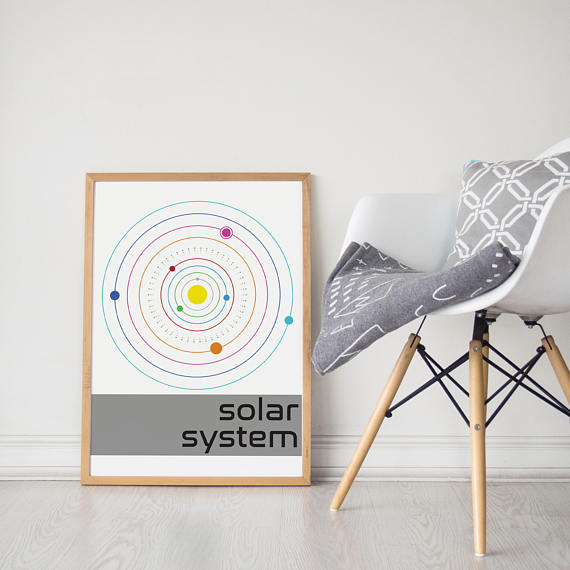 Not going to lie, this one's on my personal wishlist. Great colours and minimalist design make this a perfect choice to gift.
This Year in Space
Fill their year with space facts and vibrant pictures by giving this unique calendar. Both practical and astronomy-cal.
Flying Cat Sweatshirt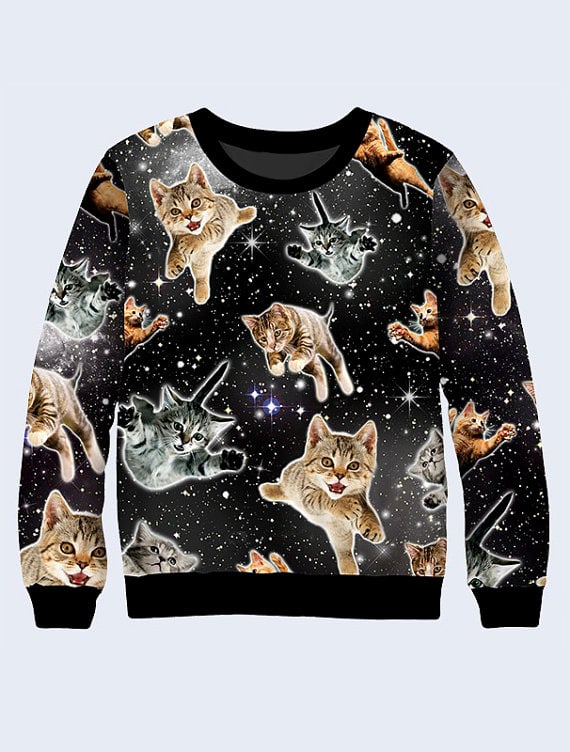 Cats flying through space: what's not to like?
Constellations Game
Give them something new to play with this astronomy themed card game. It's full of nerdy sciency goodness.
Scarf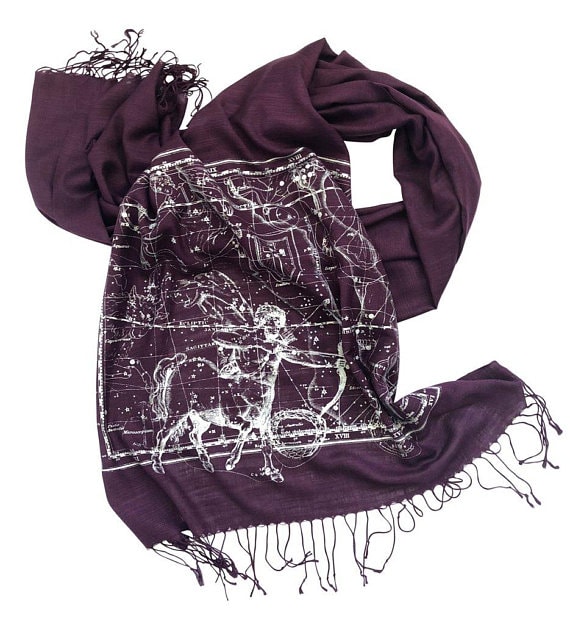 This handmade scarf is made from constellation-covered fabric to keep your astronomer friend warm on cold nights.
Guide to the Stars
Having done astronomy in university I can personally attest to the convenience of having one of these things around for stargazing.
Colour Changing Mug
Add hot water to this starry night mug and watch constellations appear like magic! Ok, not magic, science, but still.
Space Socks
These socks have all your favourite planets (Pluto is still not a planet) pictured on them, for maximum astronomy goodness and toe warmness.
Made of Star Stuff Bracelet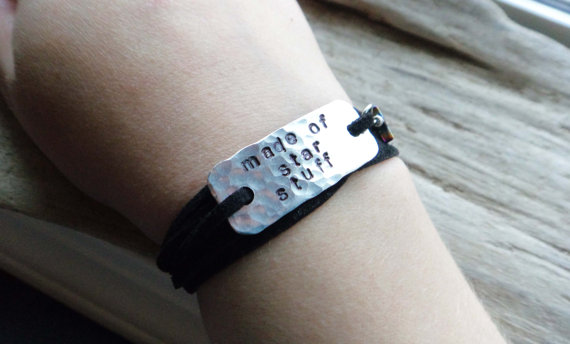 What are we made of, exactly? Seriously, it's actually star stuff.
Saturn Cross Stitch Pattern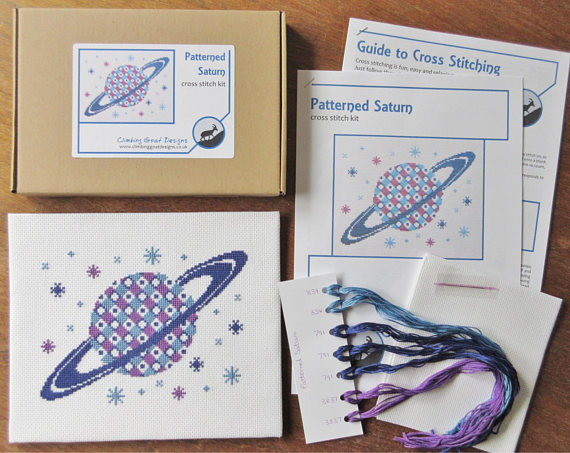 This is a great gift for a crafter, even a beginner. Give them a gift that they can use, rather than have; this kit contains everything they need to cross stitch their own Saturn.
Astronomy Bow Tie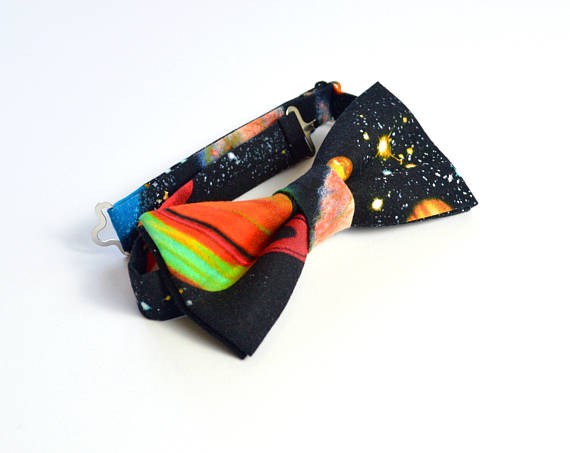 Bow ties are cool right now, and this one is the coolest by far. Perfect for the mutual lovers of astronomy and bow ties.
Adult Coloring Book
Ever wanted to color planets and space-related items your own way? Now you can! This adult coloring book features photos taken by NASA.
If You Want me to Listen Shirt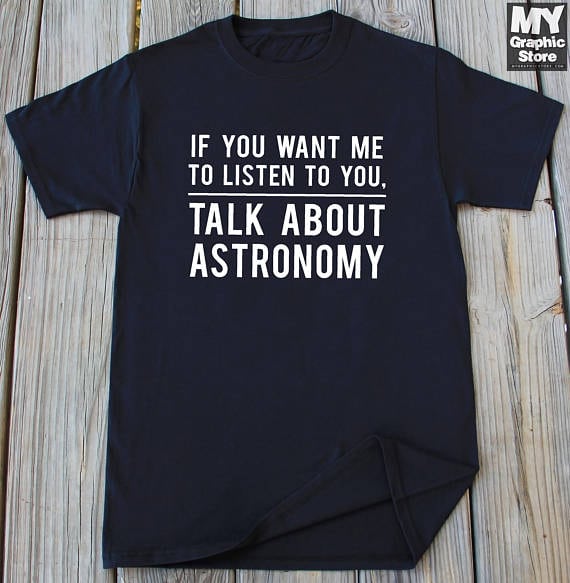 This shirt is harsh and to the point. If your friend or relative is really into astronomy, this might just be the most perfect gift there is.
Even way down here on Earth the astronomy enthusiast who receives one of these gifts will definitely be over the moon.