Disclosure of Material Connection: Some of the links in this post may be "affiliate links." This means if you click on the link and purchase an item, I will receive an affiliate commission. Disclosure in accordance with the Federal Trade Commission's 16 CFR, Part 255. This site is a participant in the Amazon Services LLC Associates Program, an affiliate advertising program designed to provide a means for sites to earn advertising fees by advertising and linking to Amazon.
What should you get your wife for Mother's Day? It is a lot of work to be responsible for the kids gifts, as well as your own, for her. Take a look at this list of gift ideas for your wife to take the stress out of it. There are so many good ones to choose from!
Mother's Day Gift Ideas for my Wife
"Wife, mom, boss" Shirt
Your wife handles everything: taking care of her family, the house, and more. Show her that you notice how much she does with a shirt that mentions what a "boss" she is!
"Raising little humans like it's my job" Coffee Mug
Raising the kids is one of her biggest jobs! While true, she is likely to get a chuckle out of this coffee mug as well.
Pink Stud Earrings
Imagine how beautiful she will look in these pink stud earrings!
Coffee Lovers Soap and Lotion Gift Set
If she loves coffee, then she will love receiving this coffee lovers soap and lotion gift set for Mother's Day.
Feather Clutch Bag
A feather clutch bag is perfect to carry her makeup, change, or whatever she needs as she runs errands or goes to work.
"Amazing wife, mother, & woman of God" Coffee Mug
If you are a Christian family, then this coffee mug will soon become her favorite to drink from. She is an amazing wife and mother, but most importantly a woman of God.
14K Solid Gold Heartbeat Bracelet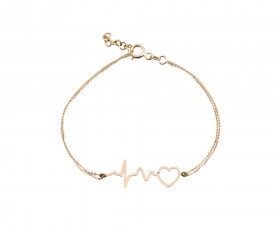 Most women absolutely love receiving jewelry, and this heartbeat bracelet is so beautiful! Make sure you take her somewhere fancy not long after you give this to her, so she has a great chance to wear it and show it off.
"Snack makin', boo boo kissin', booger wipin', wine drinkin' mama" Shirt
All the things a mom does throughout the day: makes snacks, kisses boo boos, wipes boogers (and more), and then finishes the day with a glass of wine to unwind.
"Mom, a title just above Queen" Decorative Tile with Stand
Moms are higher on the royalty chain than a queen. Remind her how magnificent she is with this decorative tile for Mother's Day.
"My kind of crazy" Handwriting Dog Tag Necklace
Buy Now
Let's face it, your wife may be a little "crazy." It's hard juggling all the things she juggles and she may lose it sometimes. She needs to know you still love her, and adore her craziness.
"My heart picked you" Guitar Pick
Remind her that she has your whole heart with this guitar pick. It could be a keepsake she keeps safe in her jewelry box, or maybe she plays guitar already.
Proverbs 31:25 A Virtuous Woman Quote Wall Decor
A piece of wall decor to remind her that she is strong and dignified, that you and God will take care of her.
"Hey there, gorgeous" Rustic Pallet Sign
She is beautiful. Sometimes she may not feel like it though. She needs this statement in her life, so make sure she puts it somewhere she will see all the time to continue to remind her of how gorgeous she is… both as a mom, and as a woman.
Custom "Mrs. _____" Ring Dish
If she wears a lot of rings, she definitely needs somewhere to put them. A ring dish with her name on it is a brilliant place!
Holistic Bath & Body Gift Set
A holistic bath and body set will ease her mind and her body at the same time, and make sure to give her the time to pamper herself in peace.
"I workout. Just kidding, I chase twins." Coffee Mug
As a mother of twins, her workout is chasing after them. What one won't think of, the other will, so she has to stay on her toes with them.
Personalized Mother's Birthstone Necklace
She can keep your kiddos close to her heart with their birthstones on this personalized mother's necklace.
"You'll be his first kiss, his first love, his first friend" Picture Frame</h3?

For the mom of your little boy, remind her that she will forever hold a special place in her son's heart, no matter how old he is.
"Mom juice" Stainless Steel Wine Tumbler
Wine is definitely mom juice. Drinking wine will be even more fun out of this stainless steel wine tumbler.
"I love you to the moon and back" Lighted Wine Bottle
Beautiful lighted wine bottle with an adorable quote on it will be the highlight of her decorations after she opens it and places it exactly where she wants it. Plus it will constantly remind her that you and your kids love her unconditionally.
Mother's Day gift shopping doesn't have to be difficult. Starting out, it seems overwhelming, but as you can see, this gift list makes things so simple and still very meaningful!