Disclosure of Material Connection: Some of the links in this post may be "affiliate links." This means if you click on the link and purchase an item, I will receive an affiliate commission. Disclosure in accordance with the Federal Trade Commission's 16 CFR, Part 255. This site is a participant in the Amazon Services LLC Associates Program, an affiliate advertising program designed to provide a means for sites to earn advertising fees by advertising and linking to Amazon.
I don't know about you, but when I think of porcupines, I don't necessarily think of the most pleasant animal. For one, they have sharp quills that don't make them all warm and fuzzy. For another, those quills could pierce your skin super fast. They are admirable and their built-in security system certainly keeps them safe to a certain extent though. If you have a friend or loved one who loves these animals with built-in security systems, they might appreciate one of the following gifts: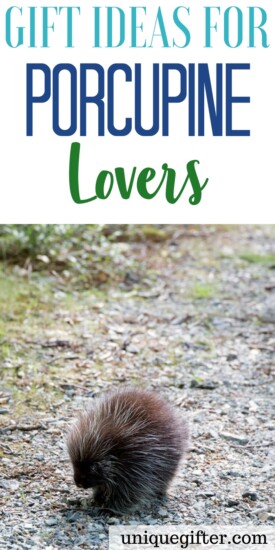 Looking for a gift for a different animal fan? We have an A to Z guide of every animal under the sun.
Gift Ideas for Porcupine Lovers
"Get to the point" Porcupine Shirt
Get to the point, because porcupines have points all over their quills. So clever!
Porcupine Pencil Holder
If they do quite a bit of writing, they need this porcupine pencil holder to keep all their pens, pencils, highlighters, and more in, but still keep them within easy reach!
"Don't be a prick" Porcupine and Cactus Coffee Mug
Help them remind others to not be rude or mean, with their "don't be a prick" porcupine and cactus coffee mug for their morning coffee.
Porcupine and Hedgehog Stickers
Porcupine and hedgehog stickers are great for arts and crafts, planners, decorating, or whatever their heart desires.
Stuffed Percy Porcupine
This stuffed Percy Porcupine will keep them company on the loneliest of days!
Porcupine Key Holder
Everyone needs a place to hold or hang their keys, why not be a porcupine?
"Porcupine Whisperer" Shirt
They have a way with words, with both porcupines and people!
Porcupine Embroidered Hat
This porcupine embroidered hat will keep the sun out of their eyes and show off their love of porcupines at the same time.
Wooden Porcupine Coasters, Set of 4
Help them keep their tables safe from water rings with a set of four wooden porcupine drink coasters!
"I just want a hug" Porcupine Burlap Pillow
The porcupine lover in your life just wants a hug, but are they rough around the edges? Give them this porcupine burlap pillow to help ease the pain.
"Read to me" Porcupine Onesie
Every baby deserves to be read to, especially the offspring of your favorite porcupine lover!
Porcupine Quill Earrings
These porcupine quill earrings will be the talk of the ball, or the town, wherever the porcupine lover decides to wear them.
Metal "I love porcupines" Sign
They can hang the metal "I love porcupines" sign up any place they please, and it will look good and be a point of conversation!
Porcupine Herb and Spice Grinder
For the porcupine lover who enjoys grinding up their own herbs and spices, they will be overjoyed to welcome this porcupine grinder into their kitchen tool collection!
Hugs from Pearl by Paul Schmid
Perfect gift alone, or paired with the baby onesie listed above, this Hugs from Pearl would make a nice addition to the book collection of the child of the porcupine lover in your life, to pass the love onto them.
Wooden Porcupine Wall Hanging
Another piece of decor that will look great wherever the porcupine lover decides to put it on display!
Porcupine Coffee Mug
Drinking their morning coffee will not have ever been so fun as when they get to drink it from a porcupine mug!
"Got Porcupine?" Stainless Steel Water Bottle
A play on the got milk? campaigns that have been so popular over the years, is this "Got porcupine?" phrase on a stainless steel water bottle, making it more fun to drink water and stay hydrated.
Porcupine iPhone 7 Case
Help them keep their phone protected and safe from cracks, while celebrating their love of porcupines, with a porcupine iPhone 7 case.
Porcuwine Porcupine Wine Glass
Wine will taste even better as they drink it from this "Porcuwine" wine glass!
Porcupines are fun animals, and I especially love that porcuwine wine glass, but there are so many other gifts to choose from that you are likely to find the perfect gift for that special person in your life.