Disclosure of Material Connection: Some of the links in this post may be "affiliate links." This means if you click on the link and purchase an item, I will receive an affiliate commission. Disclosure in accordance with the Federal Trade Commission's 16 CFR, Part 255. This site is a participant in the Amazon Services LLC Associates Program, an affiliate advertising program designed to provide a means for sites to earn advertising fees by advertising and linking to Amazon.
Mom works way too hard but never seems to get the time, or refuses to carve it out, to relax and take care of herself. Do some of her chores, take care of her responsibilities, and force mom into some R&R on Mother's Day with these relaxing gifts.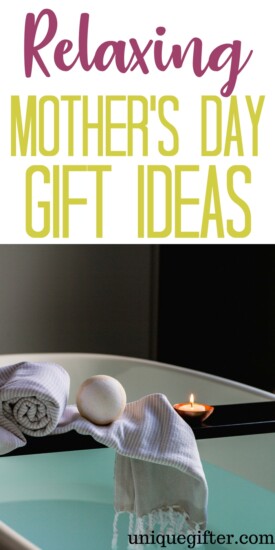 Relaxing Mother's Day Gifts
Dead Sea Salts Gift Basket
Treat mom to an at-home spa day with all these relaxation goodies. The best part is it's all wrapped and ready to give.
Slippers
Even if it's not that cold outside slippers are a great addition to a relaxing spring morning or to throw on for chilly evenings sitting on the porch.
Water Drawing Board
Art is one of the best ways to relax. Treat mom to something unique with this water drawing board that she can use again and again.
Bathtub Tray
Make bath time even more relaxing for mom. Now she has somewhere to conveniently place her book and glass of wine.
Box of Sunshine
Far away from mom on Mother's Day? Send her a relaxing care package in the mail!
Monogrammed Robe
If your mom really isn't the type to pamper herself on Mother's Day you can opt for something more practical instead. This monogrammed robe will be hers to share with no one.
Relaxing Coloring Books
This is a great way for mom to unwind after a long day. There's coloring books out now for absolutely everything so get something mom will enjoy.
Herbal Tea Gift Set
The perfect gift for mom, mother in law, or even grandma! Pick whatever tea mom likes best for an inexpensive gift that still "wows".
Shoulder Massage Pad
It may not be right that no one gives mom a shoulder massage but that doesn't mean she can't relax when you're not around to help.
Salt Lamp
The glow of these salt lamps is supposed to have relaxing properties. It also creates spa-like ambiance in the room.
Aromatherapy Roll On
Something for mom to keep in her purse; this roll-on aromatherapy stick will help her relax during her otherwise stressful day.
Eye Mask
This cute mask will help mom rest her tired eyes. It can be used hot or cold.
Stress Relief Diffuser
The scents in this aromatherapy diffuser will help mom relax. It's a perfect addition to a spa bathroom or just to be used around the house for a relaxing atmosphere.
Bath Cushion
Have you ever tried laying down in the bathtub? Not comfy. Mom deserves comfy.
Relaxing Art Print
This modern art print will remind mom to relax and just breathe when she's feeling stressed.
Foot Massager
These sandals have acupressure points so that mom can get a foot massage while she walk!
Unique Gift Basket
Instead of something traditional and boring opt to give mom this more edgy gift basket for Mother's Day. It's still packed full of relaxing goodies.
Dimming Lamp and Speaker
Instead of a bright lamp this night light gives the room a more relaxing glow. Plus it has a bluetooth speaker so mom can listen to her favourite relaxation playlist.
Weighted Blanket
If you haven't tried a weighted blanket you don't understand how beneficial they really can be. A great way to get a restful sleep or even just to lay down and relax.
Spa Gift Card
https://www.amazon.com/Spafinder-Gift-Card-100/dp/B077CZY68Z
Come on, what's more relaxing that a trip to the spa? Give your mom a gift certificate and book the appointment so she has no choice but to go.
Don't just think of mom one day a year, help her out so she can relax more often!