Why are people already talking about Halloween?? On Monday, I went on a bit of a trip with a friend and he asked me if I had picked out a Halloween costume yet, saying "there's only two months left, ya know." To which I responded, "I'm lucky if I know what I'm doing the morning of!" Then, later that day, Bridget from Money After Graduation was asking about Halloween costumes on twitter! What has the world come to?? Celebrations of the return of some specific latte flavors at Starbucks I can at least understand!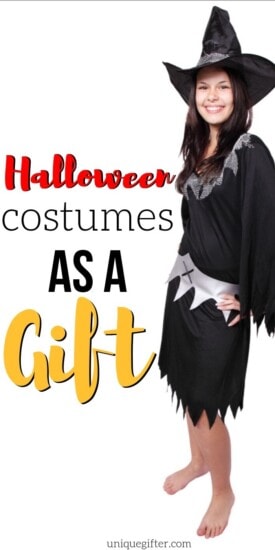 Due to all of this conversation, I have a proposal for you:
Halloween Costumes as Gifts for Adults
Yes, you read that correctly. There are three groups of people who would absolutely appreciate receiving Halloween costumes as gifts. First up are those people who put a lot of time and effort into their costumes. They are usually also the people who put a lot of MONEY into their costumes (though not always!). Gifting them a part of their elaborate and pricey costume would make them happy campers unless they are extremely secretive about their plans.
I think that Bridget and my friend fall into that first category of people. The second category of people is the one with which I am on much more intimate terms, those of us who have zero plans and would love someone to just pop over to an online site and pick something out for us. Just please make sure it's not too scandalous or ridiculous. Otherwise, have at'er and solve my lack of costume planning problem for me!
Halloween Costume Gifts for Couples
When might you give a couple Halloween costumes as gifts? Well for the right pair, it could easily be a unique wedding gift idea, or something nice to for an anniversary. If your spouse likes Halloween and loves to dress up together this could also be a nice gift to give them too. Or give one to your partner to make them participate with you if they're not into Halloween!
Halloween Costume Gifts for Pets
Don't forget to take a peek at these Halloween post too: