Disclosure of Material Connection: Some of the links in this post may be "affiliate links." This means if you click on the link and purchase an item, I will receive an affiliate commission. Disclosure in accordance with the Federal Trade Commission's 16 CFR, Part 255. This site is a participant in the Amazon Services LLC Associates Program, an affiliate advertising program designed to provide a means for sites to earn advertising fees by advertising and linking to Amazon.
Why are people already talking about Halloween?? On Monday, I went on a bit of a trip with a friend and he asked me if I had picked out a Halloween costume yet, saying "there's only two months left, ya know." To which I responded, "I'm lucky if I know what I'm doing the morning of!" Then, later that day, Bridget from Money After Graduation was asking about Halloween costumes on twitter! What has the world come to?? Celebrations of the return of some specific latte flavors at Starbucks I can at least understand!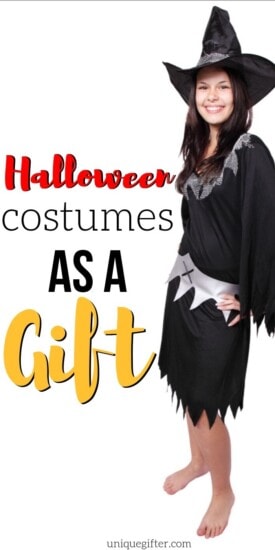 Due to all of this conversation, I have a proposal for you:
Halloween Costumes as Gifts
Yes, you read that correctly. There are three groups of people who would absolutely appreciate receiving Halloween costumes as gifts. First up are those people who put a lot of time and effort into their costumes. They are usually also the people who put a lot of MONEY into their costumes (though not always!). Gifting them a part of their elaborate and pricey costume would make them happy campers unless they are extremely secretive about their plans.
I think that Bridget and my friend fall into that first category of people. The second category of people is the one with which I am on much more intimate terms, those of us who have zero plans and would love someone to just pop over to an online site like mrcostumes.com and pick something out for us. Just please make sure it's not too scandalous or ridiculous. Otherwise, have at'er and solve my lack of costume planning problem for me!
Halloween Costumes
I am very much NOT an animal person. That gene split 100% cleanly in my family and fell to my brother. However, there are many, many people in the world who love their little poop-machines. Jordann at My Alternate Life is quite a minimalist, so doesn't care for clutter, especially of the once-per-year for a pet type, but she does love her pooch.
To folks who are less into minimalism, you could give them a dog Halloween costume as a gift. Debt Blag also gave me a great idea, as an engagement gift for people who love pets, you could get a ring bearer dog costume
. Believe me, there are a LOT of these people in the world, I bet you know some yourself.
Do You Appreciate Halloween Gifts
Just for fun, I'm going to toss out a group of people that may not appreciate a Halloween costume gift. Couples, at least one half of the couple. If you want to do a couple's Halloween costume, a great way to rope your partner into participating is to order the costume in advance and give it as a gift. If you have spent the money and have the costume ready to go, it's pretty much blackmailing to get them on board.
Looking For A Few Halloween Costume Gifts To Buy
Do any of you folks already have your Halloween costumes picked out? I sure don't.
Don't forget to take a peek at these Halloween post too: