Disclosure of Material Connection: Some of the links in this post may be "affiliate links." This means if you click on the link and purchase an item, I will receive an affiliate commission. Disclosure in accordance with the Federal Trade Commission's 16 CFR, Part 255. This site is a participant in the Amazon Services LLC Associates Program, an affiliate advertising program designed to provide a means for sites to earn advertising fees by advertising and linking to Amazon.
Being a mom is not easy especially with little kids to chase after. Even a simple trip to the park in the winter time can feel like wrestling an octopus to get arms and legs into each snow suit. Constant cleaning, giant piles of laundry and sticky hands are part of each day for that busy mom along with little hugs and kisses to make it all worthwhile. These gifts are a little way to give that mom a bit of a break from the daily chaos: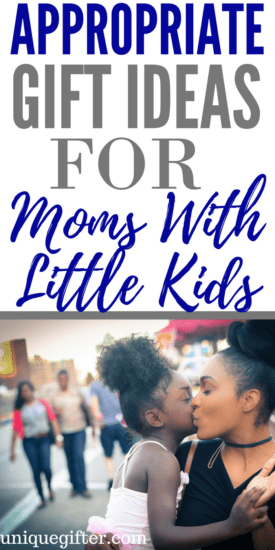 Home Decor
this beautiful sign will tug at the heartstrings of any mom, and show her how much she means to her little ones every time she sees it.
Moms Calendar
Every mom of little ones needs to stay organized and this calendar with all its little extras can help keep the schedule clear. It even comes with little stickers to let the kids help mom out.
Mom's blue ray digital
a little humor goes a long way after one of those long nights when the kids won't sleep. This funny humorous movie provides mom with plenty of distraction.
Bean Premium Organic Coffee 340gm
every mom of little ones could use a pick me up for those early mornings as we all know small kids aren't interested in sleeping in late as much as moms would love that.
Tea Forte Classic Sampler Pouches
for the moms that don't drink coffee, this is a great sampling of teas for a moment of calm midst the storm.
BigMouth Inc Ultimate Wine Bottle Glass
sometimes after a really hard day, a cup of coffee or tea just doesn't cut it, so this gift is the perfect choice for that mom that just wants '1' glass of wine.
Mani and Pedi Set
every mom could use a little pampering and time to herself, this mani/pedi set can give her that pampering she deserves.
Beautiful Scarf
A beautiful scarf for a beautiful mom, show her how wonderful she is by this beautiful and simple gift.
Bath Set
this beautiful bath set with its own container will be the life of luxury for any mom and it will even keep everything tidy in her bathroom. The wonderful vanilla scent will provide a cloud of calm and peacefulness at the end of a busy day.
Funny Mug
this funny mug is sure to make any mom laugh, even if she doesn't have a dog of her own.
Paul Reiser ebook
this book is guaranteed to make any mom laugh, just through living the reality day to day. Paul Reiser is a father and comedian and combines the too to write a rib tickler that even dads will enjoy.
Cocktail Jelly Beans
this is one tasty treat that mom won't have to share with the little ones. Yummy flavours that resemble real cocktails that can be consumed at any time of the day.
Wine Camping Glass
For any mom, camping with kids can be an amazing experience but also a lot of work. These wine glasses can make the evenings a little more enjoyable without the worry of spilling. After all there were plenty of kid spills cleaned up already.
Hockey Sports Window Laptop Sticker
even moms of little kids become hockey moms, especially when they are little and all chase the puck like a flock of ducks. She can wear this decal with pride on her car window as she takes her little superstars to games and cheers them on loud and proud.
Adult Coloring Books
adult colouring books are all the rage right now, and this one is sure to be the right gift for the mom of little ones in your life. Stress release from the colouring and humour on each page, just right!
Mug for Moms
a great mug for every mom on the go, made of ceramic and high quality to keep her coffee warm as she runs around town with the little ones going to play dates and school.
Mom Energy Simple Fully Charged Ebook
kids take a lot of work, and every mom could use high levels of energy. This book provides advice on the best fuel to chase after toddlers as they explore the world one day at a time.
Winter Knit
for the mom who likes to match her little ones, this hat combo is sure to keep everyone warm in the winter and look stylish. Any mom of a little girl will appreciate the gesture.
Custom Name Ring
Moms will love this stackable ring that can be customized with any names. A great way to show her how awesome of a job she is doing, and is incredibly thoughtful.
Yoga Pants
Mom will love this cozy and cute pants which keep this comfortable as she chases after her little babes. Even moms need a little comfort day to day.
Every mom can feel hassled and crazy from time to time. These gifts are a little something that allows her to feel special and appreciated even on the crazy days. It doesn't have to be big or expensive, its truly the thought that counts.