Disclosure of Material Connection: Some of the links in this post may be "affiliate links." This means if you click on the link and purchase an item, I will receive an affiliate commission. Disclosure in accordance with the Federal Trade Commission's 16 CFR, Part 255. This site is a participant in the Amazon Services LLC Associates Program, an affiliate advertising program designed to provide a means for sites to earn advertising fees by advertising and linking to Amazon.
Moms can be so hard to shop for and they never seem to tell you what they want. This gift guide is a list of perfect ideas for a mom who likes to knit.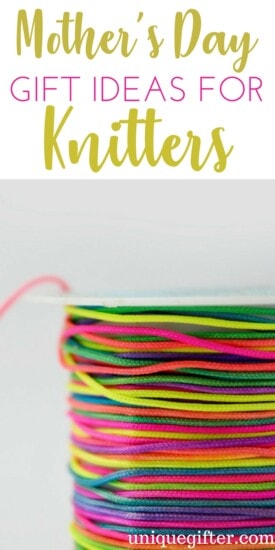 Mother's Day Gifts for Knitters
Yarn Organizer
Knitters have a lot of yarn, but just to be clear, never enough. Get her something to organize and transport it easily.
Electronic Stitch Counter
If she keeps losing her place knitting because the drama on tv is too good these electronic stitch counters can help.
Bamboo Knitting Needles
Knitting with bamboo is different than metal needles in a great way. Get her something that she might not get for herself because "she already has enough".
Knitting Book
Get her a book with patterns of things she might not have made otherwise, or something that interests her. Alternatively, grabbing patterns of things you want her to make is a great hint hint. (Yes mom I do need more socks).
Needle Sizer
This handy tool will help mom determine needle sizing. It also has a magnifying strip if she struggles to read the tiny numbers.
Ball of Yarn Necklace
Knitting gifts don't have to be old fashioned. Get mom something modern like this necklace.
Knitting Time Clock
This is probably why mom was late.
Needle Holder
Rather than having them all in a bin help mom get organized this Mother's Day by giving her this needle holder.
Knitting Ring
Not only does it look pretty, this knitting ring will help mom knit faster than ever.
Knitflicks and Wine Bag
Even mom can appreciate a good pun. Get her a bag for her knitting that highlights the better things in life.
Knitting Mug
Coffee mugs always make great Mother's Day gifts but get her one that's more suited to her interests. Like this one that says "a lady never discusses the size of her yarn stash".
Yarn
You know what? You just can't go wrong getting a knitter more yarn.
Knitting Book
This is a great gift for a younger mom who's just getting into knitting. It's funny but also explains all the basics so she can get started with a hobby that's really making a come back.
Stitch Markers
They're helpful and have a tendency to get stolen by the cat and never seen again.
Don't Talk to Me Shirt
There have been so many times I've tried to talking to my mom and she just stares blankly until I realize she's actually counting her stitches. Oops.
Vintage Knitting Patterns
If you're shopping for an older mom, get her some patterns from her childhood. This is great if there are grandkids to knit for.
Winter is Coming Yarn Bowl
A yarn bowl in general make s a great Mother's Day gift for knitters but this one is perfect for Game of Thrones fans as well.
Knit Simple Magazine Subscription
Subscriptions make great gifts because they're something they keep getting all year. Get them one for a knitting magazine.
Custom Knitting Sign
Why not gift something unique this Mother's Day with a custom sign for mom?
Yarn of the Month Club
More exciting than Christmas! Each month mom will get a box of handmade yarn shipped to her with this very special gift.
While you're at it, make sure you tell mom how much you appreciate the knitting she does for you.