Disclosure of Material Connection: Some of the links in this post may be "affiliate links." This means if you click on the link and purchase an item, I will receive an affiliate commission. Disclosure in accordance with the Federal Trade Commission's 16 CFR, Part 255. This site is a participant in the Amazon Services LLC Associates Program, an affiliate advertising program designed to provide a means for sites to earn advertising fees by advertising and linking to Amazon.
I love finding any reason at all to get festive and have some fun, and my kids have definitely adopted that spirit from me. I always like to gift my kids with something special to celebrate each holiday, and St. Patrick's Day is no exception. This list of 20 St. Patrick's Day Gifts for Kids is sure to excite both you, and the kiddos. Check it out. While you're at it, crank up the party with some fun decorations!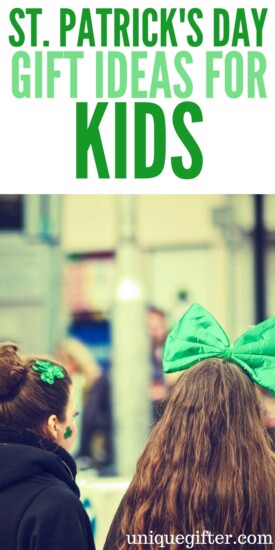 Green Color Changing Straws
Color changing straws are really a lot of fun. This would be a great inexpensive way to help the little ones celebrate the holiday.
Personalized St. Patrick's Day Placemat
Wouldn't it be super festive to eat those yummy St. Patty's Day treats on top of a St. Patty's Day placemat? Kids will be even more excited when they see that the mat has been personalized with their very own name!
St. Patrick's Day Beanie Babies
Beanie Babies are such a lovable gift. Sneak a cute little green beanie baby in your child's backpack as a fun little surprise.
St. Patrick's Day Socks
You can find cute St. Patrick's Day socks at a low price, and these may be just what a kid needs to complete their St. Patty's Day #ootd.
Shamrock Rubber Bangle Bracelets
Rubber bangle bracelets are inexpensive, and can be purchased in bulk for large groups of kids.
St. Patrick's Day Headband
Headbands can be fashionable, festive, and fun. A cute headband is a simple yet really awesome accessory to gift.
St. Patrick's Day Fedora
Fedoras are super stylish, and can really put the finishing touch on a party outfit.
Emoji St. Patrick's Day shirt
Emojis are trending, and so are holiday-themed tees. An emoji St. Patrick's Day Tshirt would be a really cool gift!
Shamrock Glitter Glasses
A pair of shamrock glitter glasses is sure to excite the kid lucky enough to receive these as a gift.
St. Patrick's Day Beanie Hat
Another super festive accessory for the kids to fall in love with would be a vibrant St. Patrick's Day Beanie.
Shamrockin' Tambourine
For the music lovin' kids that just have a thing for making some noise, this Shamrockin' tambourine would be a jackpot win for them!
Shamrock Suspenders
Suspenders are so adorable on kids. But Shamrock suspenders are just next-level cuteness.
Shamrock Dangling Earrings
Shamrock earrings are a cute way to get festive for the holiday.
Lucky Tucker Paperback book
Lucky Tucker is a really great St. Patrick's Day book for young children. Maybe some of Tucker's luck will rub off on them, and they'll be lucky enough to receive this as a gift.
St. Patrick's Day Inflatable Ball
Here is another simple yet really fun gift for kids. There are so many activities one can create with an inflatable ball!
Shamrock and pearls necklace
Another accessory that doubles as a festive gift is this absolutely adorable shamrock and pearls necklace.
Giant sequined Shamrock Hair Clip
This giant sequined shamrock hair clip could complement any St. Patrick's Day outfit!
Luck of the Mad Libs Paperback book
Laughter is the best medicine they say. The hilarious collection of stories in this book are sure to make kids giggle as they fill in the blanks.
St. Patrick's Day Bear Plush
Teddy bears always make really great gifts. Kids will love this huggable St. Patrick's Day Bear Plush.
Shamrock Nail Art Set
A shamrock nail art set is a super exciting (and super festive) gift to receive on St. Patrick's Day. Kids will have tons of fun decorating their nails in a stylish shamrock theme.
Gift giving on St. Patrick's Day doesn't have to be all golden coins and leprechauns. There are so many great gift ideas out there for kids. Have some fun with it.