Disclosure of Material Connection: Some of the links in this post may be "affiliate links." This means if you click on the link and purchase an item, I will receive an affiliate commission. Disclosure in accordance with the Federal Trade Commission's 16 CFR, Part 255. This site is a participant in the Amazon Services LLC Associates Program, an affiliate advertising program designed to provide a means for sites to earn advertising fees by advertising and linking to Amazon.
Cloaked in shadow and ready to strike at a moment's notice, but not always easy to buy for, this guide is your one-stop-shop for that ninja in your life. From accessories to must have collectables, these items will make the perfect present for your favorite shinobi. Tread carefully, and stay sharp as you enter the mysterious world of the ninja.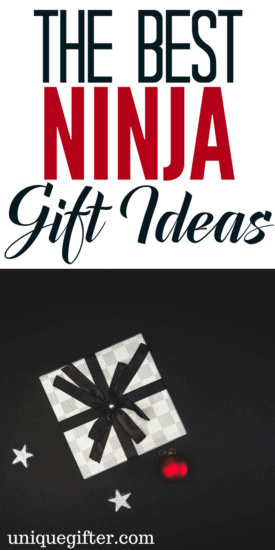 Nina Gift Ideas
Men's Ninja Disguise T-Shirt
The world's foremost masters of stealth need look no further for the perfect mode of disguise. This Ninja Disguise T-shirt flips up at a moment's notice, making it a really handy gift for any lover of the ninjutsu arts.
Ninja Mug Cozy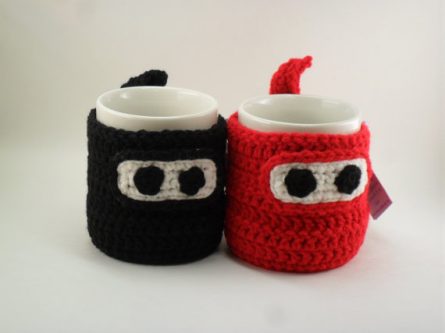 Cold nights spent staking out a target can be challenging for a fledgling ninja perched atop a tree, that's why I'd recommend the Ninja Mug Cozy. It's the perfect gift idea for any ninja, plus everyone knows what a shame it is when your tea goes cold.
'Jika-Tabi' Ninja Shoes
Available in several different colors, this distinctive ninja-style footwear will have any ninja lover jumping for joy. They are authentic, and suitable for practical outdoor use so you can be sure your ninja will be most appreciative.
Tiny Ninja Diorama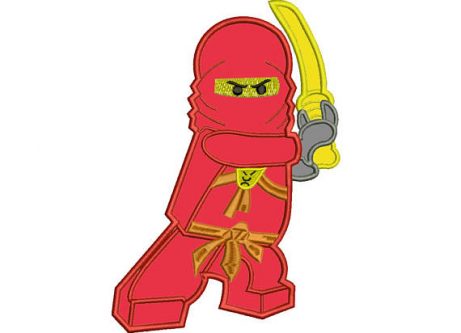 Even the world's most fearsome and mysterious warrior has an eye for cute things. This adorable and unique handmade Tiny Ninja Diorama is the perfect gift for the ninja who has it all.
Martial Arts Grappling Hook
A ninja is only as good as the tools at his disposal, a skilled ninja relies on an array of gadgets to perform the task at hand. One such tool is the iconic grappling hook, used for scaling walls and dropping in on unsuspecting targets, it makes a great gift for your ninja's arsenal.
Baby Ninja Bib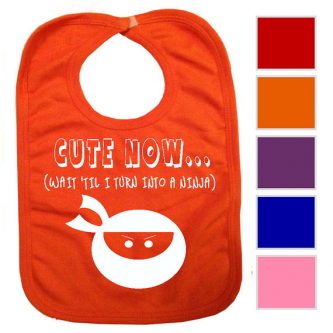 This humorous adorable baby bib lets everyone know just what kind of potential your ninja's child possesses. Both cute and practical, this bib will leave a lasting impression on a ninja fanatic and their family.
'The Great Wave' Hanging Wall Scroll
This canvas wall scroll bears the auspicious painting, 'The Great Wave'. Instantly recognizable to any ninja enthusiast, this piece of decor is an unforgettable present.
Tomoe Ninja Pants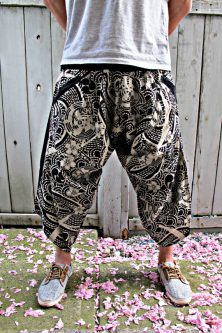 What could possibly make a ninja happier than a brand new pair of pants? 100% cotton, with an elastic waistband and tapered fit these pants are just what your favorite ninja needs for dashing through treetops and delivering the most devastating flying-kick.
Steel Kunai (Throwing Knife)
One of the most iconic and trustworthy go-to weapons of choice for any ninja is the Kunai blade. Whether for display or martial arts practice, look no further for a foolproof ninja gift that's sure to please!
Tabi Kimono Socks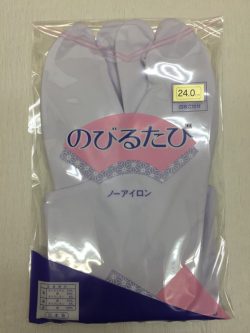 Real ninjas can't get away with just any old pair of socks. These ornate yet casual white Kimono socks are ideal for casual wear and costume use. The split toe design makes them compatible with classic ninja footwear, but also make for a comfortable fit around the house.
John Man's Ninja: A History
Any ninja worth his or her salt must keep their mind as sharp as their blade. John Man's book provides a comprehensive exploration into the history of the ninja while beckoning the reader into the shadowy cloaked mystery of their legacy.
Ninja: Legend of the Scorpion Clan
If there's one thing missing in that ninja's life of yours, it's probably a chance to kick back and dive into their hobby with their closest friends and relatives. Worry not! For Ninja: Legend of the Scorpion Clan gives seasoned ninja warriors and desk jockey's alike the chance to try their hand at 2-4 player stealth-movement based ninja strategy battles in this eye catching boardgame!
Edo Style Kimono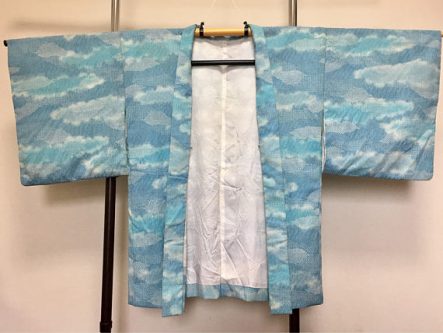 Any ninja knows it's important to dress the part. This ornate blue Kimono is the perfect outfit for any occasion. Its airy design allows for a free range of movement and comfortable fit; ideal for the swift and agile ninja in your life.
Stretchy Flying Ninja
This 12 piece set of comical secret flying ninjas are the perfect gift idea for any assassin in training. Not only are the great for dexterity practice, but they'll deliver quite the laugh as well!
Acrylic Ninja Cupcake Toppers
What's the one thing any ninja loves just as much as stealthily sneaking in the shadows and executing the perfect roundhouse kick? Baking. This pack of acrylic ninja cupcake toppers are the greatest present for any ninja with a sweet tooth.
Japanese Katana Cleaning Kit
This high quality Japanese Katana sword maintenance kit will keep any ninja's favorite blade in peak condition. Including all of the components necessary for proper cleaning and care; it makes sword ownership worry-free for your favorite shinobi.
Ninja Sword Toothpicks
Even ninjas have kitchen parties, help them step their entertaining game up a notch with these cute and funny miniature Ninja Sword Toothpicks. At long last, they can skewer their favorite cheese and charcuterie with a cute ninja sword!
Unique Ninja Ornament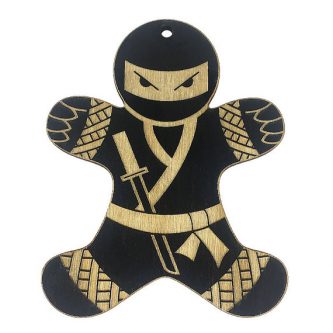 Whoever you give it to will love this ornament: Your brother Jimmy and his beautiful family, grandma with all the grand kids, or even aunt Margaret and her 5 cats could all love these gingerbread ninjas.
Shuriken Coat Hooks
The perfect gift idea for your shuriken-slinging friend in mind are these ninja Shuriken Coat Hooks. Everyone needs a place to hand their hat, why not do it in style?
Japanese Candy
One sure fire way to put a smile on any ninja's face is surprising them with their favorite candy, only with a Japanese twist! Matcha tea and sakura blossom flavored chocolates are a great way to treat them to something new.
This gift guide should equip you with everything you need to impress your favorite ninja enthusiast.