Disclosure of Material Connection: Some of the links in this post may be "affiliate links." This means if you click on the link and purchase an item, I will receive an affiliate commission. Disclosure in accordance with the Federal Trade Commission's 16 CFR, Part 255. This site is a participant in the Amazon Services LLC Associates Program, an affiliate advertising program designed to provide a means for sites to earn advertising fees by advertising and linking to Amazon.
Holidays are tough. It's hard to choose something everyone is going to like, especially when buying for a whole classroom of 2nd grade students. Here's some gifts that will have them hopping with delight at school this Easter.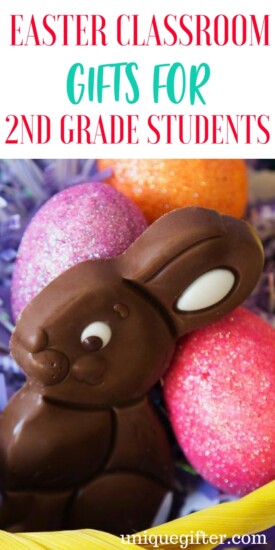 Bunny Glasses
2nd grade students are a lot of fun because they like being silly. These glasses are perfect to get the class giggling!
Bunny Crayons
Instead of getting them some treats, treat the 2nd grade class to a box of crayons. Of course, they're a lot more fun when they're bunny crayons.
Chick Egg Holder
Move over plastic baggies, there's a new way to gift eggs for Easter. These crocheted chicks are so cute!
Bunny Treat Boxes
These cute bunnies can be filled with the candy of your choice. It's an easy and super-cute way to make the 2nd grade students smile.
Bunny Necklace
Grab a bunch of these bunny necklaces for a pretty, non-candy Easter gift idea. They even have a little crystal for some bling.
Bunny Candy Bars
Wrap up some delicious treats by ordering some of these bunny candy bars. They come all assembled and bulk pricing is available!
Shaped Crayons
Etsy has a lot of choice if you want Easter-shaped crayons, like these cute bunnies. You could print out some Easter coloring pages for a fun gift.
Candy Eggs
What kid doesn't like Easter candy? Give your 2nd grade students a little treat this easter.
Pinwheel Pencils
Catch a spring breeze with these cute pinwheel pencil toppers. Maybe 2nd grade students will actually enjoy writing now.
Easter Medals
A great idea if you're playing classroom games or having other Easter themed activities or as an addition to treat bags.
Bunny Lollipop Holder
2nd graders will waste no time prying the sucker out of these bunnies hands. After, though, they'll have a cute gift to play with.
Rabbit Hair Ties
For the little girls in the class these hair ties make a practical gift.
Coloring book
2nd grade students still very much enjoy coloring books. Grab them something Easter themed like these Disney books that even come with crayons.
Wind Up Toys
The beauty of giving wind-up toys to older kids is that they can wind them themselves. Students will have a fun time seeing which they get from these pre-filled surprise eggs.
Magnet Picture Frame
Crafts are a great idea for 2nd grade students. This one can be brought home and put on the fridge as an Easter gift for mom, dad, or grandparents.
Bunny Face Lollipop Holders
These lollipop holders are a laugh: they make you look like you have a bunny face while sucking on your treat. Sure to get some giggles in your classroom!
Bunny Face Whistles
Or if you're looking for a candy-free alternative, these whistles do the same thing! Just give them out at the end of the day.
Personalized Bags
It's really exciting to get something with your name on it. Even better if that something is a bag filled with goodies.
Bunny Foam Craft
An inexpensive activity for the class to do. You can hang them up in the classroom to decorate or send them home.
Surprise Eggs
They won't know what they'll get with these fun surprise eggs and there's plenty in the box for all your students.
Why did the Easter egg hide? He was a little chicken!