Disclosure of Material Connection: Some of the links in this post may be "affiliate links." This means if you click on the link and purchase an item, I will receive an affiliate commission. Disclosure in accordance with the Federal Trade Commission's 16 CFR, Part 255. This site is a participant in the Amazon Services LLC Associates Program, an affiliate advertising program designed to provide a means for sites to earn advertising fees by advertising and linking to Amazon.
These Boston hockey fan gift ideas are exactly what you need to kick the season off right! Hockey fans know what they like, and this selection of unique gear, collectibles, and gifts are perfect for their eclectic taste! When the Bruins hit the ice, make sure your favorite fan is suited up with the things they'll love. Check out our Boston Bruins fan gift ideas!
The Best Boston Bruins Fan Gift Ideas
Get inspired to do some Bruins gear shopping with these awesome Boston Bruins fan gift ideas!
Boston Bruins TD Garden Print
This art print is in the eclectic and retro subway-sign style. Inspired by the glory days of the NHL, this sign will go perfectly in your favorite fan's office, den or game room!
Funny Custom Bruins Socks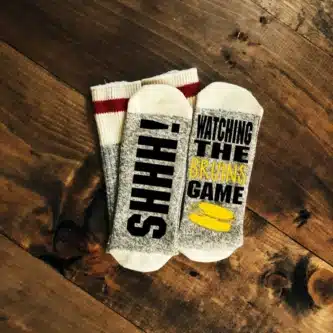 These socks are a hilarious reminder of what it means to be a Bruins fan! Loyalty comes from never missing a game! Make sure everyone knows what time it is when he puts his feet up.
Boston Bruins Gnome
It doesn't get more adorable than this when it comes to handmade fan goodies! This little Gnome comes dressed in Bruins colors! If his overgrown beard and big wooden nose doesn't sway you, his Bruins pattern hat will.
Bruins Handmade Art Work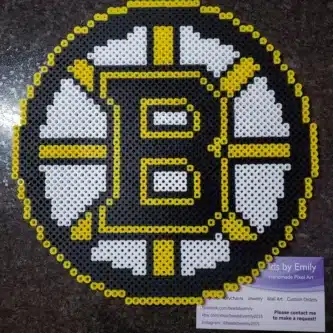 This spectacular handmade Bruins artwork would be perfect for any fan! It would look great on any wall in a Bruins fans home or office.
Boston Bruins Nail Decals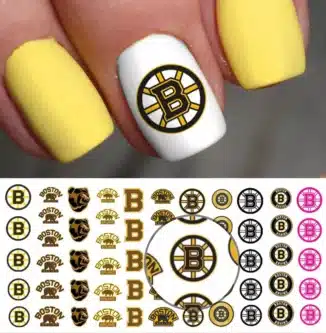 These Bruins nail art decals are the perfect way to show off your love for the Boston Bruins! Many styles and colors available to match any gear.
Boston Bruins Downloadable Art

This epic Bruins wall art is everything you need to decorate your game space. If you want bruins decorations that are a bit classier, opt for a instant downloadable print like this that can go in just about any room.
Boston Bruins Beer Mug
This beer mug features the Boston Bruins logo in all of its glory. Hand-etched into the glass it's no wonder Bruins fans have no shortage of awesome accessories and bar ware to outfit their home watering hole!
NHL Spatula Bruins
This piece of BBQ accessory is exactly what your Boston Bruins loving dad will need this summer! Flips those burgers and steaks with every ounce of loyalty in your being!
Bruins NHL Puck Pen Holder
This is more than just a Bruins hockey puck! It also holds your pen! Gift one of these for the Boston Bruins fan who's a real office bee, to deck out their den, cubicle or home office!
Boston Hockey Chip Clips
Hockey fans love to get their munch on! There's a lot of games to work through each season, so buckle up and grab your favorite type of chips. Don't worry, these chip clips will keep any bag as fresh as new in between games! Best part of this clip? it doubles as a bottle opener!
Boston Bruins Slippers
These things are the epitome of NHL style! Grab a pair of these Bruins slippers so they can strut like the players in the locker room.
Boston Sports Sweatshirt
Being a Boston sports fan isn't just an identity. It's a lifestyle. Live it to the fullest with this iconic sweatshirt featuring all of the Boston team logos together as one! If you want a gift idea for Boston Bruins fans that's really going to turn some heads, this is the one!
Boston Bruins Retro Sign
This is a metal poster that will look absolutely awesome in any fan's favorite place to watch the game. Seriously, it's got a rusted look that makes it an absolute classic!
Blade Mascot Funko
This is the ultimate gift for Boston Bruins fans young and old! Capture hearts of any age with this adorable Funko figurine depicting the Boston Bruins mascot!
Bruins Bottle Opener
As durable as it is practical, this bottle opener makes a great accompaniment, or small gift, to any Boston Bruins fan! It features their team logo, and a strong coating that's more than up to the challenge of supplying the squad at game time!
Boston Bruins Cribbage Board
For the sports fans who love to get their cribbage on! This custom made original features the Boston bruins logo around a circular cribbage board.
Boston Bruins Hockey Print
This art print brings a ton of hometown pride to any fan's garage! Featuring the map of Boston, this Stanley Cup Champions print is in retro NHL style, featuring a bear and their team colors!
Boston Bruins Pet Portrait
Now This is how you get a custom gift! This vendor will make a custom portrait of your pet's face on a Boston Bruins player! In other words, you're going to make one happy fan with this awesome customized printed picture!
Boston Bruins Bow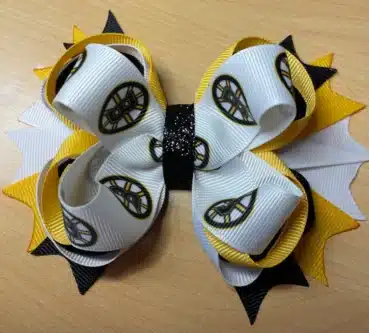 This adorable handmade bow features the Bruins colors for your enjoyment! Perfect for craft gifts, or just wearing to the game! These are truly some all-star accessories!
NHL Boasters
These 'boasters' are some serious fan-made coasters designed for a good time during the game! They're a lot more than just a coaster, featuring a laser cut stainless steel outline of the iconic Bruins logo!
Hopefully you've scored the perfect goal this season with one of these awesome Boston Bruin fan gift ideas! Ready to serve up some more gifting goodness? Let us know what the craziest, or most unique Boston Bruins gift you've ever seen was!