Disclosure of Material Connection: Some of the links in this post may be "affiliate links." This means if you click on the link and purchase an item, I will receive an affiliate commission. Disclosure in accordance with the Federal Trade Commission's 16 CFR, Part 255. This site is a participant in the Amazon Services LLC Associates Program, an affiliate advertising program designed to provide a means for sites to earn advertising fees by advertising and linking to Amazon.
I wish I was kidding when I say that my 8 year old son asked me for marshmallows and a blindfold for Christmas so he could do the chubby bunny challenge from YouTube. These gifts are not quite so lame for a kid who loves YouTube.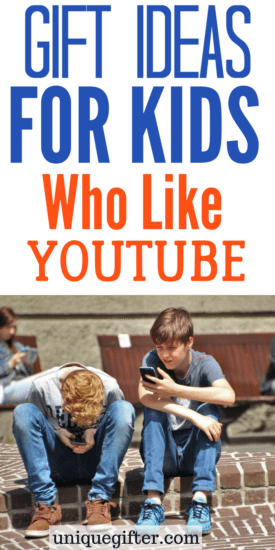 Gifts for Kids who Love YouTube
Bottle Flip Challenge
Take bottle flipping to the next level with this game. Maybe bundle it with a case of water so they're ready to get flipping.
Jojo Siwa Bow Making Kit
If the little one on your gift list is into this YouTube pop star, this bow making set is the perfect gift. I know my 5 year old would go nuts.
Purple Shep Plushie
This weird looking character is super popular on YouTube, and the plushie is really cute. As a side note, I also happen to know this guy's cousin.
Drone With Camera
All YouTubers have drones now and your kid will love this one that has a built in camera.
Mouthguard Challenge
Put the mouthguard in and try and say things. It ends up hilarious making this a perfect family game.
Eat, Sleep, Youtube, Repeat
Actual depiction of my kids' weekend schedule, and probably yours too.
Bean Boozled
This is a classic YouTube challenge: Bean Boozled. Each colour of jelly bean has 2 flavours: One is good, one is not.
This Book Loves You
Can't have this gift guide without the world's most popular Youtuber, Pewdiepie. This is his official book.
Makeup Kit
Makeup tutorials: The other side of YouTube. Get them a beginner kit to they can follow along and practice.
Nyan Cat Hat
Who doesn't love Nyan Cat? This hat is positively adorable and not annoying like the popular video.
Tube Heroes
Minecraft is huge on YouTube and these toys are modelled after the most popular YouTubers.
Vlogger Mic and Stand
With this little device they can make the perfect vlogs, live videos, or make up tutorials. It has a stand for their phone and a microphone for the best quality recording.
Subscribe Pillow
A cozy subscribe button pillow? Perfect.
Video Planning Stickers
For older kids these stickers are a perfect gift to help them get organized. These stickers will keep them on track with their YouTube production goals.
Making YouTube Videos Book
Designed specifically for kids, this video is perfect for those just getting started out making their own videos. Kids can learn all the aspects of video production and hopefully become the next YouTube sensation.
Markipleir Mug
This mug is perfect for the kid who's "Markiplier's Biggest Fan". The fanart is pretty awesome, too.
So Much Internet, So Little Time Shirt
The struggle is real for kids nowadays.
Hearing Things Game
Inspired by yet another YouTube challenge, this game involves lip reading. Can you figure out what the other person is saying without being able to hear a thing?
Green Screen
If you YouTube loving kid likes to make their own videos, why not get them a green screen to take it to the next level. Perfect for special effects or facecam videos.
Video Camera
There isn't a kid out there who watches YouTube that doesn't want to make their own videos. Get them the gift of a camcorder: not only will it be a surefire hit, it will also get them going into a fun new (and possibly lucrative) hobby.
Your little video lover and wannabe YouTuber is definitely going to love these gifts. In fact, my kids were reading over my shoulders and wanted everything here. Just saying.