Disclosure of Material Connection: Some of the links in this post may be "affiliate links." This means if you click on the link and purchase an item, I will receive an affiliate commission. Disclosure in accordance with the Federal Trade Commission's 16 CFR, Part 255. This site is a participant in the Amazon Services LLC Associates Program, an affiliate advertising program designed to provide a means for sites to earn advertising fees by advertising and linking to Amazon.
Toddlers love getting gifts and you know they're going to be happy with anything. Use St. Patrick's Day as an excuse to get your toddler who (hopefully) is too young for shenanigans one of these cute St. Patrick's Day gifts.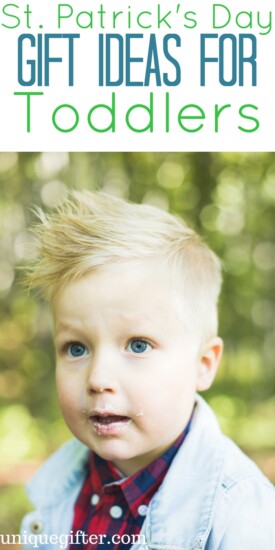 St. Patrick's Day Gifts for Toddlers
I'm Magical T-Shirt
Unicorns are so in this year so give your toddler this adorable unicorn shirt to wear on St. Patrick's Day.
St. Patrick's Day Headband
Toddlers look so cute with oversized headbands on. This one is perfect with a glittery shamrock on it!
Sunglasses
If you're giving out to a group something like this is a perfect, inexpensive gift. Toddlers love to wear sunglasses.
Leprechaun Footprints
Bring some magic into your toddler's life with these reusable stickers. They come off the floor when you're done so you don't have to worry about mess. Make some Lepruchan treats to go with this mystery! 
Piggy Bank
Give them a place to store all this gold with this personalized, Irish themed piggy bank.
Craft Kit
What toddler doesn't love doing crafts? This St. Patrick's Day themed kit will keep them entertained for hours.
Irish Dolls
If you're looking for a unique toddler gift these handmade traditional Irish dolls are a great choice. And so cute!
Necklace
This chunky necklace will definitely look adorable on your toddler. Plus it's cute enough to wear wear all year!
Leg Warmers
These little leg warmers are fashionably covered in shamrocks so your toddler can rock St. Patrick's Day spirit with any outfit.
Prone to Shenanigans Shirt
Ideal gift for the more mischievous toddler.
Leprechaun Hat
Warm your toddler up with this adorable crocheted leprechaun hat. It's made to order so it's sure to fit!
Stickers
Stickers are always a hit with toddlers so get some St. Patrick's Day themed ones for an easy gift.
Irish Rubber Ducks
Quack quack! These cute rubber ducks are all ready for St. Quackstrick's Day.
Leprechaun Socks
Warm up those toddler toes with these cute leprechaun socks. Warning: toddlers may insist on removing socks or wearing only these ones for all eternity.
Pot of Gold Hair Bow
Toddlers will look so cute wearing this handmade bow featuring one of the iconic St. Patrick's Day symbols – a pot of gold.
Pug and Shamrock Backpack
Give your toddler something to keep all their toddler related things in with this mini backpack.
Tambourine
These little tambourines have "Happy St. Patrick's Day" on them. They will definitely be a hit because all toddlers love to make noise.
Irish Blanket
This gorgeous wool blanket is perfect sized for toddlers. It features the shamrocks on the side and is even made in Ireland!
How to Catch a Leprechaun Book
Give your toddler something fun with this cute storybook. You can start a St. Patrick's Day tradition and help your toddler try and catch a leprechaun for themselves.
Leprechaun Outfit
What is cuter than a toddler in a costume? This one will have the whole family cooing and cawing over your toddler. It comes in boys' and girls' styles!
Hopefully this St. Patrick's Day will bring your some Irish luck and wonderful gift giving skills.