Disclosure of Material Connection: Some of the links in this post may be "affiliate links." This means if you click on the link and purchase an item, I will receive an affiliate commission. Disclosure in accordance with the Federal Trade Commission's 16 CFR, Part 255. This site is a participant in the Amazon Services LLC Associates Program, an affiliate advertising program designed to provide a means for sites to earn advertising fees by advertising and linking to Amazon.
Want to keep your gift shopping all Canadian this year? Show your support with these gift ideas from Canadian indigenous-owned companies!
Original Gift Ideas From Canadian Indigenous-Owned Companies
These are some gifts you can really feel good about buying. If you want to stay out of the big-box stores this year, take your money elsewhere with these all-Canadian gift ideas from indigenous-owned companies that really caught our attention. Remember, you can use your wallet to support the causes that matter most to you.
RavenSong Soap, Campbell River (British Columbia)
Devil's Club Indigenous Tea Soap
As part of a new collection launching in time for the opening of the new RavenSong Soap and Candle store in Campbell River on September 25th, Valerie Lamirande, the creator and founder has dedicated a collection to precious and traditional indigenous herbs.
Devil's club is a spiritual plant native to the Pacific Northwest, and has been used for centuries by First Nations for ceremonial and medicinal purposes. It is used to treat inflammatory skin conditions and has antimicrobial properties. This innovative bar has been made with steeped Devil's club and scented with traditional
essential oils
of Devil's Club, Birch + Cedarwood.
Purifying Nettle Spa Bar
Stinging Nettle is one of the greatest First Nations healing plants that helps to relieve and improve skin irritations such as acne, psoriasis and eczema. The nettle soap contains organic dried nettle that is infused in advance in Apricot Kernel to extract the benefits and properties of the plant and contains sacred essential oils of Cedarwood, Birch and Lemongrass.
Dandelion + Calendula Spa Bar
Dandelion has a long history of traditional use in First Nations culture and is honored for the medicinal benefits it offers. This ancient plant helps regenerate skin cells, contains antioxidants and offers essential vitamins for skin health. The dandelion soap has been infused with organic dandelion and calendula to extract the healing/soothing benefits and contains essential oils of Lavender, Clary Sage & Japanese Peppermint.
Fashion
The Hummingbird teaches you to appreciate and love the miracle of living and to help you focus on the positivity in your life. Hummingbirds are often seen as joyful messengers and healers. Due to their personality, agility, and an endless supply of energy, many people feel that they can help guide and support you through some of life's more difficult challenges. Hummingbirds are also independent. For many, they also symbolize love, wonder, and beauty.
Give the gift
of the hummingbird with Dorothy's intricate silk scarf.
About Dorothy Grant:
Internationally renowned fashion designer and traditional Haida artist Dorothy Grant's strong connection to her culture and Haida identity has been the driving creative force and her foundation as a contemporary fashion designer for over the past thirty-two years. In 1988, Grant became the first to merge Haida art and fashion utilizing her formal training at the Helen Lefeaux School of Fashion Design. Dorothy believes that her clothing embodies the Haida philosophy Yaangudang meaning "self respect." The driving force behind her clothing designs is "empowerment, pride and feeling good about oneself."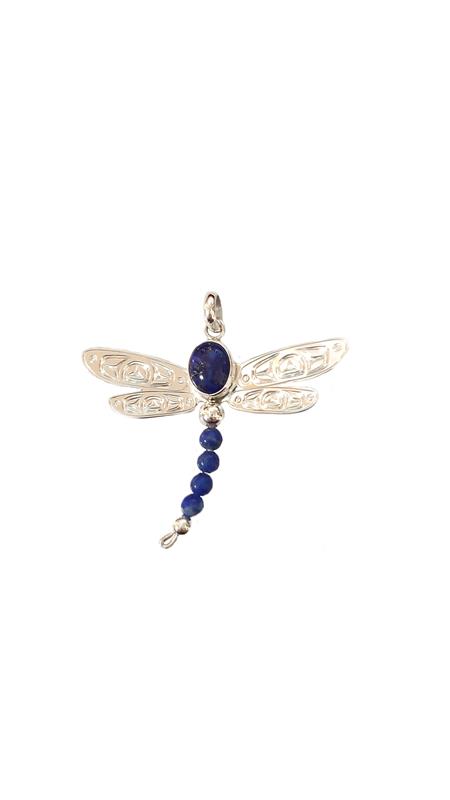 This incredible sterling silver Dragonfly pendant is hand carved and crafted by Kwakwaka'wakw First Nation artist Chis Cook III. The head and the body of the Dragonfly is presented with semi-precious stone Lapis Lazuli. The Dragonfly traditionally represents a symbol of change, transformation and swiftness, and Lapis Lazuli is a symbol of wisdom and truth.
Measurements: 2″ x 2″
$420
About Chris Cook:
Chris Cook III is from the Kwakwaka'wakw Nation. He was born in Alert Bay BC and raised in his people's potlatching traditions having been taught traditional dance, protocol, language, and song. In his youth, Chris was an avid sketch artist, and later in secondary school he learned to love fabricating and machining metal. During his academic studies Chris took silversmithing courses and with the help of Francis Dick merged his love of art, culture, and metal. This led Chris to create a unique style of First Nations art. Chris has studied repousse with world renown Bulgarian Silversmith Valentin Yotkov in New York and Italy.
Ainsworth Hot Springs Resort is located in the traditional homelands of the Ktunaxa (pronounced 'K-too-nah-ha') people.The Ktunaxa people have utilized the local hot spring as a place for healing. After battle, warriors would soak in the spirit waters (nupika wu'u) to ease the wounds sustained in the fight to defend the beautiful territory.
Those living with other ailments such as arthritis, would also soak in the hot pool to find some
relief to their pain
and today, the Lower Kootenay Band brings a unique Hot Spring that is nestled into the mountain side along the shores of Kootenay Lake.
The Full Body Medicinal Plant Wrap service wraps the entire body in a steamy hot medicinal cloth. The medicinal plant wrap is steeped in combinations of wild seasonal medicinal plants harvested from the local Kootney area. The plant medicines are fast-acting and absorb into muscles and tissue to help relieve sore muscles and inflammation, which can encourage the body to relax more fully during massage. Whilst wrapped, enjoy a deep foot massage, individual foot wraps, a shoulder and neck massage and special scalp massage with an all-natural scalp rejuvenation elixir. A full body massage follows the wrap for deep relaxation.
Thanks for checking out these all-original gift ideas from Canadian indigenous-owned companies! And, for giving us the opportunity to show you how to do something meaningful for others with your gift shopping.