Disclosure of Material Connection: Some of the links in this post may be "affiliate links." This means if you click on the link and purchase an item, I will receive an affiliate commission. Disclosure in accordance with the Federal Trade Commission's 16 CFR, Part 255. This site is a participant in the Amazon Services LLC Associates Program, an affiliate advertising program designed to provide a means for sites to earn advertising fees by advertising and linking to Amazon.
I'm currently going through Round 6 of gift buying for daycare workers at my daughters' nursery school. Yes, round 6. Between my 2 girls, this is the 6th year in a row that I have purchased holiday, and end of the year, gifts for daycare workers. It's not always easy choosing the perfect (and not so duhhh) gift for one in this profession, but this list can certainly help you out. Continue reading to discover:

20 Gift Ideas for Daycare Workers
Shatterproof water bottle
It is always a good idea to stay hydrated throughout the day. For daycare employees, it is a good idea to have a shatterproof water bottle on hand around the little ones.
Insulated Lunch box
Daycare workers may find that the facility's fridge is stacked with food and products for the children. There isn't always a place for workers to store their lunch. In this case, a quality insulated lunch box is of great benefit.
Wood Sign Poem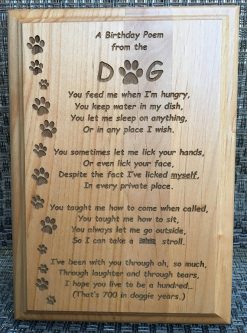 This wood sign poem is a sweet gift to share with a daycare provider, as it reminds them of how special their work truly is.
Sanitizing Kit
Germs and illnesses seem to spread like wildfire in daycare centers. The best way to combat the icky is with a good sanitizing kit. Having a supply of hand wipes and sanitizer, and disinfectant wipes is sure to serve well.
Tiny Hand Mugs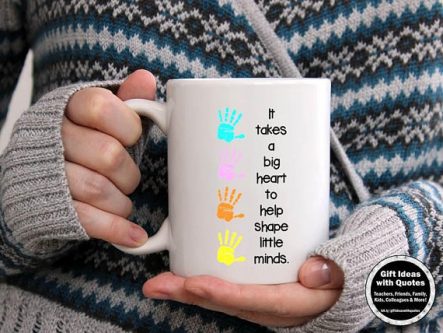 "It takes a big heart to help shape little minds." Daycare teachers will feel so proud every time they take a sip from this adorable mug.
Provider Reminder Daycare Sign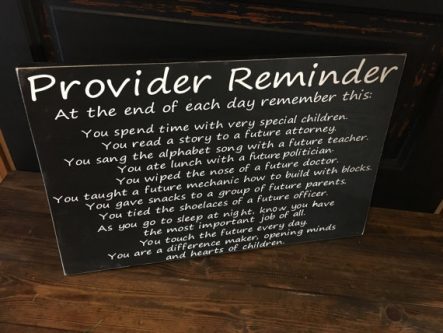 After a long day at work, it will be so comforting to sit down and read the message on this sweet sign.
Starfish Keychain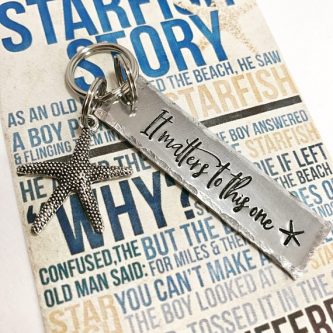 There is nothing like the feeling of fulfillment, and daycare workers will definitely feel encouraged and fulfilled each time they look at this keychain.
"Chaos Coordinator" T-Shirt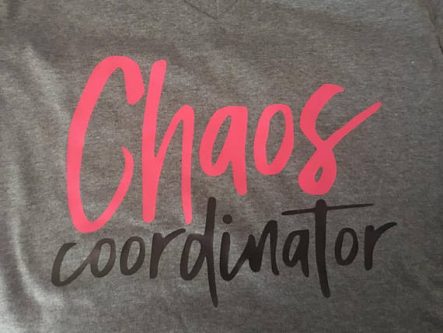 This is a fun and cute tee that adds a bit of humor to the job description of a childcare provider.
Spa gift basket
At the end of a long day caring for others, it is always nice to come home and care for oneself. A spa gift basket would be of great benefit.
Starbucks gift card
There's nothing like grabbing a fresh coffee on the way in to work with a bunch of energetic kiddos. A Starbucks gift card could help daycare employees save a bit of money out of their own pockets while still getting that caffeine fuel before work.
Tear-resistant stress relief balls
Stress balls can be used for both employees and children at daycares. It is a simple gift that can make a big difference.
Personalized Helping Hand Keychain
This keychain is a unique way to say "Thank you" to your child's daycare teacher.
Rolling Organizer
A rolling Organizer is great for daycare workers who regularly transport materials between their classroom and home.
Plastic Mason Jar Cup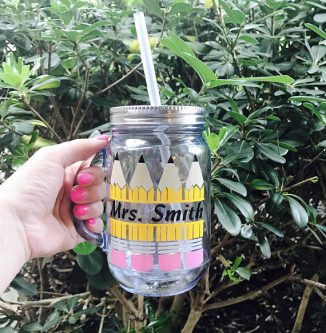 Customize this sturdy Mason Jar Cup for your favorite daycare worker. There will certainly be no confusion about which bottle is their own.
"From Little Seeds Grow Mighty Trees" Art Print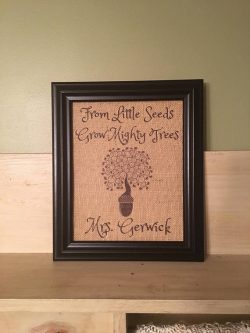 This beautiful print would be the perfect fit in the classroom, or even on the wall at home.
Funny t-shirt
Life doesn't have to be so serious all the time. Being responsible for other people's children can be stressful. Lighten up the mood by gifting a funny t-shirt.
Customized trophy
This is a really cool gift idea. Make a daycare employee feel extra special by gifting them a customized trophy for a job well done!
Personalized Wood Frame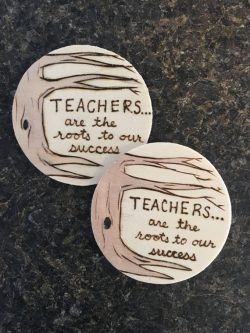 Place your child's photo in this personalized frame, and watch their daycare teacher beam with joy and gratitude as they receive this beautiful gift.
Adult Coloring Book
To help relieve some stress at the end of the day, daycare workers may want to release their own inner child and do a bit of coloring. Adult coloring books are increasing in popularity as they can be super helpful with calming the mind.
Hand Lotion
Daycare workers wash their hands many times throughout the day, which sucks the moisture right out of them. A good hand lotion would be a very thoughtful gift.
Let's be honest here, working in a daycare is not always sunshine and rainbows. However, a great gift can certainly remind our wonderful daycare staff that their efforts are not in vain.