Disclosure of Material Connection: Some of the links in this post may be "affiliate links." This means if you click on the link and purchase an item, I will receive an affiliate commission. Disclosure in accordance with the Federal Trade Commission's 16 CFR, Part 255. This site is a participant in the Amazon Services LLC Associates Program, an affiliate advertising program designed to provide a means for sites to earn advertising fees by advertising and linking to Amazon.
Geek dads are much cooler than regular dads. They might teach their kids about science, wow them with superheroes, or help them save the world in the latest video game. Get dad something nice – and geeky – this Father's Day.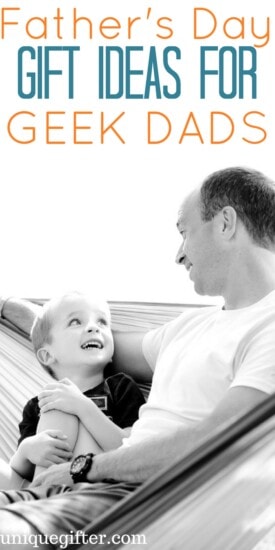 Father's Day is Just Around the Corner!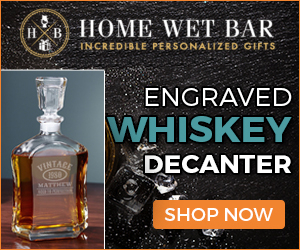 Father's Day Gifts for Geek Dads
Geek Dad Book
This book is jam packed with awesome projects and activities for dad and kids to do together. Best of all? They're all positively geeky.
Geeky Apron
Part apron, part RPG armour. The front of this apron has all of its stats listed such as "Equip: Improves cooking mood".
R2D2 Diaper Cake
If you're shopping for a very new dad or dad to be this Father's Day getting them a geeky diaper cake is a the perfect answer. Plus it's practical!
Dad Cave Sign
It may not be the Bat Cave but it's still a place that dad has all to himself.
Home For Dad's Crap
I'm not going to lie, I'd really appreciate it if my kids got me something like this for Father's Day. Finally a place for all those random cords dad's been saving!
Achievement Unlocked Shirt
What's a better way to acknowledge dad's accomplishments as a dad than rewarding him with an Xbox style achievement?
Diaper Wallet
These handmade diaper wallets come in all kinds of geeky fabric so dad can carry the diapers and wipes in style while he's out with the kids.
Matching Shirts
Dad and baby will love wearing these matching pixel art shirts together wherever they go.
#1 Dad Patch
What better way to celebrate the number one dad in your life than with this patch depicting the totally number 1 dad in the galaxy.
Lego Flip Flops
How about some irony for Father's Day? These flip flops will have dad walking all over the exact thing he never wants to step on barefoot.
Freezer Boy Whiteboard
Never forget something again with this handy whiteboard that looks like a classic GameBoy.
Geek Necktie
Ties are the classic Father's Day gift. Just make sure it's a geek tie and dad is definitely going to love it.
Daddy Superhero Picture
Dad may not think he's special but to the tiny versions of himself that he's raising he's absolutely a superhero.
In This House Sign
This laser etched artwork really covers all the bases in the Star Wars fandom. Show everyone who comes by how much of a geek dad is with these "house rules".
Car Seat Cover
When dad takes the baby out he doesn't need coordinating blankets. He needs geeky car seat covers so everyone knows what the kid's future interests are.
Personalized Socks
Look dad is really busy right now OK? Please don't bother him. Thanks.
My Other Car is… Keychain
A great Father's Day gift for the dad who was somewhat reluctant buying a sensible family vehicle.
Superhero Photo Frame
https://www.etsy.com/listing/241938300/picture-frame-batman-and-superman-best
Dad will love this geeky photo frame just as long as you put a special picture of the kiddos inside it.
Father's Day Card
When you don't know what to get dad for Father's Day, or you settle on a gift card, a geek-themed card is the perfect choice.
Custom Superhero Family
This peg dolls can be customized to dad's exact family and favorite superheroes. It's a great keepsake and looks super cute too!
Even a geek dad is easy to please on Father's Day with these gift ideas.