Disclosure of Material Connection: Some of the links in this post may be "affiliate links." This means if you click on the link and purchase an item, I will receive an affiliate commission. Disclosure in accordance with the Federal Trade Commission's 16 CFR, Part 255. This site is a participant in the Amazon Services LLC Associates Program, an affiliate advertising program designed to provide a means for sites to earn advertising fees by advertising and linking to Amazon.
Baseball coaches are wonderful people. They help your children reach their goals, teach them teamwork, and work them hard to become the best baseball players that they can be. Baseball coaches deserve to be recognized from time-to-time, and we here at Unique Gifter are here to help you find the perfect thank you gift.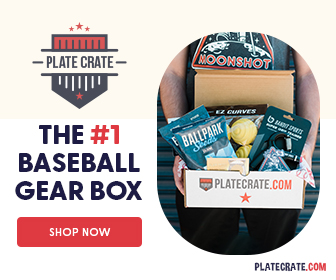 Each baseball coach has their own love for the game, if you're looking for a fun baseball gift that won't strike-out, Plate Crate is one you won't want to miss!
Here are 20 thank you gift ideas for baseball coaches
42: The Jackie Robinson Story
Jackie Robinson was a huge player in baseball and one who is still talked about all over the United States today. This movie delves deep into his past and what made him a great baseball player.
Coleman Cooler
Great for getting those sports drinks ready for the team, or taking those not-so sports drinks camping.
Adidas Duffle Bag
This duffle bag is the sports standard, and your coach can never have enough of them. They come in lots of different colors and fit plenty.
The Book of Awesome
The goal of this book is to remind people about the little things that make living right here, right now awesome.
STRONG and KIND Protein Bars
Offering up your coach's favorite snack is a great small thank-you gift. If you don't know his favorite snack, then go for a protein bar.
Coffee
For some adults, coffee makes the world work. If your baseball coach is one of those people, then a new type of coffee may be the perfect way to thank them.
Travel Tumbler
This thermos means business, and so does your baseball coach.
Adidas Men's Cap
As you know, it can get pretty sunny out there during practice and in games. Help your coach shield his eyes with these Adidas hats.
Black Picture Frame
Here's an idea: get a picture of your team, put it in this frame, and then have everyone on the team sign the frame. It would be a great mass thank-you gift!
Clipboard
He can keep all of those drills handy and at-the-ready for revisions with this clipboard.
A Baseball Coach's Notebook
This notebook is tailored specifically to the needs of baseball coaches.
Personalized Water Bottle
Tell your coach that he is the absolute best with this water bottle.
Tarp
Okay, I know what you're thinking. "A tarp, really?" But think about it, tarps are great for carrying things. If he could keep all of the equipment on a tarp during practice, then fold up the tarp with everything in it at the end of practices and put that away, it could save him so much time and energy.
Baseball Mug
Vintage Miniature Baseball Batter
This little guy could be a great token of your appreciation for the sport, or it could be put on a homemade trophy.
Starfish Story
If your baseball coach really did something incredible for you, then consider laying on the kindness with a print of this story.
Baseball Picture
This artistic rendering of baseball is a perfect quick way to say, "I appreciate this sport."
Funny T-Shirt
Something about this t-shirt makes it funny. It could be the logo, it could be what it's saying, but it's just funny. It's also pretty customizable.
Baseball Quote Print
"A coach turns dreams into destiny." They totally do. Give him this quote print, it will certainly put a smile on his face.
Handmade Greeting Card
Of course, the best way to thank your baseball coach is with your own words. Write a memorable moment down, tell him how he helped you, all of that good stuff. This card would be perfect for writing your thank-you note in.
Those were 20 thank you gift ideas for baseball coaches. Which gift idea was your favorite? Let us know in the comments below. If you choose to get any of these, be sure to tell us! We are @ugifter on Twitter and @uniquegifter on Instagram.