Disclosure of Material Connection: Some of the links in this post may be "affiliate links." This means if you click on the link and purchase an item, I will receive an affiliate commission. Disclosure in accordance with the Federal Trade Commission's 16 CFR, Part 255. This site is a participant in the Amazon Services LLC Associates Program, an affiliate advertising program designed to provide a means for sites to earn advertising fees by advertising and linking to Amazon.
Someone has to teach you about these important things! You can thank your biology teacher for making you dissect a frog in high school and forcing you to memorize how photosynthesis works. Now you have a biology teacher on your gift list pick up one of these genetically superior presents. Let your Biology teacher know you appreciate all the hard work and time they take to teach you and help shape you into an adult.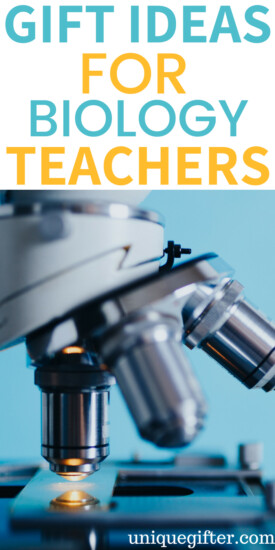 Creative and Fun Gift Ideas for Biology Teachers
Giant Microbes
Regular sized microbes are no fun to play with – so get giant ones! These cute plushies are blown up versions of the real microbes. Who knew Ebola could be so cute!
Cellular Level Mug
Even when it seems that way your body is never really doing nothing.
Smartphone Microscope
Having a proper microscope is nice but something like this is handy for a biology teacher with a limited budget or who wants something that's convenient and portable. Turn your smartphone into a microscope that can even take pictures!
Anatomy Notes
Teachers are often having to make notes and those sticky ones get used everywhere. Why not make note taking (and giving) a little bit more exciting for a biology teacher with these anatomy themed sticky notes?
Naturally Selected Keychain
Evolutionary biology wouldn't be the same without Darwin and natural selection. It's nice to know you're on this Earth because of a series of great decisions by your ancestors.
Biology Coloring Book
Coloring books are a great way to practice identifying the different parts of things. This would be a great resource for a biology teacher to have in the classroom.
DNA Poster
A decorated classroom is more fun than one that's not, and even better if it's decorated in biology-related posters.
Microscope Earrings
Sometimes teachers have to have strict dress codes by they can add a little bit of fun to their outfits with these microscope earrings. If you don't like these ones there are all kinds of science options in the related items.
Anatomy Art
These would look cool in a classroom or a biology teacher's home office. These a variety of color options to so you can get something you know the recipient will love.
Darwin Puppet
I mean if you don't have a Charles Darwin finger puppet and fridge magnet can you even call yourself a real biology teacher?
Brain Gift Box
Gift boxes will always do their job at making a great gift because they're packaged so nicely. This one comes with a bunch of brain-themed items a biology teacher will appreciate.
Custom Notepad
Sometimes it's nice to get something personalized. You can have the gift recipient's name printed on these biology themed notepads.
Funny Mug
Biology jokes are fun to make and this mug shows off a biology teacher's sense of humor.
Anatomy Statue
These cutaway statues come in a variety of animal and other design choices. They're really cool because they show you all the layers and really help with that visual representation.
Medical Cookie Cutters
Who doesn't want to make anatomically correct cookies? I know who does: a biology teacher.
Frog Life Cycle Magnet Set
This would be great for a biology teacher who has younger students, or ones with young kids at home. The frog life cycle is the first one you usually learn about as an introduction to more complex biology concepts.
Biology Bracelet
It's nice to give teachers something that they can wear as a gift. This one has a bunch of biology related charms and you can customize it with their initial.
Student Tears Mug
This would go over especially well with high school or college level biology teachers who might just make their students cry with the workload.
Henrietta Lacks Book
This book is a must-read for anyone interested in science and biology. It's about Henrietta Lacks and how her cells are still alive today, always multiplying and being used for cancer research. It also raises some major ethical questions and concerns.
Scientist Shirt
The most wholesome shirt you could ever find for a science or biology teacher. You know that they are so proud of their students!
If I go to jail, I'll get them to call me mitochondria so I'm the powerhouse of the cell.