Disclosure of Material Connection: Some of the links in this post may be "affiliate links." This means if you click on the link and purchase an item, I will receive an affiliate commission. Disclosure in accordance with the Federal Trade Commission's 16 CFR, Part 255. This site is a participant in the Amazon Services LLC Associates Program, an affiliate advertising program designed to provide a means for sites to earn advertising fees by advertising and linking to Amazon.
The Kardashians need not be the only interesting K themed thing you know. Adult gift ideas for the letter K are fun to shop around for; what do you get someone who has everything and can afford to buy themselves more? Get them something they would never have thought to buy themselves and make it fun while you at it.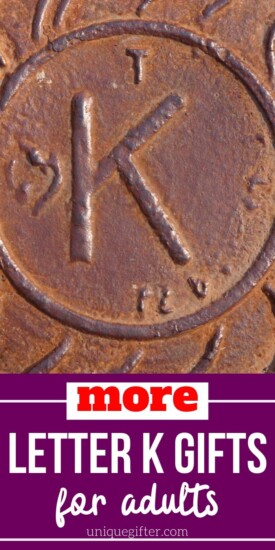 Here is a list of gift ideas for the Letter K that you can buy an adult.
These ideas are perfect gift choices if you've been invited to a K-themed party or event. Likewise, anyone who's name starts with the letter K is probably going to get a kick out of these unique gift ideas.
Old World Kaleidoscope
This super cool kaleidoscope will give them something to think about and let their imagination run wild. Allow!
Rainbow Kite
For those fun days in the park, this will give them something to run and act crazy about.
Kahlua Gourmet Ground Coffee
I think this gift speaks for itself. Everybody loves coffee; everyone loves Kahlua.
King Kong Movie Poster
Man cave freaky poster… check!
Koala Bear Art Wall
Perfect home accessory gift for an expecting mum. Watch her grin from ear to ear. This one is really cute!
18-Piece Knife Block Set
Perfect gift for steak nights! Perfect for cutting tension.
Pumpkin Shaped Tea Kettle
Lovely for those kitchen… tea… parties they love to host.
Classic Knit Blanket
Once in a while, we could all use a snuggle buddy.
Wall Mounted Key Holder
For those rushed fast-paced mornings when you cannot even find your pants.
Mini Keychain Bundle
Perfect for moody mum. Sure to make her smile.
Kermit Coffee Mug
Perfect for the gossip queen who just won't mind her own…
Multicolor Kitchen Towels
This one is for the cleaner. She will clean your problems away.
Letter K Black and White Pillow Case
Perfect for Kim's and Kirsti's and maybe that lady from the book club whose name you forgot…
14K Rose Gold Pendant Necklace
In case you forgot that Khloe Kardashian was coming for tea this afternoon.
Keeshond Dog Themed Wine Glass
Perfect for the dog lover in the family.
Kitchen Utensil Set
For those family dinners that use up all the cutlery (that's silverware in American English!)… did anyone say big spoon?
KENKO Matcha Green Tea Powder
For those adventurous days, try something new.
King Bob Minion
We all have a little child in us creaming to come out. Release!
Kato USA Model Train Products
Adult toys are always the best. Just don't let the kids see you.
More Letter K Gifts for Adults
Finding gift ideas that begin with the letter "k" is a little bit tricky. But it certainly isn't the most difficult letter to search for gifts for. However, I have made your work a little easier and came up with some great ideas for you anyhow! Check out fun, tasty, or simply random gift ideas to follow!
Tactical Pocket Knife
Pocket knives are great except for when you don't have any lighting. Fortunately, this nifty little pocket knife comes with an attached LED light.
Knife Sharpener
If you could use another gift to go along with that sweet pocket knife up above, why not toss in this multifunction sharpener? It's just the right accompaniment, and is definitely going to come in handy once that blade starts to dull.
Karaoke System
Need a gift for someone who hosts a lot of parties? This karaoke system is it! Not only does the unit have disco lights and the ability to record songs, but it even has an output jack to connect to a t.v., for scrolling lyrics!
Gourmet Kona Coffee Beans
These gourmet Kona coffee whole beans are sure to be a hit for any coffee drinker. The light roast Hawaiian beans produce a smooth and mild cup of joe that is sure to start the day off right!
Mini Keg
Flat beer? No, thank you! This mini keg is just the right tool to keep that freshly brewed beer nice and fresh for up to two months!
Leather Keychain
If you have a friend who is constantly losing their keys while out and about, this leather keychain may be the perfect gift idea! It can be personalized with a name, or perhaps even their phone number!
Kayak Tree Ornament
Adventurous kayakers are going to love this decorative kayak ornament to hang on their Christmas tree. It would even look great in an RV window!
Kimono Robe
There is nothing more comfy to lounge around in than a silk kimono robe! These gorgeous robes are perfect for both swimwear and pajama coverups!
Kung Fu Training Video
Everybody was Kung Fu Fightin'! Hopefully, you know the song. But regardless, this Kung Fu training video is great for beginners and will teach some of the basic fundamentals of Kung Fu.
Keurig Mini
Single-serve coffee makers are great, but they can be so bulky! The Keurig Mini was created for small spaces. It's even the perfect size for travelers to carry along on their journeys!
King Tut Wine Goblet
Check out this fun wine goblet that's fit for a king! Your majesty is going to love drinking his nightcap from this Egyptian themed goblet.
Korean Cookbook
Everyone suffers from the same problem of finding something new and exciting to cook. Why not help kick things up a bit in the kitchen with this book of tasty Korean cuisine? The recipes cover everything from breakfast and lunch, to sides and desserts!
Money Clip Knife
Pockets are only so big. Having to carry a cell phone, wallet, and pocket knife can easily crowd one's pocket. But this handy money clip has a knife built-in, to help lighten the load a bit!
Kitchen Open Sign
This fun kitchen sign comes in 5 different stains, to be a perfect match for your friend's kitchen!
Monopoly Klingon Edition
Everyone has at least one geeky friend that is into sci-fi. And who doesn't like an exciting game of Monopoly? Take a look at this fun Monopoly Kling On edition!
Santoku Knife
Everyone needs a good all-around kitchen knife, to make preparing snacks and meals a little bit easier. This santoku knife is made for cutting just about any kind of food, but best of all, it is stain and rust proof!
Kale Powder
Do you know a health nut who drinks a breakfast smoothie each day? Gift this container of all-natural kale powder, to help add extra vitamins and nutrients to their diet. Maybe even toss in a new smoothie tumbler with it, or some fresh fruits and veggies!
Keepsake Box
A keepsake box is a wonderful place to store maps, pamphlets, souvenirs, and other memories from vacations! This box comes in various sizes, and can even be laser engraved!
Finding the perfect gift is impossible. Don't let the store lights and music confuse you stick to your guns, and whatever you get should be good enough.
For more inspiration, here is the ultimate list of gifts that start with every letter of the alphabet.