Disclosure of Material Connection: Some of the links in this post may be "affiliate links." This means if you click on the link and purchase an item, I will receive an affiliate commission. Disclosure in accordance with the Federal Trade Commission's 16 CFR, Part 255. This site is a participant in the Amazon Services LLC Associates Program, an affiliate advertising program designed to provide a means for sites to earn advertising fees by advertising and linking to Amazon.
Between jets, jugs, jokes, and jumping, there are numerous words that start with J that make for exciting toys. (We also have gift ideas for adults because why should kids have all the fun?)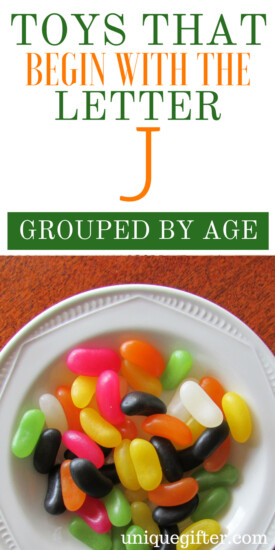 If your child is having a J-theme at school or home, this list is a wonderful reference with great ideas. Be sure to check each one of them out and see which one your child will enjoy the most. You will find tons of gifts below to treat your child to this year!
Find more toys for the rest of the alphabet:
20 Toys that Begin with the Letter J for Ages 2-5
Just Play Mickey and the Roadster Racers Pit Crew Workbench Playset

Buy Now
The Just Play Mickey and the Roadster Racers pit crew workbench playset will give them a purpose and entertainment.
Junior Mechanic Motorcycle and Pro Plane
Buy Now
They can fix up their very own motorcycle and plane, with the power tool included in the set.
Jada Toys Disney Junior Minnie Mouse Happy Helper's Van
Buy Now
Helpers need a van, and that's where this Jada Toy Disney Junior Minnie Mouse happy helper's van comes in handy.
Jazz Drum Set for Kids
Buy Now
If your kiddo is a little musician, they definitely need the jazz drum set to practice their skills!
Juju Folding Scooter
Buy Now
For the kiddo who loves playing outside, a Juju folding scooter is a great way to represent the letter J.
Jack Jack Incredibles 2 Funko Pop Figure
Buy Now
One of my nephews' favorite characters from the Incredibles 2 is Jack Jack, so naturally the Jack Jack figure has to be on this list.
Jojo Siwa Bow Pillow
Buy Now
The Jojo siwa bow pillow will give them a level of comfort as they learn more about the letter J.
Jupiter, Neptune, and Venus Fireman Sam Diecast Vehicles
Buy Now
Jupiter is a planet that starts with J. Between Jupiter, Neptune, and Venus, these Fireman Sam diecast vehicles create a whole crew of helper vehicles.
Junior Stand Up Boxing Play Set
Buy Now
This junior stand up boxing play set will help them practice their punching, and boxing moves in general.
Junior Educational Smart Pen
Buy Now
When it comes to matching, counting, and spelling, the Jupiter Creations Edutab smart pen will help your kiddo learn more.
Jack-in-the-Box Toy
Buy Now
The Jack-in-the-box toy is a classic!
Junior Deluxe Tool Set with Toolbox
Buy Now
Fixing things and using tools is cool!
Jojo Siwa Light Up Microphone
Buy Now
Imagine how much fun your kiddo will have, with their Jojo siwa light up microphone to sing, dance, and perform songs.
Jacks Game
Buy NowThis one might require a bit more supervision, but the Jacks game is another classic that needed to be on the list, and even children as young as two can learn how to play it.
Jungle Book Puzzle
The jungle book wooden peg puzzle will help with fine motor skills and strengthen their minds at the same time.
Justice League The Flash Action Figure
Buy Now
Justice League starts with the letter J, and the Flash action figure will have your kids shouting for joy when they see it.
Jack Jack Incredibles 2 Plush
Buy Now
They can cuddle and snuggle with the Jack Jack Incredibles 2 plush!
Jett Transforming Toy Figure from Super Wings
Buy Now
Jett from Super Wings can transform and do so much exploring and teaching.
Jungle Book Baloo Plush

Buy Now
Keep the plush animals close, and fill their room with animals like the Jungle Book Baloo plush animal to play tea parties and more with.
Jump N Slam Basketball Set
Buy Now
Help them improve their basketball skills at their young age, with the Jump N Slam basketball set.

Classics, modern TV shows, and more are all in this list of toys that begin with the letter J. Which one would your kiddo enjoy the most?
Toys that Begin with the Letter J Ages 6-8
Justice League Batman Voice Changing Tactical Helmet
Justice League is popular because superheroes are always the rage. This Batman voice changing tactical helmet is something my nephews have and love. It is a hit for all their friends when they visit as well.
JetBlue Diecast Airport Playset
Jets and airplanes have the potential to give your children hours and hours of playtime.
Jurassic World Indoraptor Rampage at Lockwood Estate LEGO Set
Legos are great gifts, and if your kiddo loves Jurassic World or dinosaurs, they will love this indoraptor rampage at Lockwood Estate Lego set to build and play with.
Jail Photo Prop Party Accessory
This jail photo prop party accessory is a great way to celebrate the letter J and have fun all at the same time.
Jumanji Doctor Bravestone Collectible Vinyl Figure
The new Jumanji movie will have your kid wanting the toys from the movie, like this Doctor Bravestone collectible figure for instance!
Justice League Bendable Boxed Set
Another Justice League toy, this time it is four of the league's superhero figures that they will have a ton of fun playing with.
Joyin Realistic Dinosaurs
These Joyin realistic dinosaurs will have your kids questioning if they are really just toys or not!
Jelly Bean Boozled Practical Joke Set for Kids
Nothing can get the attention of a comedian or jokester more than a practical joke set for kids!
Jokes and Gags Fake Toilet Paper
Along the lines of the toy idea above this, the Jokes and Gags fake toilet paper will be a fun toy for the kid that loves to play jokes on everyone.
Jumbo Squishy Kawaii Lamb Cream Scented Squishies
Jumbo squishies? Sign me up!
Joy Plush from Inside Out
The Joy plush from the movie Inside Out can keep them company, and also remind them that joy is a good emotion to feel.
Jurassic World Stomp and Strike Tyrannosaurus Rex Action Figure
Wouldn't your kiddo just get a huge kick out of this Jurassic World stomp and strike tyrannosaurus rex action figure?
Justin Bieber Vinyl Figure with Box
If your youngster is into Justin Bieber, this figure of him would be awesome as a keepsake.
Tactile Sensory Experience Beads
Great for sensory play, and more, these JellyBeadZ tactile sensory experience beads are an awesome toy to represent the letter J. They will remind your kiddo of jelly or jelly beans.
Jumbo Jet 763 Airplane
They surely need a jumbo jet 763 airplane to add to their collection!
Judge's Gavel Shaped Stress Relief Squeezable Toy
What kid doesn't want to be a judge for the day? And now they can, while also reducing their stress, with this judge's gavel-shaped stress relief squeezable toy.
Jellies Suction Cup Bath Toys
When they don't want their bath toys floating away, a jellies suction cup bath toy comes in very handy.
Jumping Frog Toys
These jumping frog toys will have them laughing and chasing them nonstop.
Jaguar Mini Flopsie
Jaguars are powerful animals, and they also start with the letter J, great for the letter theme!
Jelly Octopus Bath Toy
A jellyfish aquabot can make pool or bath time even more fun!

Which one of these toys will delight your child the most? Which one do you feel would educate them the most about the letter J? There are so many excellent choices in this list, it may be hard to choose just one!
20 Toys that Begin with the Letter J for Ages 9-12
There are so many words that begin with the letter J, such as jaw, jack, joke, and jumbo. That means that there are many toys to choose from! Check out this great list!
Jurassic World Carnotaurus Gyrosphere Escape LEGO Building Kit
Buy Now
Now they can build their own LEGO version of Jurassic World carnotaurus gyrosphere escape!
Jack Sparrow Explorer Kit
Buy Now
Your kid can explore their world like Jack Sparrow with this explorer kit.
Jaws Woodworking Tools
Buy Now
If your kiddo loves working with woodworking tools, they will love to build and work with these Jaws woodworking tools.
Jack Skellington Plush Doll
Buy Now
The Nightmare Before Christmas Jack Skellington plush doll can keep them company or be something to act out scenes from the movie, whatever their creative heart desires.
Jurassic World: Fallen Kingdom Blue Velociraptor Movable Jaw Mask
Buy Now
When they dream to be a dinosaur, why not let them be a blue velociraptor?
Jokes Knife Through Head Toy
Buy Now
Perfect for Halloween, or just for fun!
Jack in the Box
Buy Now
You can't go wrong with something as classic as the jack in the box!
Jawz Disc
Buy Now
Jaws disc to play frisbee will make it even more fun to play, and may even encourage them to go outside more often and get some physical activity.
Joke Box
Buy Now
If your kiddo is a jokester, a joke box will light them up.
Jellycat Woodland Bunny
Buy Now
Jellycat the woodland bunny can go wherever they go and keep them company while they play too.
Join the Party by Shopkins
Buy Now
Shopkins are one of the most popular toys and this join the party set is great for throwing a party.
Jelly Bean Giant Wands
Buy Now
Blowing bubbles is amazing for all ages and these jelly bean giant wands look like even more fun than regular bubble wands.
Jump Ropes
Buy Now
Yet another classic are jump ropes! Hours and hours of fun and exercise.
Judge Dredd Funko Pop Figure
Buy Now
While your kid may not have seen the movie, Judge Dredd still looks pretty cool.
Jelly Monster Board Game
Buy Now
A board game called Jelly Monster seems fitting for the letter J, and also like a ton of fun to be had by all.
Jumbo Plush Minion Dave

Buy Now
Minions are the best and the jumbo plush Minion Dave is almost guaranteed to get them playing interactively.
Just Jump It Steppers Agility Toy
Buy Now
If they already love being active, but want to step up their game, the Just Jump It steppers agility toy works wonders.
Joy Inside Out Figure
adsystem.com/e/ir?t=ugwriter18-20&language=en_US&l=li3&o=1&a=B00TE8YLIQ" alt="" width="1″ hidden="" height="1″ border="0″>
Buy Now
As they learn more about emotions, they may experience more joy, which is why having the Joy Inside Out figure helps so much.
Just Like Home Microwave and Play Food
Buy Now
Help them practice making their own food, without putting themselves at risk all the time, with their Just Like Home microwave and play food.
Jumbo Safari Animals
Buy Now
These jumbo safari animals are a better size for their hands.
So many cool ideas for your 9 to 12 year old! It will be hard to choose just one!