Disclosure of Material Connection: Some of the links in this post may be "affiliate links." This means if you click on the link and purchase an item, I will receive an affiliate commission. Disclosure in accordance with the Federal Trade Commission's 16 CFR, Part 255. This site is a participant in the Amazon Services LLC Associates Program, an affiliate advertising program designed to provide a means for sites to earn advertising fees by advertising and linking to Amazon.
You really need to see all of these mouthwatering recipes to celebrate Mardi Gras! Each one is full of flavor and will make you hungry. If you are hosting a Mardi Gras party or are just going to one and want to bring some food, then you are in luck! The colors that represent Mardi Gras are yellow, purple, and green. All of these meals will be a great addition to your party food. Check out our amazing selection of recipes to celebrate Mardi Gras below.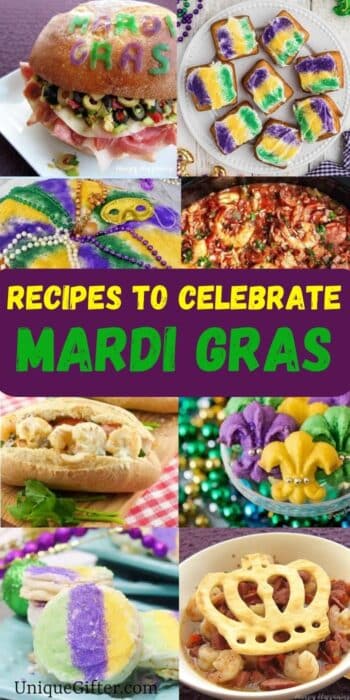 Celebrate in Style with These Recipes for Mardi Gras
Mardi Gras takes place every February! Parties are generally thrown anytime during the week before Mardi Gras. Choosing decorations for your party should be at the top of your to do list. Mardi Gras parties are known for their colorful gold, green, and purple decorations. It is fine to use other colors but you should be sure to have plenty of the traditional colors in your decorations. A good start would be to go to a local thrift store and purchase balloons and ribbons in the three traditional colors.
Deciding what to serve your party guests should be the next step in your party planning. There are a few foods that should be a part of any Mardi Gras party. King Cake is a must, however there's many classic desserts that go with Mardi Gras! We've included many different sweet treats below to choose from. Another must is Cajun food! We've included many Cajun and savory inspired dishes below, so don't panic! Lastly, make sure you include some drinks! We've made sure to have some to pick from below as well. Lets get planning our big party by checking out our collection of recipes below.
40 Recipes to Celebrate Mardi Gras
It's time to get the party started with these recipes to Celebrate Mardi Gras! Each flavorful recipe is a perfect for your party!
More Party Ideas