Disclosure of Material Connection: Some of the links in this post may be "affiliate links." This means if you click on the link and purchase an item, I will receive an affiliate commission. Disclosure in accordance with the Federal Trade Commission's 16 CFR, Part 255. This site is a participant in the Amazon Services LLC Associates Program, an affiliate advertising program designed to provide a means for sites to earn advertising fees by advertising and linking to Amazon.
Eggs, easy bake ovens, eyes and ears, earth, and more, all start with the letter E! Either way, there are plenty of other things to choose from when you are looking for a toy that starts with the letter E! Keep checking back for even more toys to be added to the Letter E gift ideas for kids. We also have toy ideas for big kids aka adults too!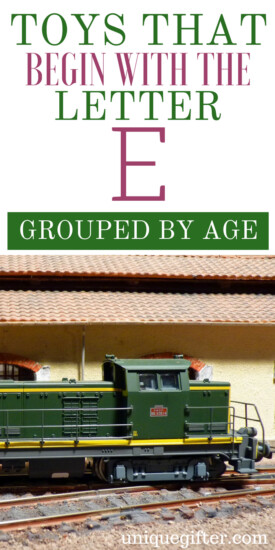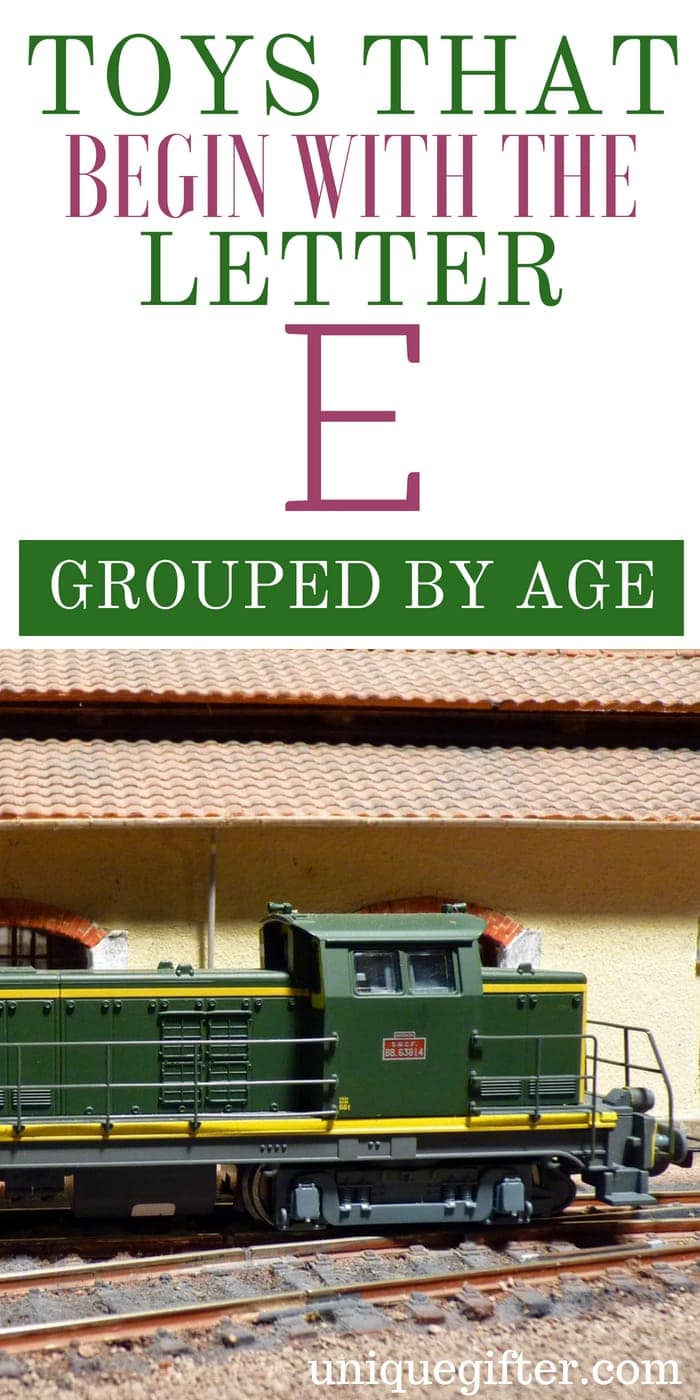 Find more toys for the rest of the alphabet:
Toys that Begin with the Letter E for Ages 2-5
Elmo
The most classic preschooler Etoy. Elmo is a favourite among 2-5 year old kids whether or not theyre fans of Sesame Street.
Engine
What preschooler isnt obsessed with fire engines? This one (literally) has all the bells and whistles so your little one will have fun rescuing citizens for hours.
Elefun
This popular game comes in too versions. One is made for little kids, perfect for your 2-3 year old. Then for 4-5 year olds pick up the actual game for them to play instead.
Emergency Vehicles
Your little one can complete any rescue with this set of emergency vehicles. Theyre just the right size for little hands and the price isnt too bad either.
Eeyore
Winnie the Poohs kind of sad friend Eeyore is ready to play with your little one. This classic version of the character is way too cute to pass up.
Elephant Puzzle
This cute wooden elephant shaped puzzle is a great learning toy for young kids. Not only can they build their spatial awareness but completing the puzzle but the different coloured and numbered pieces open up other learning opportunities.
Emotions and Expressions
Young kids, especially aged 2-5, are still learning about emotions and how expressions can tell us how someone else is feelings. These flashcards can be printed at home and are a fun way to introduce feeling sto young kids.
Eggs
Perfect for any age but a delight to preschoolers. These stuffed eggs can be added to a collection of play food or just enjoyed on their own.
Engine
Does your little one love tinkering? This Hot Wheels engine lets kids safety mess around with parts modeled after a real car engine.
Eagle
The most American toy on this list.
Easel
Every little kid needs an easel of some kind in their home. Whether its painting, drawing, or using the magnets kids from ages 2-5 will spend hours creating beautiful art and working on their fine motor skills.
Egg Set
Practice colour matching with this egg themed set. Eggs open to reveal a different colour inside that your tot can match up again and again.
E Block Pillow Case
Part toy, part room decor, these cute pillow cases will add a bit of fun to your 2-5 year olds bedroom or play space. You get to choose the colour too.
Elephant
You cant have an Etoy gift list without an elephant! This toy is great because its safe but very realistic so they know what the animal really looks like.
Etch-a-Sketch
Another classic Etoy, the Etch-a-Sketch has been making kids happy for decades. This one replaces the hard to control knobs with a stylus and freestyle drawing pad.
Elsa
Toddlers love Frozen so instead of trying to fight the obsession get them some cute, age appropriate toys instead like this Elsa doll. She comes with her very own Olaf too!
Educational Toys
These are so many educational toys out there for kids this age so youll have a lot of choices. This microscope is a good buy if youre not quite sure what to get.
Silent ESpinners
Now is the time to start introducing your preschooler to reading skills. These spinners will help them understand words that include a tricky silent E in a fun, play based way of learning.
Elf
Buy Now

Theres so many toy options for elves but this little hand knit toy is one of the best. The colours can be customized for a very special gift.
These Etoys are especially going to elicit EEEEEEEEEEEEEE!!!s of excitement from your eager preschooler.
Toys that Begin With the Letter E for Ages 6-8
Easy Disk Soft Catch Flying Frisbee
One fun toy that starts with E, is this Easy Disc soft catch flying frisbee, great for playing outside and getting some physical activity in!
EzyRoller Classic Ride On
This EzyRoller classic ride on vehicle can keep them busy outdoors for a long time as well.
East Majik Toy Guitar
If they love music, the East Majik toy guitar would be the toy to choose for the letter E!
Earth and Moon Model Kit
They can learn more about the earth and moon, with this earth and moon model kit at their fingertips.
Ears Plastic Large
Whether for dress-up, or just to be silly, large plastic ears make a great "toy" to play with that also start with the letter E too.
Extinct Eddie the Dinosaur that Turns Feisty with a Squeeze
Oh no! Extinct Eddie turns feisty with a squeeze, but boy does he look fun to play with!
Eye Finger Puppets Party Favors
While these eye finger puppets party favors might seem a little odd, they can make your kiddos happy and entertained!
Elephant Toy Figure
This elephant toy figure is great as a decoration or toy.
Elegant Edge Play Kitchen
Every kid needs an elegant edge play kitchen to play house or kitchen with.
Earthball
Whether they are playing kickball, or just tossing or kicking a ball back and forth, why not do so with an Earthball?
Electronic Walking Dancing Robot
Imagine the crazy amount of entertainment they will receive from this electronic walking dancing robot.
Energy Sword for Halo
If they are into the game Halo, they will find this Energy Sword a great representation of the letter E!
Elephant Plush
Elephant plushes are great for cuddles and company.
Engineer Train Conductor Hat
Now they can play engineer train conductor with their very own hat!
Eeyore Funko Pop Figure
Winnie the Pooh is a classic, and Eeyore just happens to start with the letter E!
Electric Turbot Clownfish
An electric clownfish? Wow!
Elf Plush Doll
Even if it is not close to Christmastime, this Elf plush doll is a great toy to celebrate the letter E.
Engino Discovering STEM Newton's Laws Energy Construction Kit
Help your kiddo learn more about Newton's Laws and energy with this energy construction kit!
Enormous Turnip Finger Puppets Farmer Version Story
They can put on a whole performance for you with these enormous turnip finger puppets.
Escape from Frank Track Set from Cars
They can help Mater escape from Frank with this track set!

So many options for toys that start with the letter E! Choosing just one will be a big challenge!
Toys that Begin with the Letter E for Ages 9-12
As I thought about words that begin with the letter E, I realized that there are a few that are body parts, like ear, eye, and elbow. It is such a fun realization. However, this list isn't full of toys that are related to the body. There are some, but not all.
Ears Large Plastic
These large plastic ears are great for dressing up and pretend play.
Electronic Music Inventor Kit
Now they can invent their own electronic music!
Educational Insights Geosafari Jr. Talking Globe
I can only imagine how much they will learn about the world with the Educational Insights geosafari jr. talking globe at hand.
Edge and Christian from WWE Figures
If they love the WWE, they will love having both the Edge and Christian figures to play with.
Earth and Moon Model Kit
Learning about earth and space is always important, and doing so in a fun and enjoyable way makes the knowledge stick better in their minds.
Elves Noctura's Tower & The Earth Fox Rescue LEGO Building Kit
There is so much play to be had with the Elves Noctura's Tower and the Earth Fox Rescue LEGO building kit.
Edge Brands Wonder Woman Logo Pool Float
If they love being in the water, they will love the Edge Brands Wonder Woman logo pool float.
Elenco Snap Circuits 3D M.E.G. Electronics Discovery Kit
They can build their own circuits and more with the Elenco snap circuits.
Electronic Talking Hamster
Buy Now
The electronic talking hamster will give them a lot of laughs and keep them entertained for a while.
Empire State Building 3D Puzzle
Put their minds to work with an Empire State building 3D puzzle, and when they are done, they can admire how amazing it looks.
Electronic Dinosaur Robot
My nephews have an electronic dinosaur robot, and it is a hit with them, their friends, and other kids who pass through the house. It is one of the coolest toys they own!
Enemy Quad with Triceratops Playmobil Building Set
Dinosaurs are just plain cool, especially when they come with their own Enemy Quad.
Ender Dragon
For the Minecraft loving kid of yours, an Ender dragon is one of the best things you can ever get them because, chances are, they love all things Minecraft!
Educational Insights Playfoam Combo Pack
Whether or not it is truly educational, kids love playing with playdough, playfoam, slime, and putty.
Engino Discovering Stem: Levers, Linkages & Structures Building Kit
They can discover more about STEM and levers, linkages, and structures, with the Engino Discovering Stem kit.
Escape From Frank Cars Track Set
Now that they have this toy, they can help Lightning McQueen escape from Frank!
Elves the Goblin King's Evil Dragon LEGO Building Kit
Another great Elves LEGO kit, with the Goblin King's evil dragon!
Escape from New York ReAction Figure
Whether they know who this character is or what the toy is about, an action figure that looks like this is just plain cool.
Ever After High Legacy Day Raven Queen Doll
If your kid loves Ever After High, they definitely need this doll to add to their collection.
Elephant Toy Figure
The elephant toy figure can be something that they actually play with, or they can set it up on a shelf and keep it as a piece of decor for their room.
So many cool toys that begin with the letter E for your kid, which one will you choose?