Disclosure of Material Connection: Some of the links in this post may be "affiliate links." This means if you click on the link and purchase an item, I will receive an affiliate commission. Disclosure in accordance with the Federal Trade Commission's 16 CFR, Part 255. This site is a participant in the Amazon Services LLC Associates Program, an affiliate advertising program designed to provide a means for sites to earn advertising fees by advertising and linking to Amazon.
Valentine's Day is a great holiday to show your wife you care. Many times wives and moms work so hard at doing things like cleaning the house, cooking, and grocery shopping. Show her that you notice the little things by giving her something extra special for Valentine's Day. When you do something thoughtful that also makes her feel special, it may cause her to have some extra romantic feelings towards you….So you have been forewarned! She'll be excited about all of these Valentine's Day Gift Ideas For My Wife!
Sweet Valentine's Day Gift Ideas For My Wife
Check out this list of flirty, romantic, and fun gifts that will make her heart swoon for you!
Above Bed Decor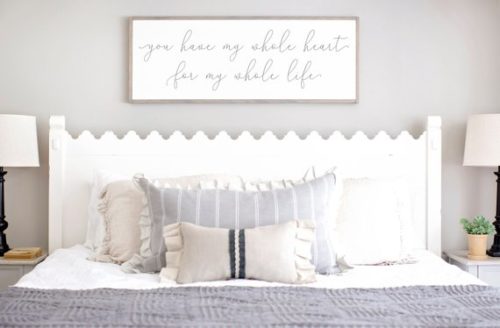 This is an awesome gift for your wife that is both thoughtful and sweet but also adds beauty to your bedroom.
Questions For Couples
This gift can keep on giving all year! Your wife is going to love the idea that you want to connect even deeper with her.
Desire Sensual Massage Oil
Not only will she love getting a massage from you with this oil, but she may also even return the favor. Her skin is going to be super soft, and using this oil a great way to make her feel pampered.
Personalized Scrabble Frame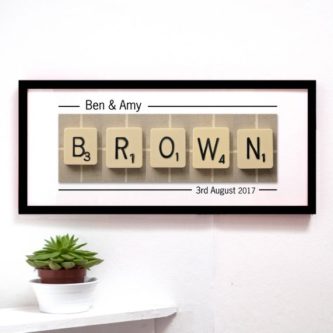 This is a cute and fun way to show her you love your relationship! Every time she looks at it, she will love you even more….even on the days she is mad at you!
Message In A Bottle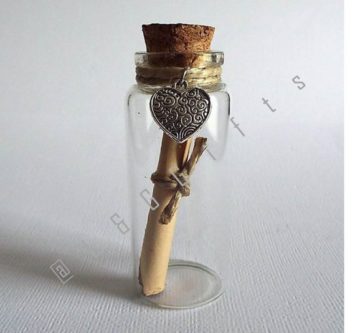 Super romantic gift that you can personalize too. It is a treasure she can keep for many years to come and will remind her of how awesome you are.
Godiva Chocolatier Assorted Gift Box
This gift set is perfect for a wife that is a true chocolate lover. This is fine Belgian chocolate that will keep her taste buds in heaven and her heart loving you!
Handmade Love Quote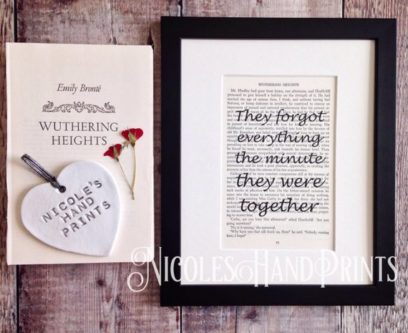 This will be a wonderful gift if your wife is into reading. It is romantic, thoughtful, and she will be so impressed with your gift-giving talent!
Gold Rim Customized Cocktail Glasses
These are super fancy, and she is going to love the gold rim. You will both enjoy getting a little tipsy drinking cocktails in these glasses.
A Little Box Of Romance
Such a fun gift idea that is going to leave your wife laughing and having a good time! Playful romance coupons keep things interesting.
Dainty Layered Necklace
This is so chic and tasteful. It's the perfect necklace because it is never going to go out of style, and she is going to love how thoughtful you are.
Romantic Gift Picture Frame
Such a considerate gift that she can enjoy for a long time. Surprise her with a photo of the two of you from a special time together.
Love Necklace Inscribed In 120 Languages
Whoa! This is one cool and meaningful necklace. Your wife will get to be constantly reminded by how much you love her!
Why I Love You: A Journal Of US
Sometimes it can be hard to express your feelings, so why not show her in writing how much she means to you. Be prepared that she may even cry as she reads it. (Don't worry, they are happy tears!)
Warm Romance Flower Bouquet
Instead of getting her flowers that are going to die, get her an arraignment made out of silk flowers. They are gorgeous and can brighten up any space.
Scratch Your Travels
Make plans with your wife to do some romantic traveling! She will love scratching off all the new places you go. Hint….You will get bonus points if you actually plan a little trip to go with this gift!
My Life Would Succ Without You
Pun intended with this darling gift box with a potted succulent plant! She will get a laugh and enjoy the candle and cookie.
Two-Toned Gemstone Tennis Bracelet
You can personalize this stunning bracelet with her birthstone. If you don't know her birthstone, you should probably figure that out!! No matter what, she is going to be amazed by this bracelet.
Tropical Milky Coconut Bath Gift Basket
She will feel like she is somewhere on an island when she is using the bubble bath and bath salts. Make her feel pampered and relaxed with this great gift idea.
Photo Block
This is a gorgeous photo block that you can personalize with one of your own meaningful photos. She will love this gesture and can display it at home or in her office.
Valentine's Day is the perfect holiday to really surprise your wife. You can go as big or as small as you want. She probably isn't expecting anything, so she is going to love whatever thoughtfulness you put in. Give her a heartfelt card to go with her gift, and she may even be a little shocked.