Disclosure of Material Connection: Some of the links in this post may be "affiliate links." This means if you click on the link and purchase an item, I will receive an affiliate commission. Disclosure in accordance with the Federal Trade Commission's 16 CFR, Part 255. This site is a participant in the Amazon Services LLC Associates Program, an affiliate advertising program designed to provide a means for sites to earn advertising fees by advertising and linking to Amazon.
Your husband is an amazing father and husband, but let's face it, men are hard to buy for! If you are at a loss of what to get him, this is a great place to find it. There is a wide variety of gifts for him, and many of them are true gems!

Father's Day Gifts for My Husband
Father's Day is Just Around the Corner!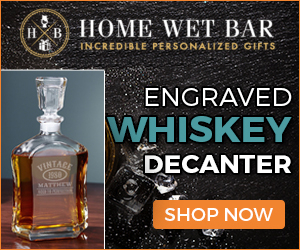 "Real men drink wine" Wine Glass
Real men, especially fathers, drink wine.
"We are like shining stars" Guitar Pick
If he is the star of you and your kids' lives, and loves to play guitar, he will love the "We are like shining stars" guitar pick.
"Hot dad alert" Coffee Mug
Hot dad alert! Hot dad alert! If your husband is a hot dad, he needs a coffee mug that tells him as much so he can get that confidence boost in the morning.
"Back off, I have a crazy wife and I'm not afraid to use her" Shirt
If he thinks you're crazy, or you both have a sense of humor about wives, then this shirt is great! Whenever he gets into a sticky situation, he can wear this shirt.
"Man bib" Apron
Aprons are a "man bib," unless he is the one cooking or grilling.
"DAD: A son's first hero, a daughter's first love" Wood Sign
Every great and loving dad is their son's first hero and their daughter's first love.
Moscow Mule Body Candle
A manly candle for the man in your life, and will look great in the bathroom. He just might need to light the candle in there from time to time to keep things smelling nice.
Rouxbe Online Cooking Course
If your husband is into perfecting his culinary skills, a Rouxbe online cooking course might be just the thing. These self-paced courses are available on a variety of topics, or a membership model, and make an excellent gift. He will learn SO much. Click here to read a full review of Rouxbe.
"Love you to the moon and back" Moon Keychain with Kids' Names on Star Charms
A popular phrase that means a lot, remind him that you and your kids love him to the moon and back with this moon keychain with the kids' names on star charms. It will be his treasured keychain for many years.
"I love my awesome wife" Shirt
You're an awesome wife, no doubt about it, and he loves you. This shirt will allow him to shout it from the rooftops!
Personalized Men's Bathrobe
Every husband and father should have a fancy personalized bathrobe to wear!
"Hello handsome" Rustic Pallet Sign
He's handsome, otherwise you may not have married him and had kids with him. Give him the boost he needs with this rustic pallet sign that can be put up anywhere.
"Please do not disturb… Walking Dead is on" Socks
For the Walking Dead fan, he needs socks that tell others to leave him alone while it's on.
"Best husband ever" Pillow
He is the best husband ever, give him the pillow that tells him everyday.
"Stop… Hammer time" Hammer
If he's a fan of MC Hammer and uses his hammer a lot, then this "Stop… hammer time" engraved hammer will make an awesome gift this Father's Day.
Photo Dog Tag Necklace
Photos of your kids on this dog tag necklace will allow him to keep them close to his heart at all times.
Daddy Shark Shirt
When daddy shark comes out, you better watch out! He will do anything to protect his kids.
"Awesome Dad" Dictionary Cufflinks
He is an awesome dad to his kids and now he can show that off when he dresses up in a suit.
"For the little bit of money my daughter hasn't taken yet" Money Clip
Daughters spend a lot of money, heck, kids spend a lot of money. That's why he needs this money clip, to keep the rest of his money safe.
"World's best dad by day, police officer by night" Coffee Mug
If your husband is a police officer, this coffee mug will make the greatest Father's Day gift this year.
"Super dad" PJ Masks Shirt
For the dad of young kids that love PJ Masks, this super dad shirt is a perfect fit!
Your husband deserves the best gift you can give him, but it doesn't have to be hard to find or expensive to buy. These gifts are excellent choices for him this Father's Day!