Disclosure of Material Connection: Some of the links in this post may be "affiliate links." This means if you click on the link and purchase an item, I will receive an affiliate commission. Disclosure in accordance with the Federal Trade Commission's 16 CFR, Part 255. This site is a participant in the Amazon Services LLC Associates Program, an affiliate advertising program designed to provide a means for sites to earn advertising fees by advertising and linking to Amazon.
If you're picking out a gift for marshmallow (the name for true Veronica Mars fans) this list is for you. But if you ship Veronica and Piz get out of here (kidding, I'll include some gifts for you too!) If you loved this show you will love these items below. Make someone's day with these epic Veronica Mars gifts!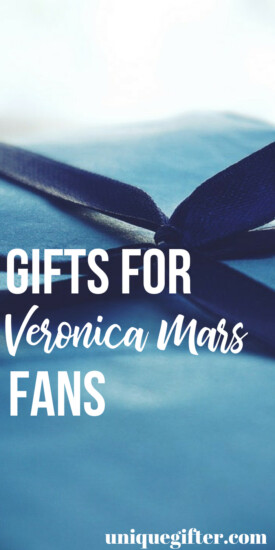 Fun and Fan Worthy Veronica Mars Fan Gifts
Mars Investigations 2 Pin Pack
Put this pin on your Veronica inspired jacket and bag with this set of 2 Mars Investigations pins.
Team Logan Shirt
Am I saying I'm Team Logan? 100%, and you should be too, so declare your Logan love with this screen printed tee.
Veronica Mars Complete Series and Movie
Every marshmallow needs a copy of the series and movie!
Veronica Mars Novel
Give the gift if a new Veronica Mars adventure with this original mystery novel.
Detective Toolkit
Everyone wants to be a sleuth like Veronica, and this kit has everything a detective needs.
Be Cool Sodapop Print
Nothing makes a better decoration than a Veronica Mars quote
Kristen Bell Saint Candle
If you're a true fan of Veronica Mars you'll definitely want this bad boy
Private Investigator Mug
Feel like Veronica with this fun private investigator mug
Neptune, California Poster
Feel like you're in Neptune with this gorgeous poster
Veronica Mars Leather Bag
If you really love a marshmallow, you'll get her this killer dupe of Veronica's standard bag.
Neptune Pennant
There's nothing like a good pennant to show your love for Neptune, California!
TV Script with Autographs
Read the pilot script and then store in a safe place, as this is a keepsake to be treasured
Logan Echolls Heart Pin
Everyone loves a bad boy, and anyone who loves Logan Echolls needs this pin
Veronica Mars Nail Stamping Plate
Put your Veronica Mars pride on display with this nail stamping plate
Veronica Mars Quote Tote Bag
Carry a bit of Veronica Mars with you with this tote bag featuring a quote from the show.
Neptune Cat Bow Tie
Cats deserve Veronica Mars swag too!
Female Detective Bookmark
Celebrate strong women with this Nancy Drew inspired bookmark
Marshmallow Cross Stitch Pattern
For the craftiest marshmallows, this pattern is the perfect gift!
Veronica Mars Charm Bracelet
This handmade charm bracelet features handpicked charms focused on Veronica Mars
True Love Stories Never End Pin
Saving my favorite gift for last, this pin is a must-have for any Marshmallow!