Disclosure of Material Connection: Some of the links in this post may be "affiliate links." This means if you click on the link and purchase an item, I will receive an affiliate commission. Disclosure in accordance with the Federal Trade Commission's 16 CFR, Part 255. This site is a participant in the Amazon Services LLC Associates Program, an affiliate advertising program designed to provide a means for sites to earn advertising fees by advertising and linking to Amazon.
I'm finding out what being royal's all about! This show is honestly everything I could have ever wanted as a kid- a 'commoner' girl becomes a princess overnight. She becomes friends with animals, gets advice from Disney princesses, and learns that being a princess is a matter of heart, not about what's on the outside. Though the show ended in 2018, with over one hundred episodes it's no surprise it is still popular with kiddos. And here are some positively royal gifts for the princess in your life! These are the best Sofia the First gift ideas for young fans of the show.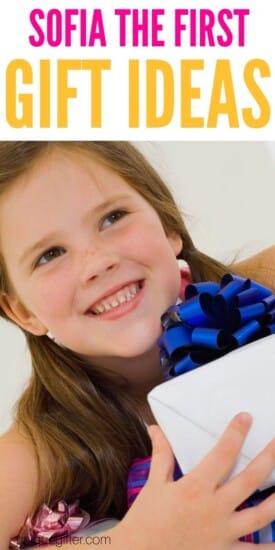 These are the Best Sofia the First Gift Ideas for Kids
These are the most adorable and fun gifts to celebrate their love for Sofia the First! These gifts will make any child feel like a princess for a day.
Sofia's Amulet Chunky Necklace
A great accessory for everyday play or a cute addition to a Halloween costume. Kid tested and mother approved!
Kids Digital Watch
Plays the theme song from the show! Great for practicing math and time with your little one as well.
Personalized Christmas Ornament
A great way to get your princess excited for decorating the tree! Can be personalized as well.
Girls Two Piece Pajama Set
This pj set has a lot of great reviews! A positively royal present for any fan of the show.
Sofia the First Dress with Pearls
"A great alternative to the cheap looking, uncomfortable princess dresses in the stores." Couldn't have said it better myself!
Coloring and Activity Book Set
Use this on a road trip or a rainy day. Get two for the price of one!
Princess Sofia Flower Crown
Fit for royalty who doesn't mind a little whimsical touch. The magic amulet changes color!
Embroidered T-Shirt
Each shirt is handmade for a truly unique gift! Great for matching shirts for all your nieces.
Kids Water Bottle
Made with children in mind. A noble goblet for only the finest toddler (or small child).
Princess Hooded Towel
Maybe this will convince them to dry off after a bath! Can be personalized as well.
"The Perfect Tea Party" Sofia Book
A Little Golden Book inspired by an episode. A reviewer said "it reinforces that fancy isn't always better than what is simple."- a good lesson to learn!
Sofia the First Tutu
I adore the glitter and color of this tutu! Perfect for playtime or a party.
Thermos Sofia Lunch Box
As a kid I loved getting a lunchbox for the new school year! A quality choice for carrying PB&Js and Goldfish crackers.
Sofia Doll Carrier
Not only dolls, but stuffed animals can ride along too! Has stellar five star reviews.
Sofia the First Plush Doll
The royal princess herself! Be sure to give her a big ole hug.
Kids Night Light Block
During the daytime it's cute decoration, at night it will put them at ease. A special gift for a special child!
Sofia the First Castle Carry Play Set
I had a suitcase full of Polly Pockets growing up. This is a much nicer alternative for Sofia and her friends.
"There's a new princess in crown." May we all learn that anyone can be a princess with a kind heart and a strong mind. Minus the talking to animals part. I hope you enjoyed this list, be sure to let us know which one is your favorite in the comments below!