Disclosure of Material Connection: Some of the links in this post may be "affiliate links." This means if you click on the link and purchase an item, I will receive an affiliate commission. Disclosure in accordance with the Federal Trade Commission's 16 CFR, Part 255. This site is a participant in the Amazon Services LLC Associates Program, an affiliate advertising program designed to provide a means for sites to earn advertising fees by advertising and linking to Amazon.
When shopping for classroom gifts it's hard to please everyone, but even harder to please a class full of "big kids". These gift ideas are a little bit more grown up to keep 8th graders happy. 8th Grade isn't too old to have fun gifts to give classmates. Here are 20 awesome gifts perfect for Valentine's Day but if you're looking for gifts for younger students click here.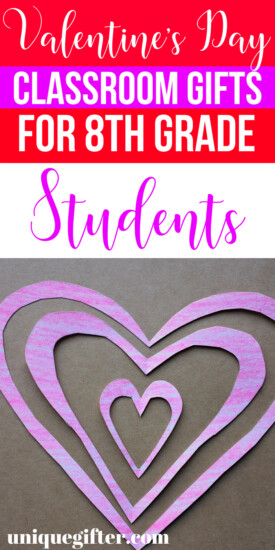 Fun Valentine' Day Classroom Gifts for 8th Grade Students
Emoji Keychain
Emojis are a pretty safe bet when it comes to shopping for kids. These set gives you a good assortment of expressions so you can pick the one that best suits each student.
Hanging Lanterns
These would be fun to hang in the classroom for a Valentine's Day celebration. Then the students could each take one home afterwards to hang in their room.
Treat Bags
If you just want to do some simple treats you can always pick up some cute bags and fill them with some goodies.
Hot Chocolate Spoon
You can't go wrong with treats when it comes to Valentine's day. All they have to do is put these spoons in hot milk and they'll turn into delicious hot chocolate.
Rose Pens
Novelty writing utensils is an 8th grade crowd pleaser. Pick something Valentine's Day themed like these fun rose pens. They even come in a classroom-sized pack!
Cute Gift Tags
There are so many cute gift tags out there that you can download and print. Just pair it with a small gift and they're perfect classroom gifts! These lip balm ones are especially adorable.
Conversation Heart Stress Ball
8th graders may not be under that must stress but they're really getting into that teen angst stage. This is a cute way to give them something that might actually be practical. Plus the sensory feeling of playing with them will be good for concentration.
Valentine's Day Soap
Hopefully all your 8th graders are taking showers and washing their hands, but why not give them some soap just to make sure. It looks like candy!
Heart Bracelets
With older kids you want to stay away from those really childish plastic bracelets, but they're not too old for some variations. These ones look a little bit more grown up.
Bookmarks
These bookmarks are so cute, they say "I would put my book down for you". The best part is they come laminated and ready to hand out.
Valentine's Day Pins
8th graders love pinning pins to their backpacks and other things. This set comes with cute classroom cards to hand out and each one has a pin attached. They're styles that will appeal to this age group too.
Love Tokens
These love tokens can be personalized to say anything you want. Kids can put them in with their coins and carry around some words of encouragement.
Personalized Heart Mug
There's something special about getting something with your name on it. Give one of these mugs out to classroom students as a practical, but unique gift.
Conversation Heart Kisses
The best of both worlds! The kids will enjoy eating the chocolate but they also include some of the Valentine's Day fun that conversation hearts bring.
Paper Straws
Plastic straws is the environmental issue everyone seems to be talking about. Get them started by picking up some packs of paper straws for them to use instead of plastic.
Lip Balm Holder
They'll never lose their lip balm again with these cute Valentine's Day themed lip balm holders. They're also keychains so they can be attached to backpacks or even their house keys.
Felt Heart
Although they're kind of past the toy stage, 8th grade students still like having plushies around. Get them something cute like these heart pillows.
Heart Cozy
It's February so 8th grade students are probably trying to warm themselves up with a beverage. Sometimes, though, they're too hot – so always carry a mug cozy. Same with cold drinks; now they won't freeze your hands in the wintertime.
Tea Infusers
This would be a great gift to include with a mug and maybe some age-appropriate tea. There's lots of fruit flavours out there that don't contain caffeine!
Cotton Candy Bath Bomb
There's nothing like a relaxing bath and 8th graders are starting to appreciate that. These bath bombs smell like candy but won't add to the overwhelming amount of treats kids get around holidays.
It's great that you're not forgetting about these bigger kids when doing Valentine's Day shopping. Just because they're newly minted teenagers doesn't mean they don't love getting a little something special. Don't leave the teacher or younger students out, click here to see the rest of our Valentine's day classroom posts.