Disclosure of Material Connection: Some of the links in this post may be "affiliate links." This means if you click on the link and purchase an item, I will receive an affiliate commission. Disclosure in accordance with the Federal Trade Commission's 16 CFR, Part 255. This site is a participant in the Amazon Services LLC Associates Program, an affiliate advertising program designed to provide a means for sites to earn advertising fees by advertising and linking to Amazon.
Kids love Minions, the movie and the toys. Admit it, as an adult, you love the Despicable Me Minions too. It's cute and funny, and just perfect for the family. If you are hoping to get a Minion-themed gift for your kiddo, the list of ideas that follows will certainly help you get started in the right direction!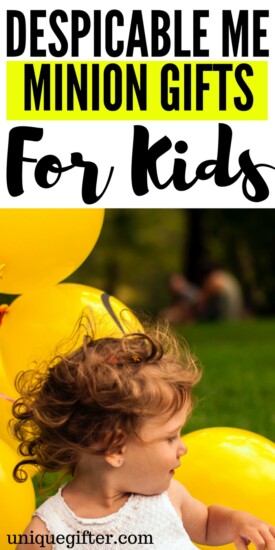 Despicable Me Minion Gifts
LE3D Minion Night Light
This LED 3D Minion night light is the perfect addition to your Minion-loving kid's bedroom, especially if they are not a fan of the dark!
Crochet Finger Minion Puppets
These adorable crochet finger puppets of Minions will give them hours of play.
Minion Stud Earrings
For the little girl who has everything, Minion stud earrings will be her favorite accessory to wear!
Despicable Me Minions Trifold Wallet
The little man in your life wants to carry his own money and cards, and this Despicable Me trifold wallet is such a great choice for the Minion-lover!
Minion Slap Watch
Help your kiddo tell time with their very own Minion watch! It's brightly colored and so much fun!
Despicable Me Minions Projector Pen
Hours of fun, whether writing or not, with a Despicable Me Minions projector pen.
Minions Mason Jar Cup
They will enjoy drinking their favorite beverage from this Minions mason jar cup with straw so much more than a plain cup!
Despicable Me Minion Throw Blanket and Canvas Tote Bag
Oh, how much easier going to a friend's or family member's house will be with a Despicable Me Minion throw blanket and convenient canvas tote bag to carry it in!
Minions Cutouts DIY Kids Craft
Gift these and let your kids put their own Minions together for hours of fun and laughter!
Minion Bath Bomb for Kids
Adorable Minion bath bombs for kids who love both baths and Minions!
Minions Pillowcase
This Minions pillowcase is the perfect addition to their bedding, whether the rest has Minions on it or not. They will really enjoy laying their head on their pillow with this case on it.
Minion Overalls Apron
Arts, crafts, and maybe even eating, will be so much more enjoyable dressed up as a minion!
Ready to Paint Ceramic Minions Set of 4
Another arts and crafts activity, and it would pair perfectly with the apron listed right above this too, to protect their clothes from the paint!
Minion Shaped Soap
Your kids will love washing their hands, or bodies, with their special Minion shaped soap bars!
Kids Minion Surprise Bath Bombs
Bath bombs with surprise Minion figures inside? What would be more fun to add to the bath?
Despicable Me 12" Backpack
Whether your kid goes to school or not, they likely need or want a backpack of their own. This Despicable Me backpack is the perfect choice for them.
Despicable Me Minion Toy Rubber Keychain Flashlight
They will be able to see anything in the dark with this Despicable Me Minion keychain flashlight. Plus it's fun to use!
Memory Game Despicable Me Edition
Memory games are fun for a lot of different ages, and gives them a way to practice remembering where things are. You can't go wrong with a Despicable Me themed one to keep their attention longer!
Minions Alarm Clock
For the kiddo that wants to wake up on their own, they need a Minions alarm clock to set the night before.
Custom Letters Despicable Me Room Decor
You can spell their whole name, use their initials, or just the initial of their first name to put on their wall! They will love decorating their room with these Despicable Me letters.
Despicable Me is so popular these days, and chances are you know a kid who just loves the movies, even if it isn't your own kiddo. Make their day with one of these thoughtful gifts!