Disclosure of Material Connection: Some of the links in this post may be "affiliate links." This means if you click on the link and purchase an item, I will receive an affiliate commission. Disclosure in accordance with the Federal Trade Commission's 16 CFR, Part 255. This site is a participant in the Amazon Services LLC Associates Program, an affiliate advertising program designed to provide a means for sites to earn advertising fees by advertising and linking to Amazon.
This fuzzy blue Muppet is always known for putting on a show with his fellow characters. First appearing in The Great Santa Claus Switch, the ambiguous Gonzo has gone on to become a staple in the Muppet franchise. If someone loves Gonzo, here are some gift ideas that are perfect for holidays, birthdays, or just because!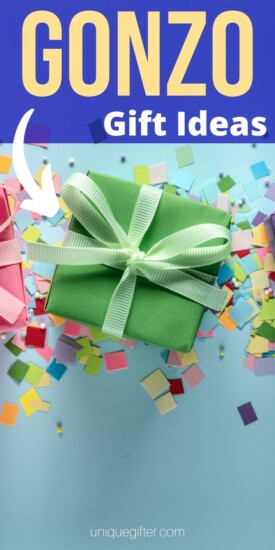 The Bradford Exchange -The Muppet Show LED Lighted Cuckoo Clock
Not only do you get Gonzo, but you also get 11 other Muppet characters to help you ring in every hour of the day!
The Muppets Gonzo Costume
If someone loves Gonzo, this costume is a perfect addition to their collection! Great for Halloween or a silly photo opportunity!
Funko POP Muppets: Gonzo
These Funko Pop figurines are perfect for desks, shelves, or to just keep in the box to display!
Muppets Gonzo Cookie Cutter Made From Biodegradable Material
These cute cookie cutters would be awesome for baking cookies or making clay ornaments shaped like Gonzo!
Gonzo Muppet Inspired Pierced Earrings
If they love Gonzo and his silly antics, wearing a pair of these earrings is sure to spark a conversation.
Gonzo Lunch Box
This is great for kids (or adults) who love Gonzo and his fun stunts!
Gonzo and Camilla Minimalist Poster
This print would be an excellent addition to a child's playroom, bedroom, or even a fun color pop for your office decor.
Gonzo – Chicks Dig Him! Official Men's 3/4 Sleeve Baseball Tee
For a guy who gets a kick out of Gonzo, consider this baseball tee!
Gonzo Fleece Blanket
Put one on the couch or put one on the bed – enjoy Gonzo anytime there's snuggling involved!
The Muppets Christmas Pixel Baubles – Gonzo
These handmade ornaments are a perfect add-on for any fan of The Muppets.
Gonzo Car Decals
Gonzo can go everywhere when he's on a windshield!
Gonzo iPhone Case
Show off how much they love this peculiar Muppet with an iPhone case!
Gonzo Wine Bottle Stopper
Does someone love wine & Gonzo? This unique wine stopper is a perfect stocking stuffer during the holidays or an addition to a hostess gift.
Kids' Gonzo Costume
Does your little one love Gonzo and his silliness? Get them this costume for Halloween or for any time costumes might be appropriate!
Gonzo Zipper Pouch
These little zipper pouches are great for carrying loose change, hair accessories, or even business cards!
Gonzo Woodburnt Keychain
A simple, minimalist keychain that's perfect for any set of keys.
No matter whatever species Gonzo might be, he's still a very popular character from The Muppets franchise. Celebrate his quirkiness with one of these fun gifts!