Disclosure of Material Connection: Some of the links in this post may be "affiliate links." This means if you click on the link and purchase an item, I will receive an affiliate commission. Disclosure in accordance with the Federal Trade Commission's 16 CFR, Part 255. This site is a participant in the Amazon Services LLC Associates Program, an affiliate advertising program designed to provide a means for sites to earn advertising fees by advertising and linking to Amazon.
Whether your friend is a health nut or just loves blending things, this list has every gift you'll need for that special smoothie lover in your life. Just add fruit to this list and you'll have a perfect smoothie!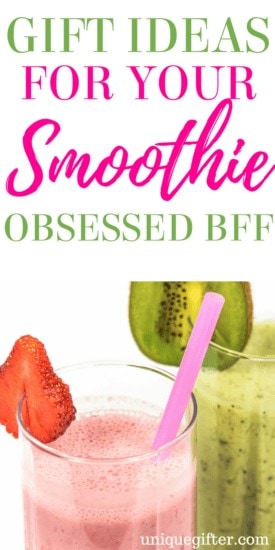 Smoothie Gifts
Blender Bottle
This USB rechargeable bottle blends your smoothie on the go! Perfect for a busy friend who wants a cold smoothie at anytime and anyplace.
Recipe Book
Every smoothie junkie could use a few more recipes. This recipe book is full of healthy smoothies that your friend will be excited to try.
Multifunctional Blender
A smoothie lover needs a quality blender, so this is a great gift idea. And with all of the extra functions, your smoothie head might even come to love soups and dips as well.
Prevention Subscription
Whether print or digital, a magazine subscription keeps on giving. With monthly ideas for smoothies and health, the recipient of this gift will be able to make smoothies all year!
Green Superfood
Packed with vitamins, this is any smoothie lover's dream kitchen must have. This supplement is vegan and gluten free, so even your pickiest friends will be pleased.
Reusable Straws
These stainless steel extra wide straws are designed for the eco-friendly smoothie addict. Hippies and litterers alike will enjoy using and reusing these dishwasher safe smoothie straws!
Juice Cleanse
This one day juice cleanse is perfect for your friend who wants to be healthy, but usually only lasts one day. But seriously, any smoothie lover would enjoy a day of health without having to prepare.
"I'd Juice That" T-shirt
For your witty and healthy friend! This shirt comes in many different hues, with a cute veggie design.
Wheatgrass Kit
If your friend likes smoothies and has a green thumb, this really is the perfect gift. A complete kit to grow wheatgrass
a perfect addition to any green smoothie!
Matcha Powder
The newest, hippest trend, matcha powder will give your friend's smoothie a nice energy boost. Added bonus: your hipster friend might treat you to a caffeine loaded green smoothie!
Smoothie Recipe Magnet
Finally, something your friend can't lose, a smoothie recipe magnet. A cute addition to any fridge!
Smoothie Watercolor Painting
For the true smoothie lover who wants their house to reflect their love. This pretty picture is handmade and would look good hanging over a blender in any kitchen.
Mustache Cutting Board
Every smoothie lover needs a good quality cutting board for their fruits and veggies. Why not glam up the usual boring cutting board and give your friend a 'stache?
Fish Popscicle Molds
Although it may sound strange, these fish pop molds are cute and a great way to turn a normal smoothie into a sweet treat. A funny gift for a vegetarian in your life or just for a hot summer.
Smoothie Tea Towel
A true gem among other tea towels, this one has simple smoothie recipes printed on it. So wash those hands and dry them on your newest smoothie recipe!
Fruit Infusion Pitcher
Sometimes you need a break from smoothies
so why not have fruit water? A great gift for your smoothie friend who has it all!
Juice Apron
I like this apron because it's functional and also seems a bit sassy. Celebrate fresh juice while wearing this stylish I heart juicing apron.
Watermelon Slicer and Pineapple Corer
Adding fresh watermelon or pineapple to a smoothie can really add a crisp taste to the drink. However, cutting either of these fruits can be tricky, so help a friend out with this stainless steel set.
Blank Smoothie Recipe Book
Sometimes a blank notebook can be as cool as a book filled to the brim with words. This notebook gives the user free reign to write down smoothie recipes, a grocery list, or even plans for world domination.
Squissors
Put in a whole orange and come out with a cup of juice
it's almost too good to be true. A great gift for the somewhat lazy juicer/smoothi-er in your life.