Disclosure of Material Connection: Some of the links in this post may be "affiliate links." This means if you click on the link and purchase an item, I will receive an affiliate commission. Disclosure in accordance with the Federal Trade Commission's 16 CFR, Part 255. This site is a participant in the Amazon Services LLC Associates Program, an affiliate advertising program designed to provide a means for sites to earn advertising fees by advertising and linking to Amazon.
Little love poems are one of the easiest, cheapest and most touching ways to top up a plain old registry item. Sometimes it can be hard to find appropriate and uplifting ones though. (Seriously, do you know how many depressing poems there are about tea?! I found some happy ones here.) You can use a printable to spice up a registry item, like the awesome fort building kit I made for sheets, or a perhaps a free quote printable about soups being a lot like family. If you poke around, you can find even more on this site.
I must admit that I found the basics of this idea on a Weddingbee forum somewhere. It is really quite simple, but mostly fun and cute. Weddings are all about couples being a pair. With that in mind, select an item, or a few items, from their registry that come in pairs. Then, add in one of the poems below that mentions a "perfect pair." Perhaps add an additional mention of the perfect pair, or type the poem up in fun fonts that highlight the phrase.
Thanks to the generous help of some friends on Facebook, here is a brainstorm of "perfect pair" household items: (Affiliate links)
Now that you have a few of those, make one of the following poems pretty by writing it in your card, or pasting it into your favourite text manipulation program.
Love Poem #153

When it comes to lovin' couples,
don't we make the perfect pair-
There's romance, love, and laughter
in the friendship that we share.
We care enough to listen,
to trust and understand.
To build a life together,
side by side and hand in hand.
We both know that we're lucky
and we've got a good thing going.
Through ups and downs
and give and take,
our love just keeps on growing…
'Cause I bring out the best in you,
and you the best in me-
I guess it takes the two of us
to make the perfect "we."

– Author Unknown
Poems from the Heart – One I Love
Loving Pair
It takes two special people,
To make a loving pair.
There's a joy just being around you,
A feeling we love to share.
We send anniversary wishes to you,
For years of joy and pleasure.
May each year keep getting better,
With memories to treasure.
As a Gift from a Wife to a Husband: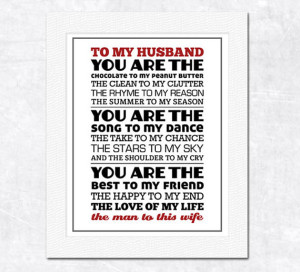 Super cute printable from Etsy seller SweetDStationary (Please don't steal the poem, go to the Etsy seller!)
For kitchen-themed items:
Valentine Food For Thought

Cabbage always has a heart; Green beans string along.
You're such a cute tomato, Will you peas to me belong?
You've been the apple of my eye, You know how much I care;
So lettuce get together, We'd make a perfect pear.

Now, something's sure to turnip to prove you can't be beet;
So, if you carrot all for me let's let our tulips meet.
Don't squash my hopes and dreams now, Bee my honey, dear;
Or tears will fill potato's eyes, While sweet corn lends an ear.

I'll cauliflower shop and say, Your dreams are parsley mine.
I'll work and share my celery, So be my valentine.