Disclosure of Material Connection: Some of the links in this post may be "affiliate links." This means if you click on the link and purchase an item, I will receive an affiliate commission. Disclosure in accordance with the Federal Trade Commission's 16 CFR, Part 255. This site is a participant in the Amazon Services LLC Associates Program, an affiliate advertising program designed to provide a means for sites to earn advertising fees by advertising and linking to Amazon.
Congratulations! Your tenth anniversary is coming up, and you need to find a 10th tin anniversary gift for your wife. You have come to the right place to find her the perfect gift this anniversary! Behold special and memorable gifts that can last a lifetime!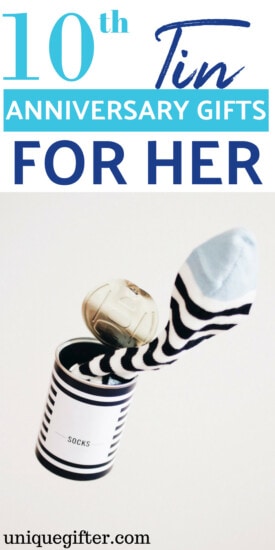 Incredible 10th Tin Anniversary Gifts for Her
We also have tin anniversary gifts for him, if you need those too!
Personalized Sound Wave Art on Tin
Make a personalized soundwave of your voice saying something special, like "I love you" on tin! She will cherish it for many years.
"I love you" Anniversary Magnets in a Tin Container
These "I love you" anniversary magnets inside of a tin container will not only tell her happy anniversary, but how much you love her and are excited to spend many more years with her.
Editor's Choice Best 10th Anniversary Tin Gifts for Her
Catwoman DC Tin Scented Candle
Is your wife a huge fan of DC movies and shows? Grab her a fun and unique scented tin candle based on the elusive character from the Batman universe. Take a nerdy and unique take in her 10th tin anniversary gift for her this year!
Tin Heart Decor
A piece of tin heart decor is a great gift for her to put up in the house this tenth tin anniversary.
Inscribed "10 Years" Bangle Bracelet
Inscribed on a tin bracelet, this "10 years" bangle bracelet is a great way to commemorate your tenth anniversary together.
"One decade down, a lifetime to go" Tin Guitar Pick with Keychain Pouch
You guys have spent a whole decade married, and there is still a lifetime to go. This tin guitar pick with keychain pouch is perfect for the guitar enthusiast or someone who doesn't even play guitar.
Tin Camping "Mr. & Mrs." Mugs
If you two spend a lot of time camping together, these tin camping "Mr. & Mrs." mugs will be put to great use.
"Happy thoughts" Gold Tin Jar
Help your wife collect happy thoughts using this gold tin jar!
"LOVE" Tin Letter Collage
LOVE is always the way to go, and this tin letter collage will mean so much to her as her tenth tin anniversary gift.
White Tin Can Range: "GRACE"
If she loves the word grace, she will love this white tin can range.
Editor's Choice 10th Anniversary Tin Gifts for Her
Bob Ross Happy Accidents
This is a whimsical and thoughtful 10th anniversary tin gift for her, especially if she's artsy! She'll love this tin sign for her office or creative space.
Husband and Wife Tin Sculpture 10th Anniversary
Husband and wife tin sculptures are the way to go for her gift this year and mean so much.
Off Shaped Tin Heart Pendant Necklace
This off-shaped tin heart pendant necklace is something she can wear close to her own heart, to remind her of her love for you and your love for her everywhere she goes.
Scented Candle Tins
Scented candle tins make great gifts for your wife if she loves candles!
"Love you more" Hand Stamped Metal Keychain
You two always say, "I love you more," so it's only natural that you give her the hand stamped metal keychain version of it.
Tin Scrabble Personalized "Our Family" Art Print
Personalize this tin scrabble "our family" art print for her to hang up in your home, for her and you to see everytime you pass it.
Small Hammered Pure Tin Heart Earrings
Jewelry is the way to go if you are not sure what to get her this tenth tin anniversary. These small hammered pure tin heart earrings will look exceptional on her ears.
10th Anniversary Tin Rose
Hearts and love has been the theme for most of these gifts so far, but what about a tenth-anniversary tin rose as a wonderful and thoughtful gift?
License Plate Heart
This heart, made from license plates, which are made from tin, is a great gift. It is an especially nice one if you two like to travel together. She can place it on a table or hang in the wall.
Editor's Choice 10th Tin Anniversary Gifts for Her
Tin Harry Potter Necklace for Her
Is your wife into Harry Potter? This tin gift box is perfect for her 10th anniversary gift this year. It features a matching pair of earrings and a necklace for a subtle literary lover's anniversary gift for her!
Framed Personalized Origami Tin Heart
This framed origami tin heart is so beautiful, she will be speechless when she opens it.
Tin Wallet Insert with Personalized Engraving
Engrave a special note or phrase that you tell her often, onto this tin wallet insert, and she will hold it dear forever.
Anniversary Calendar Personalized Tin Keychain
Commemorate your first date, or wedding date, with this anniversary calendar tin keychain. Neither one of you will ever forget the date when you can look at the keychain and be reminded.
Tin doesn't exactly sound like a fun gift, but these gifts made of tin are all really nice and special. She will love whatever you choose that is from your heart.