Disclosure of Material Connection: Some of the links in this post may be "affiliate links." This means if you click on the link and purchase an item, I will receive an affiliate commission. Disclosure in accordance with the Federal Trade Commission's 16 CFR, Part 255. This site is a participant in the Amazon Services LLC Associates Program, an affiliate advertising program designed to provide a means for sites to earn advertising fees by advertising and linking to Amazon.
Studio Ghibli has made tonnes of classic anime movies over the years, including Howl's Moving Castle. For us English speakers, Disney has made sure we can enjoy these films with their dubs. Whatever language you enjoy it in, here's some Howl's Moving Castle gift ideas that fans will adore.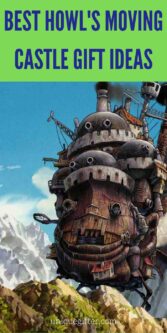 20 Howl's Moving Castle Gift ideas
These gift ideas are as magical as Howl's castle. They might even make the gift recipient happy enough to not wish ill upon you like Calcifer does. After all, a curse of burnt bacon sounds like a pretty terrible fate. Better play it safe and pick up one of these Howl's Moving Castle gifts.
Necklace and Earrings Set
Just like the movie! This set comes with replicas of the earrings Sophie wears in Howl's Moving Castle and Howl's pendant.
Calcifer Night Light
He is a fire spirit, after all. Give Calcifer proper place in your home with this adorable nightlight. Not only will it help you see in the dark, it's designed to make it look like Calcifer himself is lit up to guide your way.
Howl's Moving Castle Film Comic
This full color book follows the story of the movie in comic form. Instead of using drawings, though, the illustrations are done through stills of scenes from the actual film.
Calcifer Earrings
One of the most beloved characters from Howl's Moving Castle, these adorable earrings will also be beloved by Howl's Moving Castle fans. They'd also make a great accessory for an anime convention!
Travel Mug
You can't go wrong with a practical gift idea. This travel mug can be put to use on all their adventures and has a full colour illustration of Sophie and Howl on the side.
Retro Movie Poster
True Howl's Moving Castle fans will not only love this poster, they'll appreciate the thought that went into each detail. Designed like a retro movie poster it will look great in any fan's home, especially if framed.
May Your Bacon Burn Mug
Oh Calcifer. He's so mean when he gets upset. This is one of the cruel phrases he shouts in the movie and would make a perfect gift idea for that Howl's Moving Castle fan who's a bit temperamental before their morning coffee.
Howl's Moving Castle Book
A lot of fans of the Ghibli movie don't realize it actually started off as a book. If they haven't had a chance to pick up this gem, every fan should read it. Without giving spoilers let's just say things aren't quite the same! There's also two more in the series to read after this.
Sophie and Howl Cake Topper
How cute is this! Help a couple celebrate their big day with a bit of adventure, or order it to top an anniversary cake.
Calcifer Embroidered Shirt
This shirt is embroidered using candy floss with Calcifer from Howl's Moving Castle. It says "a heart's a heavy burden" which is a popular line (and words of wisdom) from the movie.
Castle Art Print
If your gift recipient is a fan of the castle design in Howl's Moving Castle this might be a perfect gift idea. Frame it up for a wonderful and thoughtful present!
Calcifer Cloth Diaper
Because let's face it, many of us who grew up watching movies like Howl's Moving Castle are grown ups ourselves! If you're in the market for a baby gift for someone who loves Howl's Moving Castle, this adorable Calcifer embroidered cloth diaper is an ideal shower gift.
Mickey Ears
Mickey, or Minnie, ears are all the rage in the Disney parks. As a Disney Studios film, Howls' Moving Castle definitely deserves to be on a pair! Until then, this amazing custom set will have to do.
Calcifer Ring
Will you marry me? Well, maybe it's not the best engagement ring, but it is the best Calcifer ring. So cute!
Turnip Head Mousepad
Who doesn't love Turnip Head from Howl's Moving Castle? Oh, it's a scarecrow that's come to life. For some reason. Either way it's cute and this is a gift idea they can actually use every day.
Howl's Jacket
Howl's this for a gift idea? Give them a replica of Howl's jacket! It looks like it's straight out of the movie and is ready for their next anime convention or comicon.
The Art of Howl's Moving Castle
This book is filled with concept art and other production details from the movie. A must-have for Howl's Moving Castle fans!
Custom Nike Sneakers
It's tough to find words to describe how amazing these custom Nike sneakers are. Hard to believe someone custom paints these in such striking detail! A Howl's Moving Castle fan will go crazy getting these as a gift, that's for sure.
Hurry up and get these Howl's Moving Castle gift ideas before you become old like Sophie! Each and every one will bring some magic to their life, just like Howl did.