Disclosure of Material Connection: Some of the links in this post may be "affiliate links." This means if you click on the link and purchase an item, I will receive an affiliate commission, which keeps the lights on and the tax collector paid. Many thanks for your support! Disclosure in accordance with the Federal Trade Commission's 16 CFR, Part 255.
As your third-anniversary approaches, you may be searching for a great gift for your husband. For the leather anniversary, there are a surprisingly large amount of gift ideas to choose from! Start below with the list and see what you find! Make this anniversary something to remember with gifts that will make him feel like one loved husband.
Special Leather Anniversary Gifts for Him
Colored Personalized Leather Keychain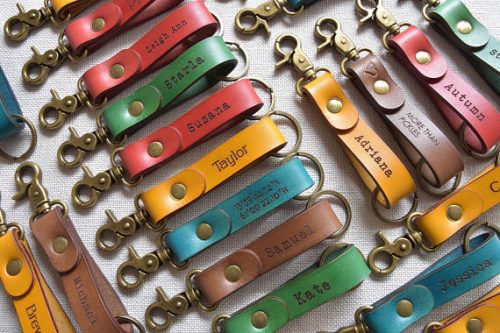 This personalized leather keychain comes in multiple colors, which means that you might even be able to choose his favorite color!
Personalized Leather Wallet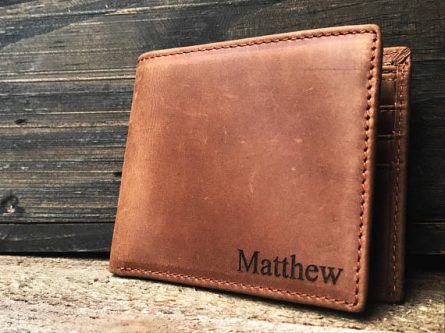 A personalized leather wallet is always a great gift choice.
Leather Toiletry Bag with Monogram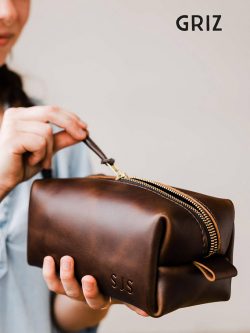 If he, or both of you, travel quite a bit, then he definitely needs a leather toiletry bag with a monogram of his name or initials.
Men's Leather Rope Bracelet with Steel Magnetic Lock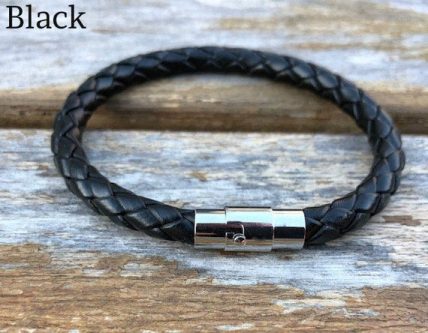 A simple men's leather rope bracelet, that is easy to put on with a magnetic lock, will look great on his wrist.
Leather Pocket Notebook Cover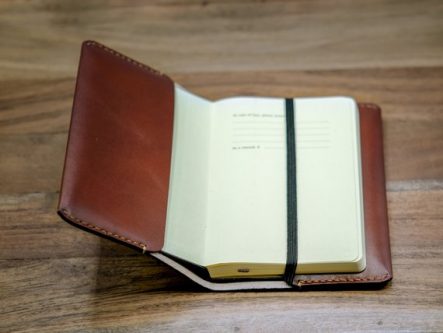 If he has a beloved notebook or does a lot of writing, this leather pocket notebook cover will certainly come in handy.
Brown Leather Luggage Tag Personalized with Color Corner and Initials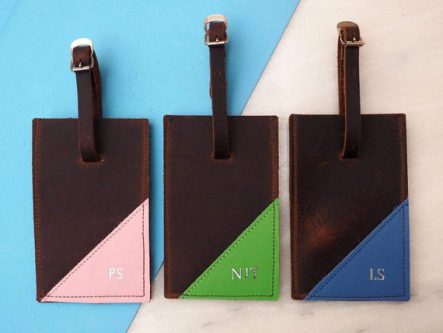 With your choice of colors in the corner of the brown leather luggage tag, and personalized with his initials, he will be all set for travel anytime.
Custom Men's Leather Belt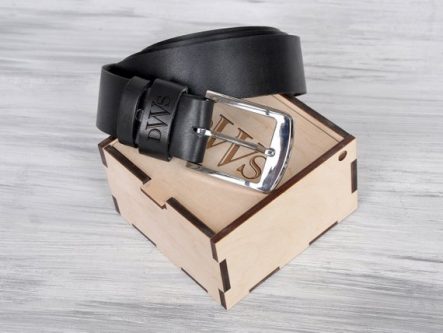 A custom leather belt will help him keep his pants where they should be and in style too!
Leather Passport Wallet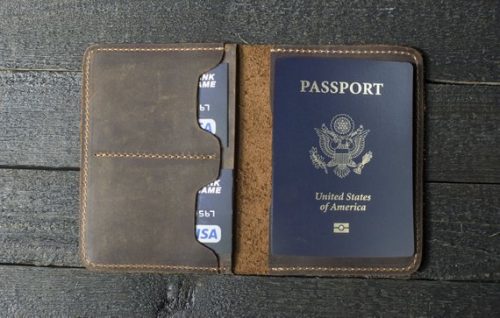 Again with the traveling, this leather passport wallet will come in handy if you two go places where you need a passport… and would also be a great way to announce a trip out of the country too!
Premium Leather Vintage-Style Brass Lighter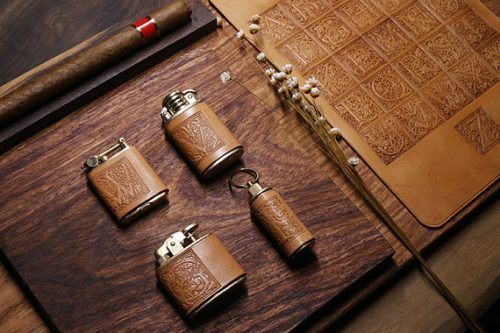 These premium leather vintage-style brass lighters come in three different styles, how amazing is that?
Leather Camera Strap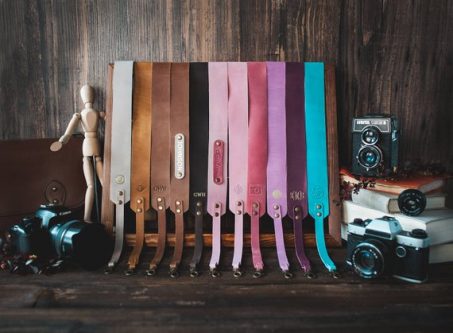 If he loves taking pictures, he needs a leather camera strap that comes in many different colors.
"You + Me = Awesome" Personalized Leather Coasters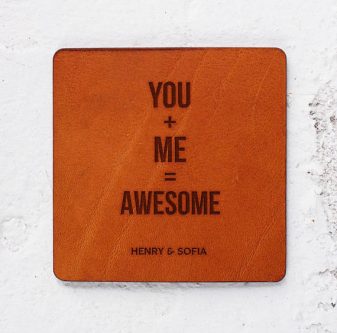 The two of you together is always something awesome. These leather coasters are great to look at and very functional as well.
Engraved Leather Hip Flask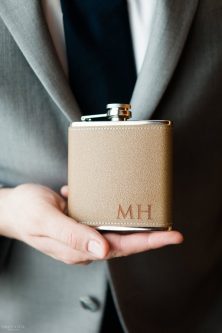 Engrave this leather hip flask with a special word or his name and he will be set!
Leather Earbud Holder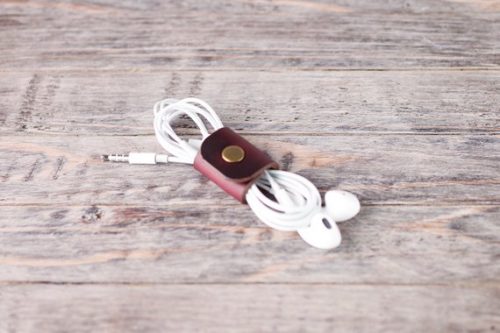 For the music lover, a leather earbud holder will keep his cords from getting tangled or broken as easily.
Leather Anchor Bracelet for Men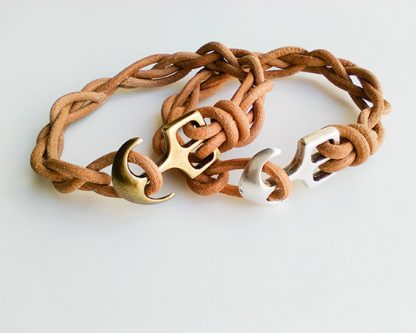 You are his anchor, and he is yours. This leather anchor bracelet is the perfect way to remind him.
Leather Belt Glove Keeper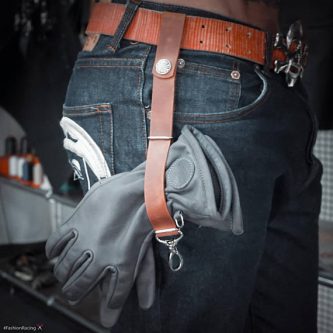 If he does work where he needs to have gloves, this leather belt glove keeper will help him to not lose them on the job.
Brown Leather Lanyard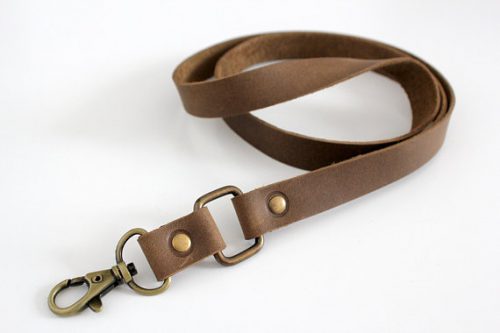 Another great job related gift is this brown leather lanyard for his ID or whatever else he may need at work.
Personalized Leather Keychain Fob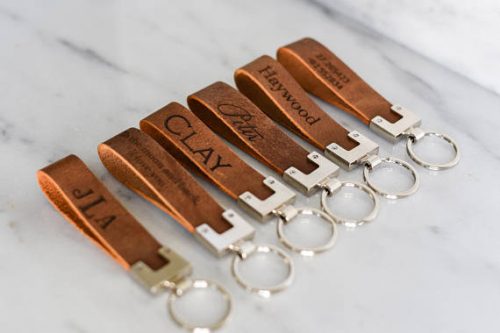 Another keychain fob, but with a different style. He will love that it has his own name on it.
Leather Cord Organizer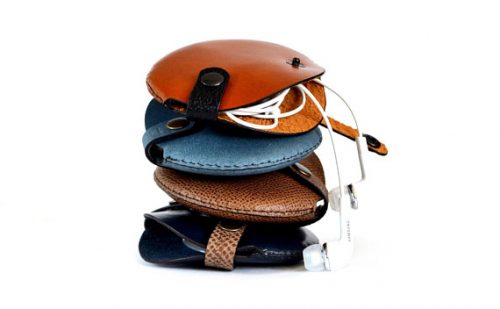 Help him keep his cords organized with a leather cord organizer.
Personalized Coordinates Leather Bracelet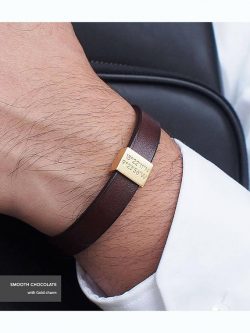 Where did you two meet? Put the coordinates on this leather bracelet and that place will be etched in both your minds.
Men's Leather Antler Diffuser Necklace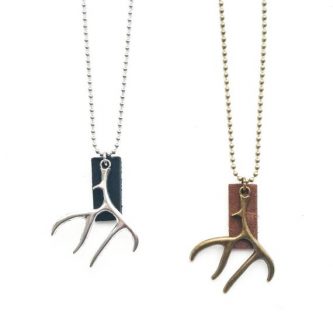 A manly way to diffuse his essential oils and keep him feeling the best he can feel!
Leather gifts can be fun, as this list demonstrates! Which one do you feel your guy will love for your anniversary?