Disclosure of Material Connection: Some of the links in this post may be "affiliate links." This means if you click on the link and purchase an item, I will receive an affiliate commission. Disclosure in accordance with the Federal Trade Commission's 16 CFR, Part 255. This site is a participant in the Amazon Services LLC Associates Program, an affiliate advertising program designed to provide a means for sites to earn advertising fees by advertising and linking to Amazon.
Good landlords care about their tenant's welfare. They will keep the property clean and attend to repairs on time, as long as they are informed in time.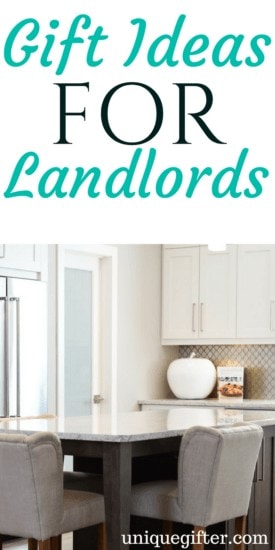 At the end of the day, they will not ask for much, apart from the usual rent. However, if you want to feel generous, you can throw in a gift or two alongside your rent. An excellent gift will nurture your relationship and will go a long way in maintaining your ties.
Being a landlord is hectic, and sincerely, these folks deserve a gift once in a while. Get any of these unique gifts and leave your landlord smiling:
Landlord Gift Ideas
Chocolate Gift Basket
Snacks! Your landlord probably appreciates a sweet treat now and then.
Succulent Set
These adorable succulents make great house decor, bringing a touch of the outdoors in and purifying your landlord's air.
The Landlords Handbook
"Library Journal" has named it one of the best business books because it is an extensive hands-on guide for all house owners. The authors have explained all the important details that landlords need, and in an easy way. Any owner will treat this book as a treasure because it covers almost all landlord-related topics.
Lockout Device for Knobset
This highly durable product has great value and is made out of high-strength aluminum alloy. With this gift, the landlord should easily swap cylinders without having to cause damage on the door. But most importantly, it should work in locking out intruders.
Drain Auger
There is always a chance that your drain will be filled with gunk, maybe once or twice a year. And things get worse when a landlord has female tenants who have long hair and furry pets. This will be your landlord's sturdy buddy when getting rid of blocked sinks.
Best Landlord Ever Mug
This personalized ceramic mug will decorate an owner's cupboard and hold hot beverages. It is made out of quality material and can withstand both the microwave and the dishwasher.
Amazon Gift Card
Gift cards are a better option when you are not sure what gift you need to buy. An Amazon gift card is preferable because it gives its user the liberty to decide from the diverse range of goods offered by Amazon. The card can be used to redeem several items, and it never expires.
World's best landlord T-shirt
This is a gift for a deserving owner, and it comes in a range of colors. From Grey, Red, Orange, and White, among others. Pick the color of choice and reward that deserving landlord.
Keychain holder
Occasionally, you will see a landlord carrying a bunch of keys all squeezed into a single ring. Apparently, keeping keys in order can be challenging when one lacks the right key holder. Get this key chain holder and help your landlord separate the store keys from the house keys.
Landlord baseball cap
This high-quality baseball cap is perfect for a number of occasions. It could be 4th of July, New Year, or Christmas. It doesn't matter. The high-quality embroidery will inform the public that the wearer is a worthy landlord.
Multitool
This is a great tool, and the fact that it is from Leatherman guarantees performance. It features 14 tools and is a go-to tool for most tasks. The landlord will find a couple of thousand uses for it.
Paint Sprayer
Your landlord does not have to suffer from back pain after roller-painting an apartment. Give him a chance to spray coatings without brush marks and let him leave a finish that is admirable with this self-contained machine. This spray painter has an adjustable spray control if you want to improve your painting.
Property book
This is a rental property record book that will cover a full year of landlord bookkeeping. This book will help the landlord get organized with phone numbers, deposits, dates, and addresses. If the landlord is older, he will appreciate more because he is not techy and is suspicious of with computers.
4.0 out of 5 starsBought for Mom
Landlord water bottle
This stainless-steel bottle is made out of durable material and can hold up to 20oz. It makes a great gift because of its dye-sub print technology, which means it won't be fading anytime soon.
Landlord wall clock
The clock can be personalized with the landlord's photo if you like. You can also personalize the clock with the landlord's name or his favorite phrase. This gift implies that you want him to be time conscious.
Landlord Aprons
The apron has enough pockets to hold keys, cards, or a cell phone. This long-lasting apron is a perfect gift for a landlord if you do not want him to stain his clothes. It is capable of catching the attention of most people because of its unique design and message.
Messenger bag
Leaderachi bags are made from high-quality leather products and have a timeless design. This loyal pack should be your landlord's faithful companion for most tasks while providing a high-quality vintage look. It is perfect for most situations, and the craftsmanship is remarkable as evidenced by its features and compartments.
Melamine plates
This durable plates are great for both indoor or outdoor use. They are perfect for the home, camping, beach or vacation, and will suit most situations. This is a great gift if you landlord has been great for a long time.
Vintage postcard
This is a one of a kind gift that speaks volumes. It is only a rectangular piece of paper but it reminds one of the past. With this gift, you will help your landlord reflect on the past.
Acrylic Painting
This is an artistic handmade item that is ready to hang and comes with a Certificate of Authenticity. The abstract acrylic painting is a valuable gift that the landlord will hold dear.
Customized planner
The planner has a custom cover where you can put a name. It has a monthly checklist page to ensure your landlord keeps track of major activities. It also has a pouch at the back and is made using durable spiral coil binding.