Disclosure of Material Connection: Some of the links in this post may be "affiliate links." This means if you click on the link and purchase an item, I will receive an affiliate commission. Disclosure in accordance with the Federal Trade Commission's 16 CFR, Part 255. This site is a participant in the Amazon Services LLC Associates Program, an affiliate advertising program designed to provide a means for sites to earn advertising fees by advertising and linking to Amazon.
For a fan of Minecraft, for the fan of any videogame, really, there's nothing better than having a tangible version of the props or characters. The following gift ideas are a surefire opportunity to provide that:
20 Gifts for a Minecraft Fan
LEGO Minecraft The Cave 21113 Playset

If you think it's time to know what Minecraft can be like in real life, give it a shot with this Lego playset!
Minecraft Mini Figure Collector Case

Want to show off but also protect your figures? This collector case is perfect for that.
Minecraft Animal Toy (6-Pack)

Love the little critters in the game? Now they can be yours in this six pack!
Minecraft Think Geek Wall Torch by Think Geek

Make your room look more Minecrafty with this wall torch.
Minecraft Creeper 7″ Plush

If Creepers are something you want around the room, this is the plush for you!
Minecraft Periodic Table of Elements

Build the world of Minecraft or build a new world with the elements!
Minecraft Creeper Face Leather Wallet

If you can't beat them, make them your friends. Your money-guarding friends especially!
Minecraft Plastic Creeper Face Mug

…or use them to drink coffee out of them!
Minecraft Cookie Cutters

Bake your cookies in Minecraft style with these cookie cutters!
Minecraft Pickaxe Bottle Opener

Somedays there's no grass or rocks to pick, but how about a bottle? This is where this Pickaxe comes in handy!
3 Pack of Minecraft Socks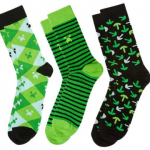 Make your buddy or loved one actually happy they got socks with these!
Creeper Anatomy – Minecraft Youth T-shirt

What's a Creeper really like? Find out and then let your friends know with this shirt!
Minecraft Career Opportunities Big Boys Youth T-Shirt – Yellow

Show off the job possibilities of the world of Minecraft with this shirt!
Minecraft Collectible Figure Mystery Blind Box (Styles May Vary)

What's in the box?! Find out when it's time to open it!
Minecraft Card Game

Take the game out of the TV and the computer, and onto the table, with new ways to challenge your Minecraft friends!
Minecraft Diamond Pendant Necklace

Your sweetheart has a soft spot for Minecraft too? This is the best gift!
Minecraft Diamond Earrings

Let yourself shine in the most Minecraft-y way with these earrings!
Minecraft Creeper Backpack
Take the spirit of Minecraft when in school or when you travel with this backpack!
Minecraft Grassy Block Case (iPhone SE 2022)

Minecraft your phone with this case for the iPhone SE 2022!
Minecraft Foam Sword & Pickaxe Combo Set Of 2

Get two of the best Minecraft in one combo!