Everyone who's close to me knows that I love Danny DeVito. Not in love with him like some people, but a longtime fan. So naturally I couldn't turn down the chance to round up some of the best Danny DeVito themed gift ideas that I could find. Some of these are absolutely hilarious (Danny DeCheeto!) and others super cool (autographed The Penguin picture!).
Shockingly enough I haven't actually watched It's Always Sunny in Philadelphia, although it's definitely on the list. My love of Danny comes from the older stuff – Matilda, Hercules, Batman, Mars Attacks… You get the idea. Anyway, whether you're an O.G. fan like me or a newcomer to Danny DeVito's hilarious talents, these gift ideas are perfect additions to your wish list or to give your Danny DeVito loving friends.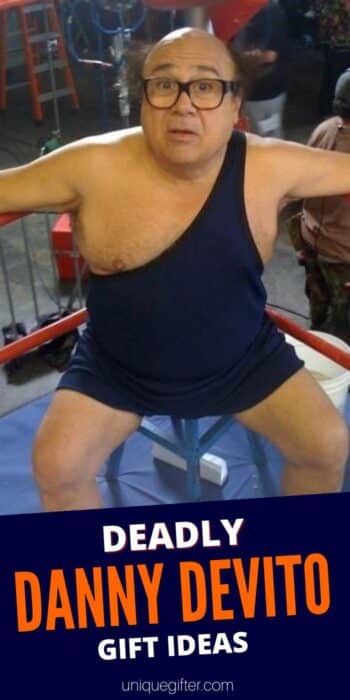 Danny DeVito Inspired Gifts and Merch for Fans
One thing that I really like about this famous actor is that he almost always portrays characters who can be summed up as "a piece of garbage". I mean yes, he does become the trash man on It's Always Sunny, but he's been doing this for a lot longer. It's a direct contrast to the way he is in real life too!
There you go, some iconic Danny DeVito gift ideas for fans of this legendary celebrity. We owe so many great TV and movie moments to the man the least we can do is pay homage to the saint that he is!