Disclosure of Material Connection: Some of the links in this post may be "affiliate links." This means if you click on the link and purchase an item, I will receive an affiliate commission. Disclosure in accordance with the Federal Trade Commission's 16 CFR, Part 255. This site is a participant in the Amazon Services LLC Associates Program, an affiliate advertising program designed to provide a means for sites to earn advertising fees by advertising and linking to Amazon.
Who doesn't love hitting up the beach when the weather is hot? It's probably my favorite summer hang out spot. These cool ideas make perfect gifts or treat yourself to some sunshine and fun.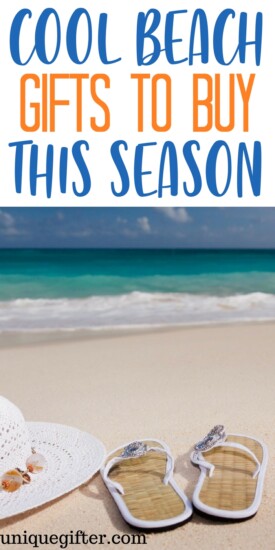 Drink Holders
There is nothing more annoying than placing your cold drink into the sand and having it come out, well, covered in sand. Keep it clean and secure with these drink holders.
Portable Beach Mat
And speaking of not wanting to get things sandy, this portable mat makes a great chair for the beach and saves you having a towel that keeps bunching up.
Waterproof Speaker
Get the music going at the beach with this waterproof speaker. You can take it right into the water with you!
Sand Toys
If you're buying a gift for a kid sand toys are always a great idea. These ones come with a good variety of stuff to keep them busy on the shore.
Inflatable Drink Cooler
You have to keep your drinks cold on a hot day so why not do it in an inflatable pirate ship drink cooler?
Donut Floatie
The "donut" is a classic pool float shape. This one is an actual donut. And someone took a bite out of it!
Barefoot Sandal
If they like to go barefoot while at the beach these sandals make a great gift. It's a bit of jewelry that sort of looks like a sandal to add some sparkle to their feet.
Mini Beach Sandbox
For when they're at work but they'd rather be at the beach.
Pizza Towel
If you give them this towel they'll definitely be the envy of everyone during their next beach visit.
Beach Umbrella
Help them keep cool on a hot summer day with this beach umbrella. It folds up small for easy transportation too.
Beach Bag
There isn't much that can top a good quality, big bag for trips to the beach. This one has lots of pockets and is water repellant.
Portable Wine Flask
They don't allow glass bottles on the beach so this is a perfect gift for someone who likes to have some when they're out on the sand. Great for summer picnics, too!
Beach House Sign
No beach house or cabin is complete without a cute sign. This one is custom made for a personalized gift idea.
Waterproof Phone Case
No need to risk destroying your phone when doing water-related activities. These waterproof cases are a great gift for someone who always has their phone with them.
Fun Beach Hat
This beach hat comes in a variety of sayings so you can get them something that really suits their personality.
Beach Sugar Scrub
A great winter gift for someone who loves the beach, this sugar scrub has tropical scents that will remind them of their last warm beach vacation.
Water Shoes
If you swim somewhere that has a lot of rocks, these are a must have. They also protect feet from cuts and scrapes.
Beach Spray
When they can't get to the water but still want that just finished swimming wavy look to their hair this spray is the perfect answer. It even smells like the beach!
Foldable Wagon
Probably the greatest gift you can give someone who likes to spend time at the beach, this wagon will hold all their stuff and fit in their car.
Kindle
Lots of people love to read at the beach but hauling books is such a pain. Don't risk them (or your library books) getting wet by giving them a Kindle to take on their next holiday. And yes – the new Kindle Oasis is waterproof.
Now all you have to do is hope for good weather!