Barbie is iconic, but not everyone loves her. Whether your child is obsessed with dolls and needs some more variety or you just aren't a fan of Barbie herself, these alternatives to Barbie are definitely going to please kids of all ages.
As a parent myself, I know how much kids love to play with dolls. But it's nice to have some different ones, especially if you need space-saving options (no room for a Dream House?) or want to go plastic free.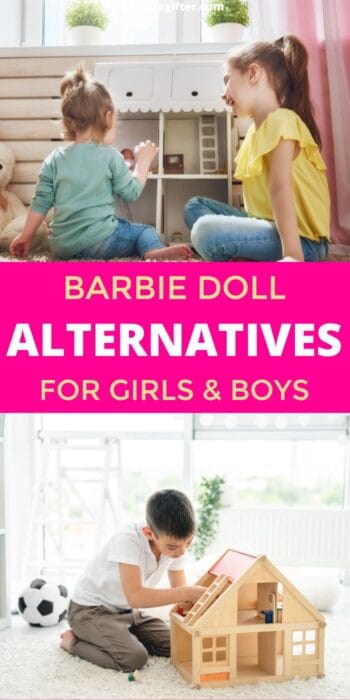 The Best Barbie Alternatives for Girls and Boys
Before we get into it I want to say… Barbie isn't just for girls! These Barbie alternatives for all children, including the boys in your life. I also tried to pick a few for different ages, since we know Barbie's tiny accessories aren't safe for little ones or even practical for every child.
Hopefully you enjoyed these alternatives to Barbie for boys and girls of all ages! Whether you're shopping for your kids, grandkids, or wanting to stock a childcare center or school, these are all great options for fun, imaginative play.