Disclosure of Material Connection: Some of the links in this post may be "affiliate links." This means if you click on the link and purchase an item, I will receive an affiliate commission. Disclosure in accordance with the Federal Trade Commission's 16 CFR, Part 255. This site is a participant in the Amazon Services LLC Associates Program, an affiliate advertising program designed to provide a means for sites to earn advertising fees by advertising and linking to Amazon.
Did you know that there are lots of toys that start with the letter U? Don't worry; I didn't just compile a list of 20 different umbrellas! I have scoured the internet and found a great variety of toys, and they are all organized by the different age groups so your shopping experience will be even more comfortable. So it doesn't matter if you are shopping for your toddler or your pre-teen, there is a perfect fit for your needs. Happy shopping!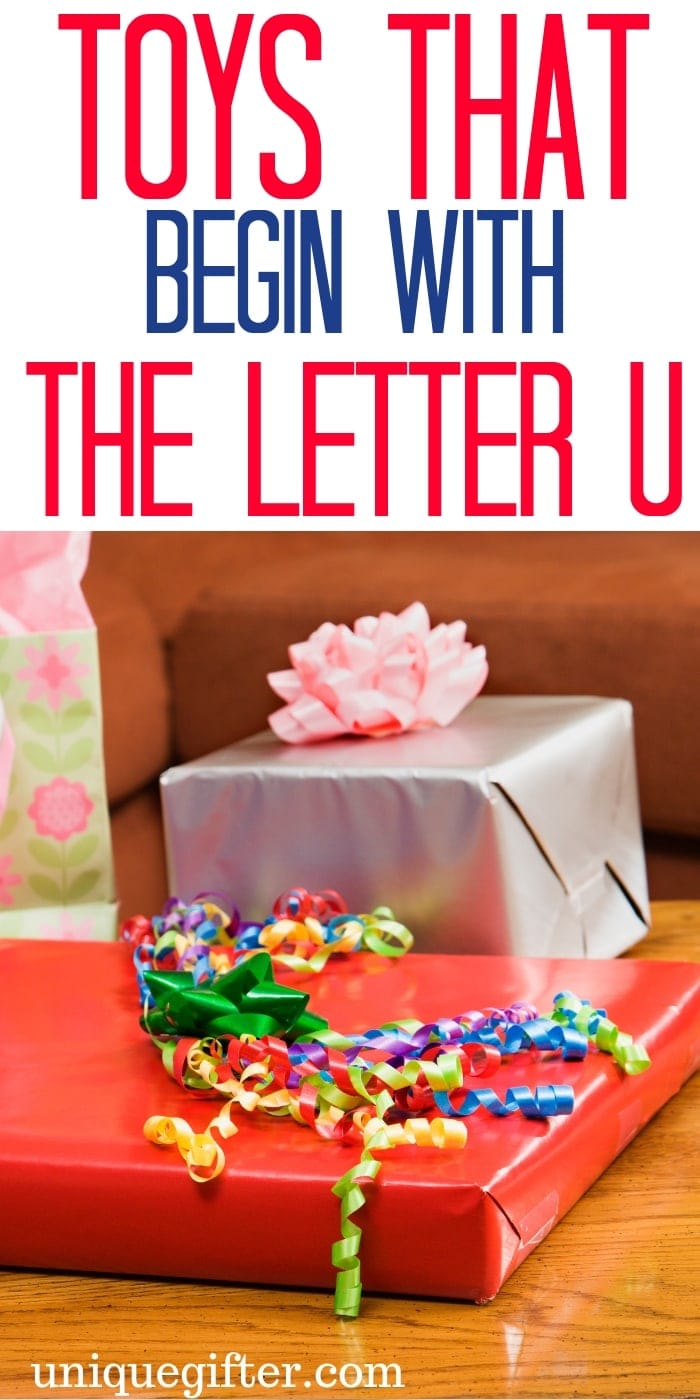 Find more toys for the rest of the alphabet:
Toys That Begin With Letter U For Ages 2-5
Unicorn Fancy Pals Purse
Buy Now
Now, little Susie can take her very own unicorn with her everywhere she goes. It's the perfect size for small arms to hold.
Ursula Doll
Now your kiddo's Little Mermaid collection can be complete! Ursula is the villain in the movie, but even villains need to be played with!
USA Toyz Kids Play Tent
Buy Now
Is it just me or do all kids LOVE tents? All the children I know could spend hours in one of these. You can't go wrong!
Uncle Goose Dinosaur Blocks
Buy Now
Stackable wooden blocks that have been decorated with adorable dinosaurs. Each block has a picture of the actual dinosaur with its name, footprints, skeleton and more. They don't even realize they are learning!
Umizoomi UmiPlane
If your kiddo has ever watched the show Team Umizoomi you probably have the theme song stuck in your head!
Ukulele
Buy Now
It is never too young to start playing the ukulele! One thing is for sure; your home will be filled with beautiful new music by your sweet child!
Undertale Papyrus Plush
Buy Now
14 inches tall and beyond adorable! This new Papyrus plush is sure to be your child's new bestie!
UTEX 3 in 1 Pop Up Play Tent
Hold onto your hats! This tent is such a wonderful toy that is built to last. Bright colors, a tunnel, and a ball pit, what's not to love?
UFO & Alien Light
Buy Now
How fun will it be for your child to have his own UFO? I will answer that…he will love it a ton! Interactive lights that change color each time you put the alien back in place while keeping your kiddo entertained.
Toys that begin with the Letter U for Ages 6-8
Uno Game
Buy Now
Do you remember how old you were when you first played Uno? So many memories of playing this enjoyable game for hours!
Unicorn Poop
Buy Now
Yes, you read that correctly! Your child can make their own unicorn poop. And the best part is they will enjoy every second. Plus, this comes with a squishy unicorn too.
Uncle Milton Rainbow In My Room
Buy Now
Your child can turn her room into a rainbow extravaganza! This gift is especially suitable for a child that has a fear of the dark.
Under The Sea Activity Pad
Buy Now
Never have a dull moment again with this activity pad. It has reusable stickers, lots of bright colors and a large activity pad.
Ursula Minifigure
Buy Now
If collecting Disney figurines or anything LEGO your kid is going to go gaga or this adorably evil Ursula! Don't be the poor unfortunate soul who misses out on this deal!
US Floor Map Puzzle
This floor puzzle helps teach your children about the geography of the United States. Plus, it labels each state capital too.
USA Toyz Stem Building Blocks
Buy Now
101 pieces that allow your child to be imaginative. They will enjoy the ratchet toy that is included too!
Under The Sea Creatures
Buy Now
90 sea creatures that include starfish, seahorses, sharks, octopus, sea shells and more! Oh, the playing they will do!
Uma Isle Of The Lost
Buy Now
Uma has a gorgeous sparkling gown that she is ready to wear to the ball. She also comes with a purse, earrings, and a pair of shoes.
uKloo
Buy Now
uKloo is a treasure hunt game that encourages reading and is loads of fun. It helps build your child's confidence too. This is a win-win!
USA Interactive Map
Buy Now

Excellent choice for a girl or a boy! The interactive map has over 500 different facts that help teach all about the United States. It even encourages problem-solving skills.
Toys That Begin With Letter U For Ages 9-12
Ursula Plush Doll
Buy Now
Even pre-teens need a plush to love on every once in a while. Ursula is adorable as stuffed toy….but don't tell her that!
Uncle Wiggly Game
Buy Now
Your child will love this game and you will too! It's lighthearted, entertaining and full of laughs. You may even do a dance or two!
Uncle Milton's Ant Farm Game
Buy Now
The goal of this game is to collect all of your baby aunts and race back to the queen. Whoever gets there first is the winner! Simple and enjoyable.
United States Army Chopper
Buy Now
This Army chopper comes with two soldiers, and your kid will exude happiness when he plays with it! You might prepare yourself for all the pretend chopper sounds your child will make!
Utter Nonsense Family Edition
Buy Now
This game is incredibly hilarious, and your side will hurt from laughing so hard. The best part is you can have up to 20 players at one time!
Ukelele
Buy Now
Age 9-12 is a fantastic age to start learning how to play the ukelele for real. You will be amazed by how quick kids can pick up new things.
Unicycle
Buy Now
Your little bambino will feel like the king of the world the first time he masters the unicycle. This is an excellent unicycle to learn with too.
United States Map Puzzle
Buy Now
300 piece puzzle that is of the entire United States including Alaska and Hawaii. Each state shows it's capital. It has lots of vibrant colors!
Uncle Milton Super Moon In My Room
Buy Now
This remote controlled moon is like no other! It lights up, has a built-in lunar clock and has terrific moon landing sound effects. This thing is awesome!
USA Toyz Laser Tag Gun Set
You can have an unlimited number of players and laughs! Perfect for kids and adults that are looking to have one of the best times ever!
What was your favorite game when you were growing up? Do you remember playing Uno? We would love to hear all about it in the comments below.