Disclosure of Material Connection: Some of the links in this post may be "affiliate links." This means if you click on the link and purchase an item, I will receive an affiliate commission. Disclosure in accordance with the Federal Trade Commission's 16 CFR, Part 255. This site is a participant in the Amazon Services LLC Associates Program, an affiliate advertising program designed to provide a means for sites to earn advertising fees by advertising and linking to Amazon.
Do you have an amazing female boss? Show her how important that is with these Boss' Day gift ideas for her because a good boss can be hard to find!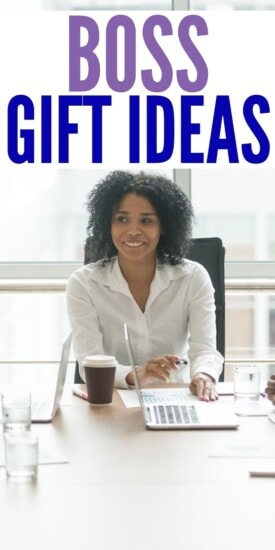 Boss's Day Gift Ideas for Her
Boss's day, or boss appreciation day, happens on October 16th. You could also use these Boss' Day gift ideas for her as a holiday or birthday gift ideas.
Mug Warmer
You boss is busy. Help her out by at least keeping her morning (or all day) cup of coffee warm while she's busy so she won't have to drink cold coffee.
Boss Lady Tumbler
You could easily slip some water flavor or a gift certificate to her favorite ice coffee shop inside this boss lady tumbler! There's plenty of color options to personalize it too.
Like A Boss Stamped Spoon
Ever heard the expression "like a boss"? It means you're doing something really well. Well, she's like a boss, because she is one!
Funny T-Shirt
If your office or workplace has a more casual dress code this is a fun gift idea that she could even wear to work. You might be a little biased buying it, though.
Lip Balm Set
Offices are usually dry places and a little bit of lip balm can make all the difference. If you don't know what to get your boss on Boss' Day this might be a safe bet!
WTF Notepad
Hopefully, she has a sense of humor if you're gifting this! Who doesn't think "WTF" all day long at work? Now she can have formal WTF notes available for staff who need them.
You Are a Badass Bracelet
If your female boss is a badass woman, or even if she needs a little extra confidence boost, this handmade bracelet is a great Boss' Day gift idea. It's stamped on the inside so it's still work appropriate, too!
Leadership Art Print
It's nice to have some inspiration inside your office, especially when you're the boss. This print is perfect because it defines leadership to hopefully inspire her to be a better leader, but also to celebrate the leader she already is.
Back And Neck Massager
Long, stressful days in the office can really take your toll. If you think she might like one, get your boss a massager like this one for Boss' Day so she can at least feel a little bit more comfortable before that next meeting.
Funny Water Bottle
It looks like there's water inside but the label clearly states that's not the case. Perfect for a cutthroat boss, or at least one with a great sense of humor.
Management Shirt
Sometimes shirts are funny, other times they're just accurate. Help your boss show everyone who's boss with this management shirt.
Coffee Molecule Necklace
When your coffee addiction is strong drinking it isn't enough. This pretty rose gold necklace will look great with work clothes, too.
Werk Art Print
Because sometimes office decor needs to be blunt.
Notebook
Who doesn't love Funny Boss' Day gift ideas for her? No one will question who gifted this notebook… Or maybe they will all take credit.
Workplace Improvement Book
Be careful gifting self-help books like this one because they can seem like they're passive-aggressive. But, for the right boss, it's a fantastic gift idea to help them improve the workplace.
Best Boss Ever Wine Bottle Cover
Sometimes it's nice to give a bottle of wine to your boss as a Boss' Day gift idea. Pick up a label cover, like this one, to make it a little bit more special.
Like A Boss Notepad
Help her get all her boss's responsibilities done "like a boss"! It has 50 tear-off pages so she can keep her days organized.
A Funny Card
When all else fails, go with a card (or gift certificate). It's really the thought that counts and it's nice to appreciate your boss on Boss' Day. Of course, you can curry favor by giving her a funny card, like this one.
Boss Lady Mug
This mug is fabulous just like your awesome boss lady!
Candle
This candle is terrific and a great gift for your boss.
Now get all your coworkers together to pool on one of these great Boss' Day gift ideas for her! After all, remarkable bosses are worth celebrating, and bad ones are worth sucking up to!