Disclosure of Material Connection: Some of the links in this post may be "affiliate links." This means if you click on the link and purchase an item, I will receive an affiliate commission. Disclosure in accordance with the Federal Trade Commission's 16 CFR, Part 255. This site is a participant in the Amazon Services LLC Associates Program, an affiliate advertising program designed to provide a means for sites to earn advertising fees by advertising and linking to Amazon.
A baby boy in your life is about to have his baptism and you have been wracking your brain, trying to figure out what kind of gift him and his parents would appreciate for this momentous occasion in their life. The process of choosing a gift does not have to be difficult. This list is here to make it easy to choose something that will be both meaningful and long-lasting for them to remember his baptism. Check out some of the ideas below!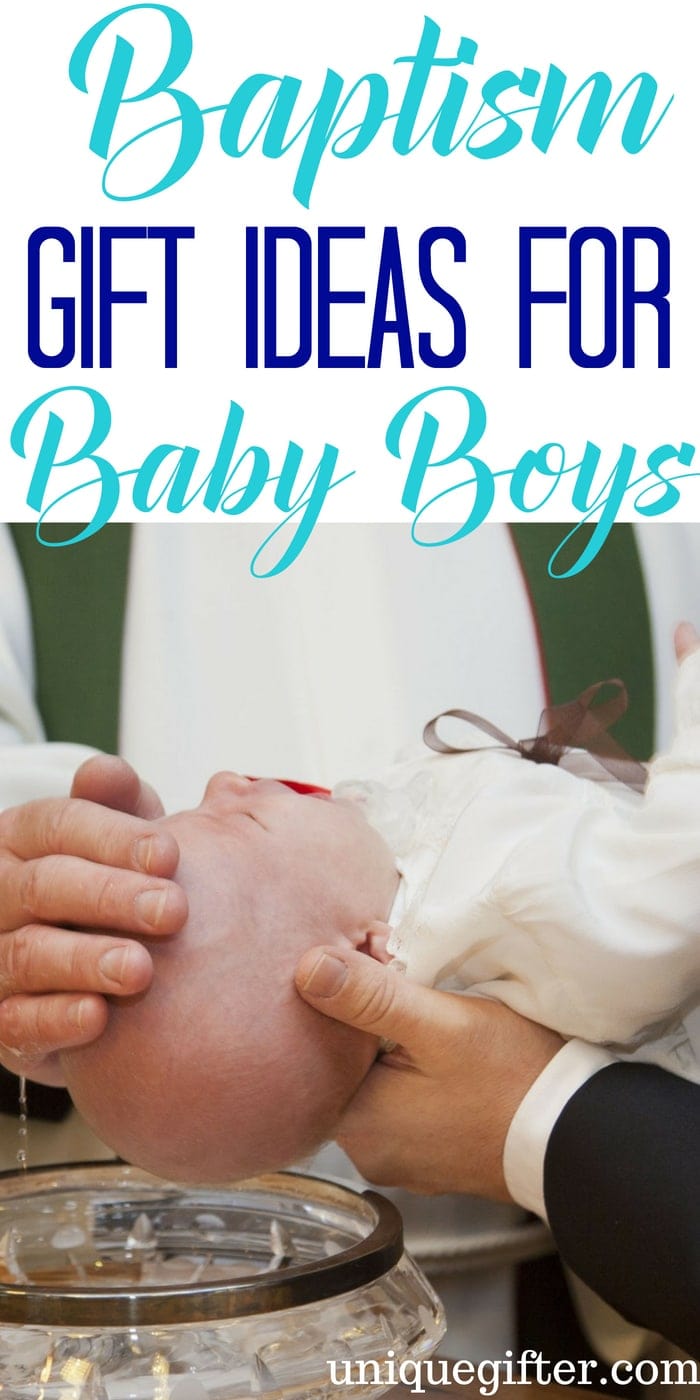 Special Baptism Gift Ideas for Baby Boys
Personalized Sailboat Keepsake Box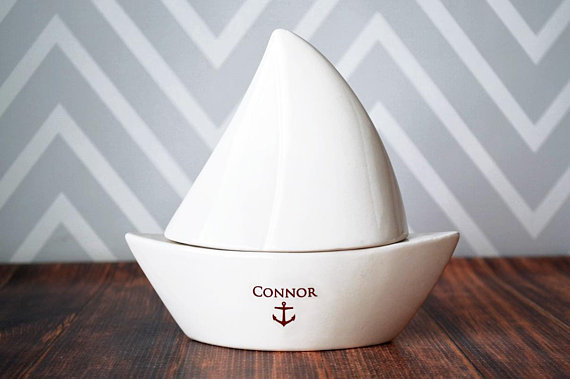 As a little boy, he will likely grow up to love sailboats, so what would be better than having a sailboat keepsake box with his name on it?
Personalized Vintage Brass Compass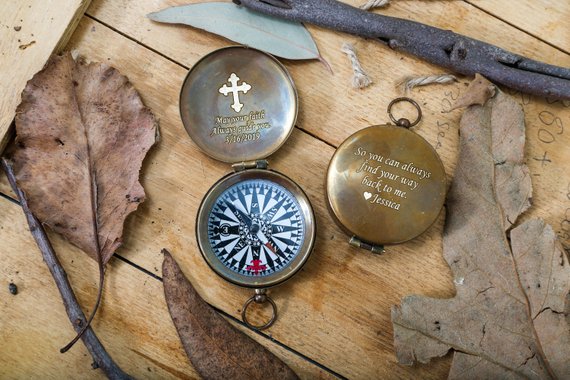 Whether he ends up needing the compass itself later in life or not, it is a classic! Personalize with it with an inspiring quote, his name, the date of his baptism, or all three.
Flower Tree Art Personalized with Name, Color, and More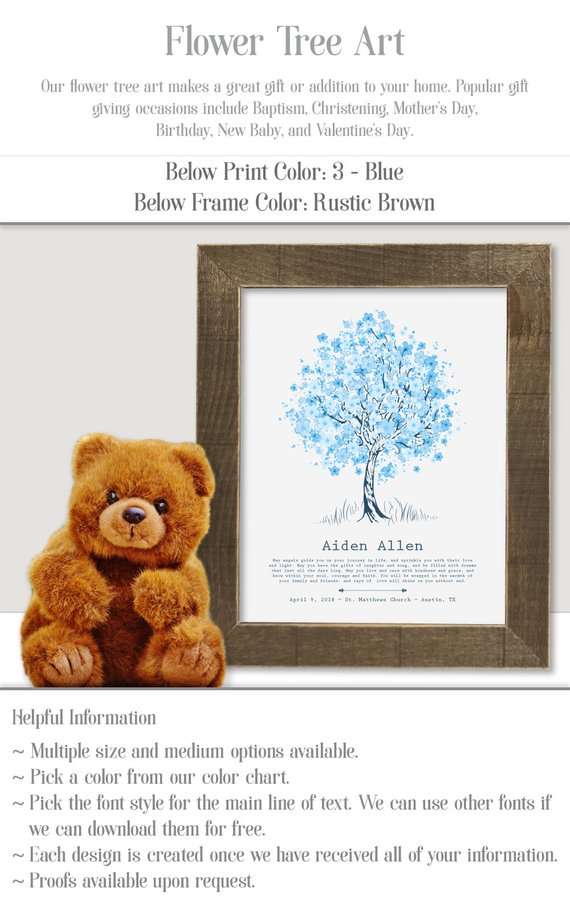 Flower trees aren't just for girls, choose a color that fits the little boy getting baptized and personalize it with his name and whatever else you feel his family would appreciate. They can frame it and hang it up on the wall of his nursery at home.
Personalized Sailboat Cross Keepsake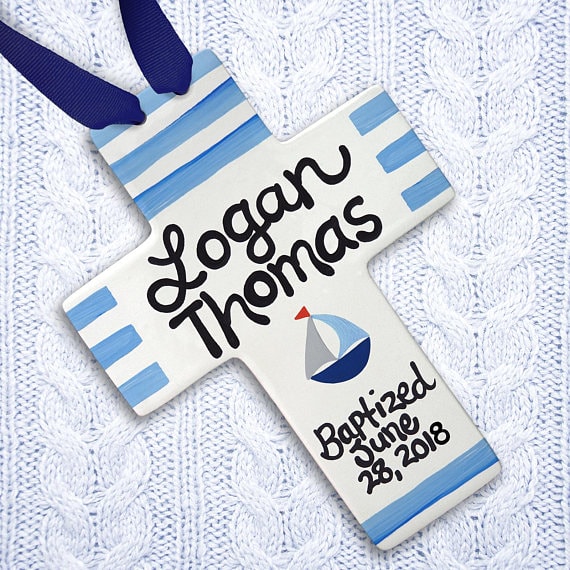 Sailboats are an excellent choice for baby boys, and this sailboat cross keepsake that can be personalized with his name, will be something that he and his family will hold dear.
"Be kind, be adventurous, be bold…" Personalized Print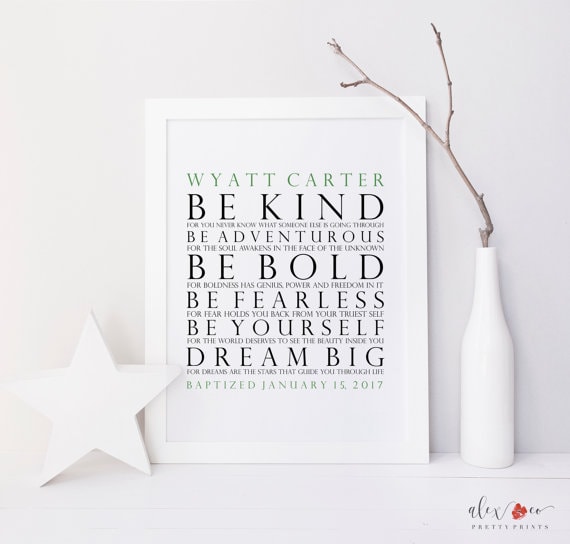 Remind the precious little boy that he should be kind, adventurous, and bold as he grows up, with this personalized print.
Wooden Personalized Keepsake Box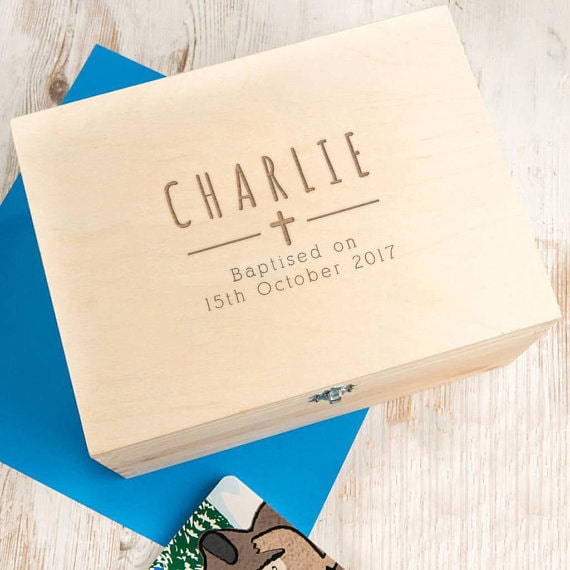 Wood is another classic and with his name and date of baptism, this keepsake box is a place his parents can keep anything they want to stay safe.
White Personalized Baptism Burp Cloth and Bib Set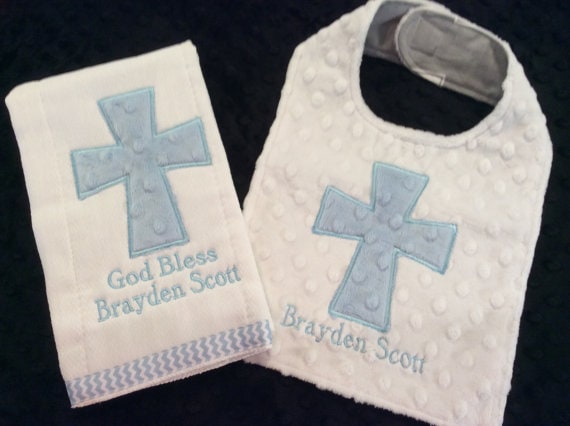 Whether they keep this in a shadow box of some sort, or have their baby use and wear the pieces, this burp cloth and bib set is a great way to commemorate the baptism.
Personalized Prayer Box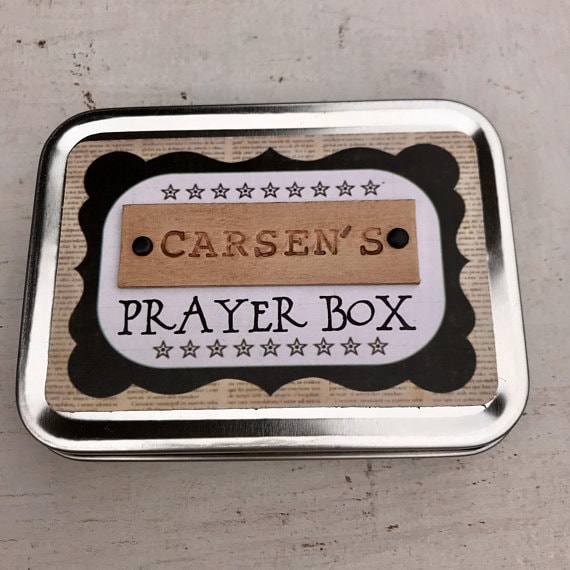 Every little baby, maybe even every believing person, should have a place to keep prayers. His very own, personalized, prayer box is a great place for family and friends to put written prayers for him as he grows.
Customizable Blessing Pin with Initial Charm and Other Charms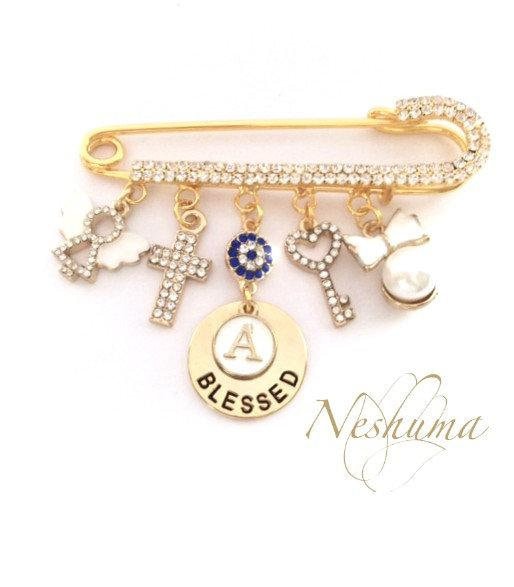 This blessing pin looks a lot like a diaper pin, and seeing as he is a baby, that is perfect. The initial charm and others on the pin are a wonderful way for him and his family to celebrate this great occasion.
"Faith is like a little seed, if planted it will grow" Personalized Burlap Sign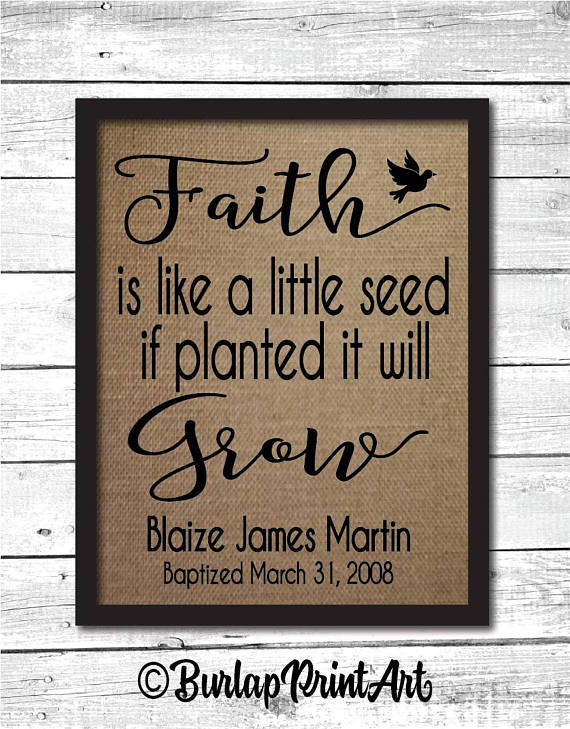 Remind him and his family that faith is like a little seed, if planted and cared for, it grows and grows!
Personalized Baptism Bowl Keepsake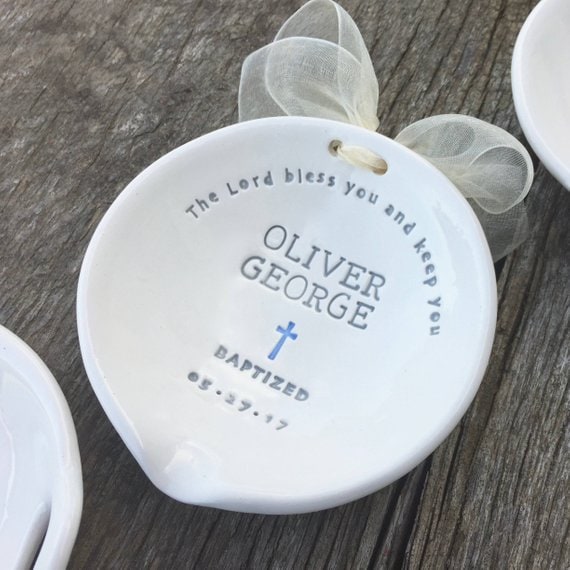 Personalize his very own baptism bowl keepsake with his name and the date he was baptized.
Customizable Soundwave Art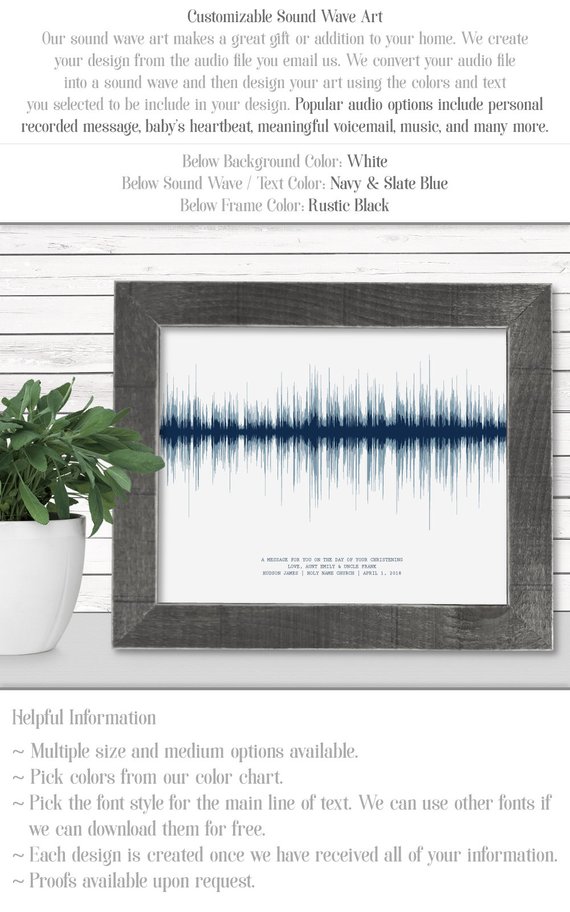 You can customize a soundwave from a hymn or other song for him to have on his wall and keep him company as he grows. Imagine what a beautiful gift this will be!
Personalized Baptism Blanket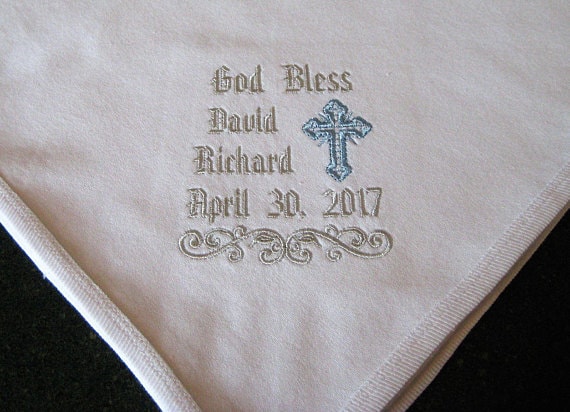 Babies love blankets, laying on them, carrying them around, and being wrapped up in them. This baby boy being baptized will be a wonderful reminder to him and his family.
Angel Pillow with Name and Date of Baptism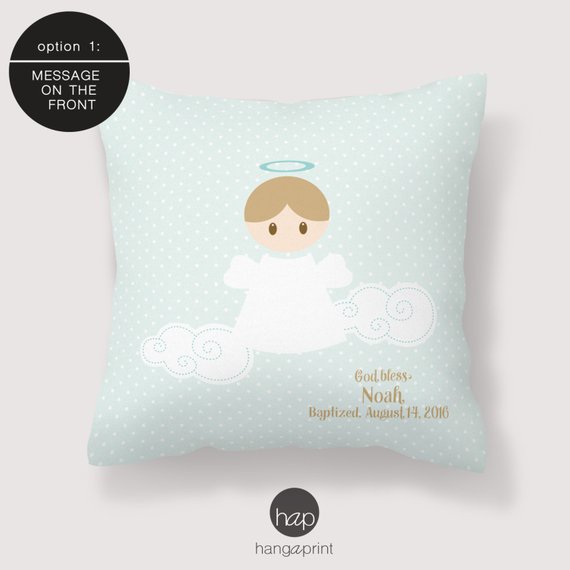 An angel pillow with his name and the date of his baptism is a great gift, especially since it will help make his nursery more welcoming and comfortable!
Baby ID Bracelet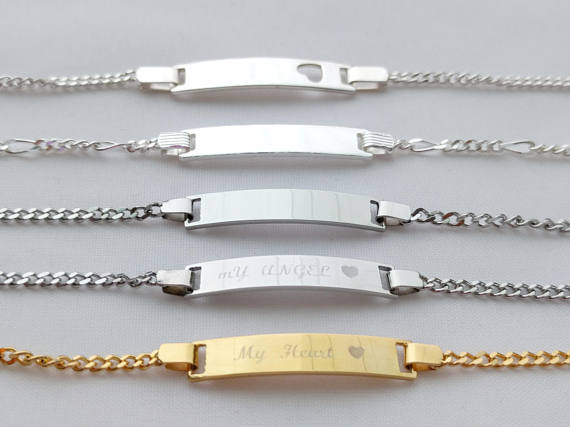 Even boys can, and should, have a baby ID bracelet with their name, even if only as a keepsake.
Christening Day Poem Art Personalized with Name, Date, and Location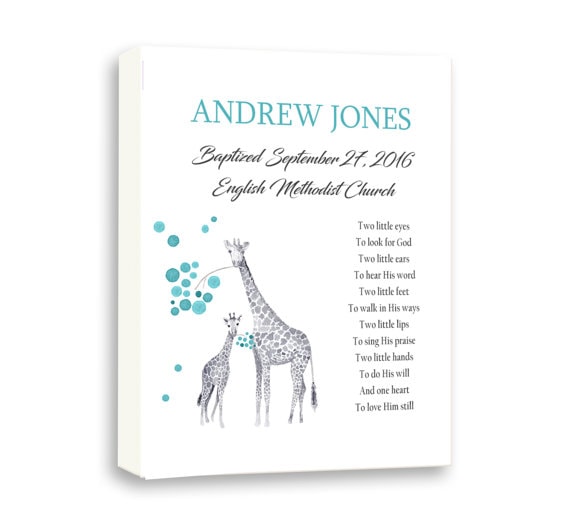 This christening day poem art, that can be personalized with the details from his baptism, will look lovely on his nursery wall.
Baptism Date Ornament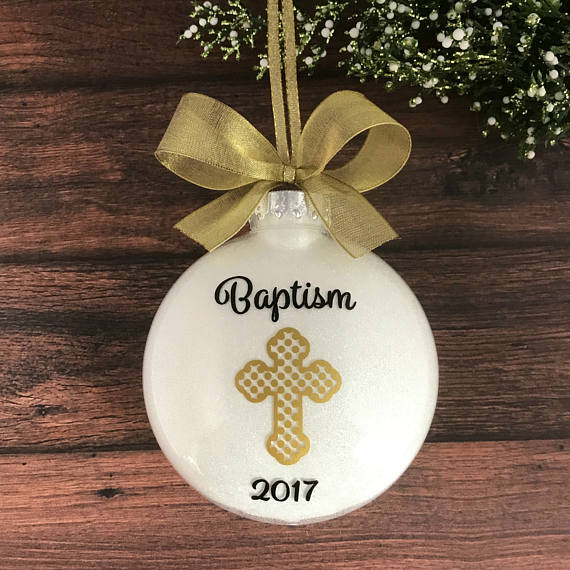 Ornaments are great for memorializing important events in children's lives, and that's why he needs an ornament with his baptism year on it.
Rosary Made with Lego Bricks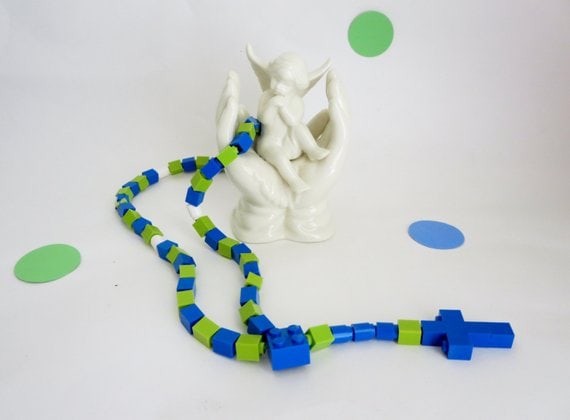 He is a boy after all, and although this is not a real rosary, it could make a great decorative piece for his room or a way for his parents to teach him how to use a rosary in a way that suits him.
"God's promises for ______" Personalized Book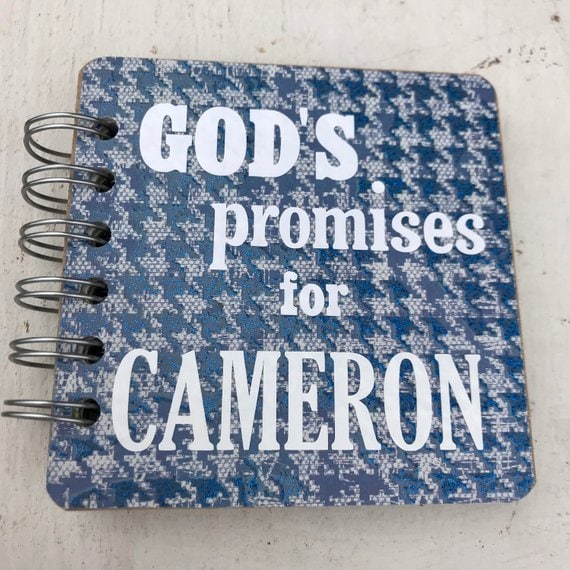 A book, personalized with his name and full of the promises God has made for him, makes a great gift for his baptism and a beautiful reminder of his faith.
Pearl and Cross Bracelet for Baby Boys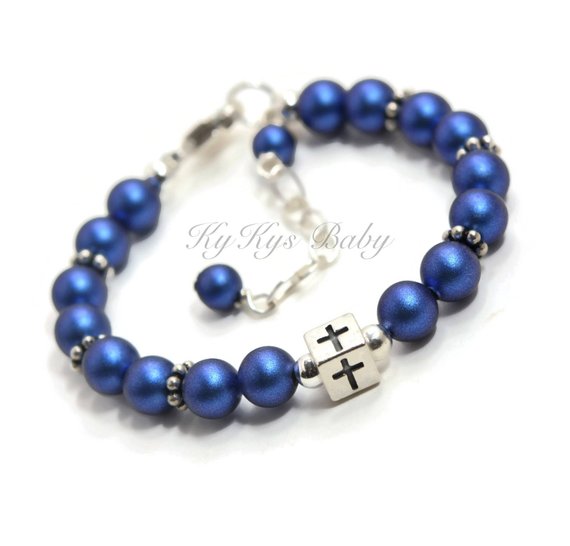 Simple, yet beautiful, this pearl and cross bracelet for baby boys will be the highlight of the gifts they receive.
Baptism gifts do not have to be hard to choose and these are all such wonderful gifts for the baby boy being baptized soon!