Disclosure of Material Connection: Some of the links in this post may be "affiliate links." This means if you click on the link and purchase an item, I will receive an affiliate commission. Disclosure in accordance with the Federal Trade Commission's 16 CFR, Part 255. This site is a participant in the Amazon Services LLC Associates Program, an affiliate advertising program designed to provide a means for sites to earn advertising fees by advertising and linking to Amazon.
Faith, trust, pixie dust, and these cute gifts! Though Tinkerbell may be the star when it comes to our fairy friends, here are some unique products that help our other fairies shine. You're never too old to believe in magic, so these ideas are for all ages, not just our kiddos. I think you'll find this list to be flitterific!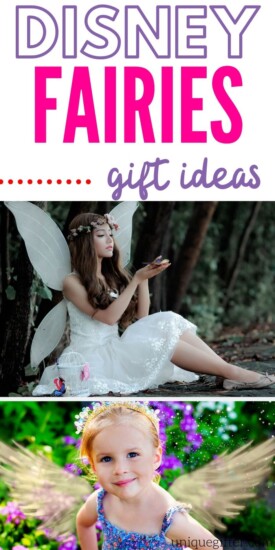 Lovely Disney Fairies Gift Ideas
What is cuter than these adorable fairy gifts? Take a look and see for yourself.
Disney Fairy Garden Figurines
Fairy gardens are a great way to keep the magic at home. Tinkerbell and her friends are about 5 inches tall and ideal for playtime with older kids as well.
Tinkerbell Inspired Minnie Ears
These are flitterific! Gorgeous, high quality, and a bestseller for a reason. Perfect for the parks or a birthday party.
Disney Fairies Ultimate Sticker Book
Over 60 reusable stickers inside! Excellent for scrapbooks or decor. Great value!
"Drinkerbell" Personalized Magic Hip Flask
Bright pink and ready to party! Get your name personalized on it to make sure no swipes your pixie juice.
"Faith, Trust, And Pixie Dust" T Shirt
Comes in 16 beautiful heather colors. Has amazing reviews and ships quickly!
Gigantic Coloring and Activity Book
200 pages of fun! Bring it out on rainy days or road trips.
Tink and Friends Pixie Dolls
Five pixie pals ready for a flitterific time! Fawn, Silvermist, Tink, Rosetta, and Periwinkle all in exclusive celebration outfits.
Disney Fairies: The Fairies Encyclopedia
A book for curious minds! Easy to read and perfect for those who want to visit Pixie Hollow.
Tinkerbell Pajama Set for Girls
Never grow up with these adorable PJs. Long sleeves and pants for chilly nights.
"Pixie Power" Tote Bag
This reusable tote bag is a low key way to show your love for the fairies. Also great for organizing your kid's toys or loading up groceries!
Disney Fairies Collection Lanyard
Great for pin trading or keeping your keys close! Find Tinkerbell and all her friends on the pattern.
Pixie Dust Necklace
Pick your favorite color according to your favorite fairy! A sensational accessory for any outfit in need of a little magic.
TinkerBell and the Great Fairy Rescue
Bring the magic home with you! Any fan of Disney Fairies will want this movie in their collection- if they don't have it already.
Disney Fairies Plush Throw
Make sure your fairies at home stay nice and warm. A wonderful addition for a children's bedroom or to keep in the car for road trips!
Tink and Friends Bottle Cap Necklaces
These are stellar party favors for little pixies. Periwinkle, Rosetta, Silvermist, Fawn, Iridessa, Tinkerbell, and Vida are all ready to party!
Watercolor Disney Fairies Wall Art Prints
These gorgeous prints are perfect for adding some flair to any room. Watercolor is always in style!
"Powered by Pixie Dust and Coffee" Tank Top
Every Disney Mom will love this tank top! Perfect for a Starbucks run or a day in the parks.
Disney Fairies Peel and Stick Wall Decals
Bring Pixie Hollow to you with these decals! Great for picky pixies, as you can take them off and rearrange however you like.
Zarina Pirate Fairy Costume
From the movie "The Pirate Fairy", Zarina is quite an interesting character. An adorable dress that comes with your very own set of pixie wings!
Disney Fairies Lunch Box
Honestly, this is the kind of lunchbox I wanted in school. And all our favorite fairy friends are on the front!
Well, that's an awful lot of pixie dust! I hope these gifts can help make every day a bit more magical. Who wouldn't feel magical in a pirate fairy costume? Be sure to let us know what your favorite gift is in the comments. Fly with you later!