Disclosure of Material Connection: Some of the links in this post may be "affiliate links." This means if you click on the link and purchase an item, I will receive an affiliate commission. Disclosure in accordance with the Federal Trade Commission's 16 CFR, Part 255. This site is a participant in the Amazon Services LLC Associates Program, an affiliate advertising program designed to provide a means for sites to earn advertising fees by advertising and linking to Amazon.
Finding a gift for a Crossfitter can feel like finding a gift for a member of a strangely healthy, intense cult. We've put together a list of gift ideas that can help you say, "I'm glad that you enjoy those short workouts that make you want to cry. Here's something to make you cry of joy." Check out these gifts for the crossfitters. We also have a list of gifts for personal trainers in case they are taking it up a notch.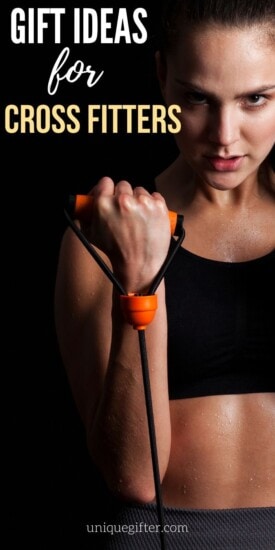 Gift Ideas for Crossfitters
If you know a crossfitter and you want to give them a gift, we've got some awesome ideas for you! Check out these awesome original gifts ideas for the crossfitter in your life.
1. Workout clothes are to gym rats what Lilly Pulitzer is so a Southern sorority girl.
This SoRock Women's Balls to the Walls Burnout Tank Top will let her workout in style… Crossfit style.
2. Similarly, this Stormtrooper Star Wars Men's Stringer Tank
is the perfect gift for your strong Star Wars fan.
3. Paleo or not, people love food.
Give the Crossfiter in your life the gift of healthy snacking with this Caveman Paleo Diet Snack Box Starter 12 Variety Pack.
Buy Now
4. If you're looking for a bigger gift, a Vitamix is great for anybody looking to mix up some healthy food.
It's the creme-de-la-creme of blenders.
5.Sometimes eating clean is easier when your silverware reminds you that it will help.
Your crossfitter will love this vintage hand-stamped fork as an elegant reminder that even his or her cutlery will know if he or she cheats.
6. And because every crossfitter is busy
7. Help your crossfitter keep sweat in its stylish place with a Bondi Band Wodaholic Moisture Headband.
8. Or remind the world that she's as strong as royalty with the Bondi Band "Silver Tiara" Moisture Wicking Headband.
9. A Fitbit can help track many aspects of health, from the box to the box spring mattress

10. Get your crossfit-lover the album "Paléo" so that after a long workout, he or she can sit back and relax, knowing that even their music is clean.
11. The only thing better than waking up sore from yesterday's workout is being able to roll it out. There's no better gift than relief from tight muscles with The Foam Roller. Nothing. Not even diamonds or jewelry.
12. Well, except for this "Me vs. Me" necklace by the Santa Monica Charm Co.
13. Aaand maybe this silicone wedding ring for the SO whose side bae is Fran
14. Sometimes it's great to give the gift of life. Life in the form of water. Give them water luggage with this Fruit Infuser Water Bottle.
15. The Augusta Sportswear Competition Bag will let them carry your gift with them everywhere… from their home to the box, from the box to work, back to the box….
16. Or maybe an easy way to let them turn the locker room into a getaway with a Men's Travel-Size Toiletry Kit.
17. The Mad Skills Exercise Encyclopedia will help your Crossfitter set new goals.
18. And this stainless steel travel mug will show everyone else that your crossfitter is one tough girl. Unless it's not for a girl. In that case, this would be a very confusing gift.
19. Some shirts are lame. This Cybertela shirt is cool.
20. This "Strength" Warrior Training Bracelet will remind your Crossfitter what all the work is for


21. And most importantly, this City Shirts workout shirt will remind everyone else why the WOD is worth it.
Go ahead and check out these gift ideas for crossfitters. You just can't go wrong without all of these awesome ideas! Which gift idea would you pick first?