Disclosure of Material Connection: Some of the links in this post may be "affiliate links." This means if you click on the link and purchase an item, I will receive an affiliate commission. Disclosure in accordance with the Federal Trade Commission's 16 CFR, Part 255. This site is a participant in the Amazon Services LLC Associates Program, an affiliate advertising program designed to provide a means for sites to earn advertising fees by advertising and linking to Amazon.
Ba la la la. Greetings from the city of San Fransokyo! Big Hero 6 was released only a couple years ago, but it seems to have hidden in the shadow of the blockbuster Frozen. I didn't even see the movie myself until a couple years after its release, but boy did I miss out! In fact my favorite character to meet in Walt Disney World is Baymax. He gives the best hugs! Here are the best Big Hero 6 gift ideas to inspire you.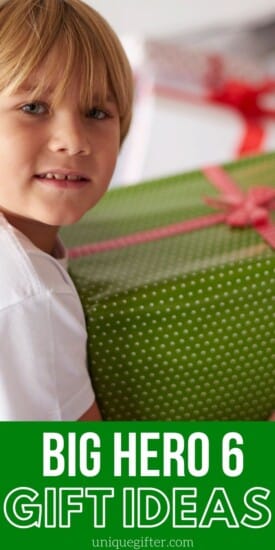 Best Big Hero 6 Gift Ideas for Any Occasion!
We love these adorable Disney Pixar themed gifts, which one will make it onto your shopping list this holiday season?
Baymax Cookie Cutter
Perfect for the Disney fan who loves to bake as well. Sugar cookies would taste even sweeter shaped like Baymax
"I Am Not Fast" Baymax Decal
Put this on the back of your car and maybe people will stop tailgating you! No promises, but he will look adorable nonetheless.
Big Hero 6 Playset
These adorable figurines are perfect for diehard fans looking for a new collectible, and younger fans alike!
Baby Baymax Passport Holder
Ideal for that friend who has the travel bug. Baby Baymax deserves to see the world!
Baymax Big Hero 6 Bedding
Celebrate Baymax with this super cute bed set featuring some iconic Disney accessories you might recognize!
"Would You Like A Hug?" Baymax Mug
Because everyone knows a good cup of coffee feels like a warm hug. And Baymax gives the best hugs!
Big Hero 6 Record Clock
A truly unique and one of a kind gift. Comes with a couple different backlighting colors!
Big Hero 6 Graphic Tee
Baymax is recognized in this adorable and stylish tee. Gift it to a fan of the film so they can wear him everywhere!
Baymax Planter
This item is 3D printed and hand painted! Great for the office or bedroom window.
Hiro and Baymax Art Print
A great way to showcase the beauty of this film. Would look amazing in a screening room or kid's bedroom.
San Fransokyo Institute of Technology Hoodie
A cute way to lowkey rep the movie. Perfect for the friend who is always cold or thinks a hoodie is acceptable to wear to any function (it's me, I'm that friend).
Baymax and Hiro Enamel Pin
This gorgeous pin is perfect for any Big Hero 6 fan! A stunning addition to any pin board or jean jacket.
Big Hero 6 Icon Button Pack
This set not only has Baymax, but other icons from the movie. The quintessential gift for your favorite healthcare professional.
Tadashi Baseball Cap
An identical copy perfect for cosplaying! Also looks great with any outfit day to day.
Baymax and Mochi Necklace
"Hairyyy babyyy." Baymax hugs and a chonky cat- what more could you want? A beautiful silver cameo necklace that is sure to please.
Baymax Stud Earrings
Add these to any outfit for a little bit of a pick-me-up. Has great reviews, so what are you waiting for?
Crochet Baymax Beanie
This comes in newborn to adult sizes, so make sure to get one for all the little ones. Use this to convince your kids to wear a hat in the winter!
Big Hero 6 3D Printed Ears
Has both versions on Baymax on it which I like to call "you versus the guy she tells you about". Amazing attention to detail and comes with your choice of sequin or metallic bow.
Magnetic Microbots
Mesmerizing magnetic toys! Pair with the movie for a fun afternoon activity. Even works for a cosplay or halloween costume.
Big Hero 6 Armored Baymax Action Figure
Suit up Baymax for some kick butt action! Recommended for ages four to eight, but I think we both know there's no age limit on loving Baymax.
Though the movie is about Hiro's journey, I think we all know who the real star is: Baymax. He's clearly not just my favorite, but many others' favorite from looking at this list. I don't know about you, but I could use a big ole hug from him right about now. And though I can't do that, these gifts hopefully have the same effect. Let us know which is your favorite in the comments below!