Disclosure of Material Connection: Some of the links in this post may be "affiliate links." This means if you click on the link and purchase an item, I will receive an affiliate commission. Disclosure in accordance with the Federal Trade Commission's 16 CFR, Part 255. This site is a participant in the Amazon Services LLC Associates Program, an affiliate advertising program designed to provide a means for sites to earn advertising fees by advertising and linking to Amazon.
"Hello, everyone, and welcome aboard the Jungle Cruise. My name is Ciara, and I'll be your skipper, guide, cruise director, and dance instructor for the next three months." We all know and love the classic Jungle Cruise ride at the Disney parks. It was an opening day attraction in Disneyland in 1955 and has been taking us on adventures ever since! Take a trip with me and scroll through the best Jungle Cruise gift ideas.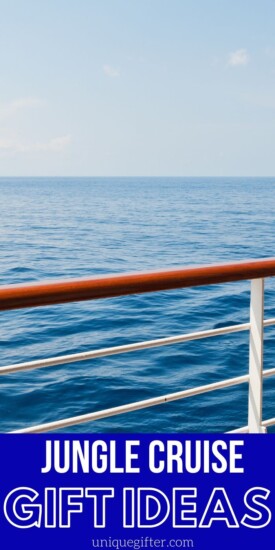 Jungle Cruise Womens Tank
Features a map of the Jungle Cruise in case you get lost! Great for workouts or going to the park.
Keychain/Key Fob
Can't leave the keys to the cruise boat just lying around. Has lots of great reviews and comes in two different design styles.
Jungle Cruise Skipper Mug
A gorgeous handmade mug for your favorite skipper! Perfect for enjoying your coffee or tea in the morning.
Vintage Disney World Poster
"For true life adventure, ride the Jungle Cruise!" Available in seven sizes and ships free to the U.S.
Jungle Cruise Magic Band Buddy
Keep everything you need for your Disney trip handy, but not on your hand. A Jungle Cruise helm to steer you in the right direction (which is buying this for a friend).
"The Backside of the Water" Unisex Shirt
"There it is ladies and gentlemen, the backside of the water." A classic joke for a classic attraction and an even classier t-shirt.
Jungle Cruise Soy Wax Melts
A great gift for someone who can't get to the parks but wants a piece of it at home. Works for college dorm rooms too, as opposed to a candle.
Jungle Cruise Crop Hoodie
Works for a rainy day in the jungle or a hot one! Explorer chic is all the rage nowadays.
Skipper Stories: True Tales From Disneyland's Jungle Cruise
Everyone has that one Disney obsessed friend who always loves an inside scoop. This book is practically made just for them!
Custom Jungle Cruise Wooden Entrance Sign
A stunning addition to any living room or entryway! Put a last name and the last year visited for a one of a kind present.
Jungle Cruise Embroidered Patch
A great way to show some Disney love in a low key way. Works for a jean jacket or a backpack!
Trader Sam Orange Bird Magnet
A mashup of two classic Disney parks icons! Let everyone know you're cooler than the people with the basic annual passholder magnets.
Jungle Cruise Skipper Inspired Dress
Do you have that one friend who is convinced they should be a Jungle Cruise Skipper? Well here's your chance to let them live that fantasy out!
Backside of Water Bottle
The backside of water is a fan-favorite joke every skipper tells their guests as they make their way around the river. This water bottle commemorates the legendary moment.
Jungle Cruise Wall Decor
This iconic throwback piece of Disneyland history is an old United Airlines print ad immortalized on a cool collectible wall décor plaque.
The Jungle Cruise Boardgame

Take your own trip down the majestic jungle river cruise with this immersive and thematic board game by Ravensburger!
Park Map Attraction Pendant Necklace
Upcycled from a park map! A unique piece of jewelry for a loved one. Or an unloved one.
"My Other Ride is A Boat" Car Decal
Just so everyone behind you in line at the Chick Fil A drive-thru knows you're cultured. Comes in dozens of colors!
Backside of the Water Pin
The most classic dad joke of all time. A hilarious gift for a pin collector or anyone with a corkboard!
Trader Slam's Jungle Booze Cruise Pillowcase
A different, yet somehow even more comical, Jungle Cruise voyage. This pillowcase is dying to be placed with your outdoor furniture!
"If you want to take pictures, go ahead, all the elephants have their trunks on!" Hopefully these gifts will bring just as much joy as the Jungle Cruise jokes do. May we all be like the skippers: funny, optimistic, and not afraid to explore new things. That is, if you catch them on a good day. Be sure to let us know your favorite present in the comments below!