Disclosure of Material Connection: Some of the links in this post may be "affiliate links." This means if you click on the link and purchase an item, I will receive an affiliate commission. Disclosure in accordance with the Federal Trade Commission's 16 CFR, Part 255. This site is a participant in the Amazon Services LLC Associates Program, an affiliate advertising program designed to provide a means for sites to earn advertising fees by advertising and linking to Amazon.
Bibbidi-Bobbidi-Boo! Everyone knows the story of this ultimate classic. It's rumored that Cinderella was Walt's favorite princess. And I can see why- she was such a kind and hard worker to boot. Here are some gifts that capture the heart of this film even years and years later. These endearing Cinderella gifts are going to warm the heart some lucky person!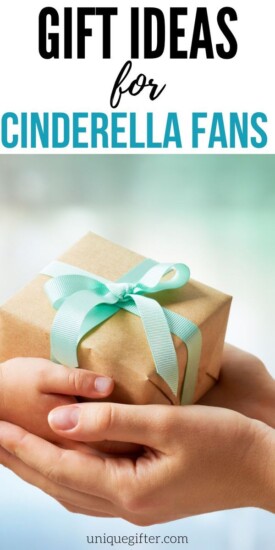 20 Fantastic Cinderella Gift Ideas
There is nothing better than giving a Disney fan a gift that's this charming! These presents are going to be fabulous.
Coach Sweatshirt
No longer a pumpkin, but a beautiful coach! Stay comfy as long as you are back by midnight.
Jaq Jaq and Gus Gus Wall Decal
Liven up your child's room (or any room really) — an adorable little detail.
Cinderella Castle Wallet
This can't magically make money appear, but it sure is cute. And functional- what more could a gal need?
"A Dream is A Wish Your Heart Makes" Glitter Tumbler
This gorgeous tumbler has a silhouette of Prince Charming and Cinderella. Plus, it can be personalized!
Bibbidi-Bobbidi-Boo Spirit Jersey
Spirit jerseys are a new fad, but you can't go wrong with a classic movie. Great for lounging around the castle.
"So This is Love" Musical Ornament
A Hallmark ornament sure to bring joy for years to come. Make sure to put it towards the top of the tree so Lucifer can't get to it.
Cinderella Cookie Cutter Set
Perfect for the princess who loves to bake! 3D printed and made in the USA.
Cinderella's Blue Coach Earrings
Swarovski Crystal earrings that are sure to wow! There's no doubt you're a princess if you wear these.
"A Dream is a Wish Your Heart Makes" Sticker
It can be placed indoors or outdoors, so the possibilities are limitless! Put it on your laptop or personal coach.
Cinderella Mouse Ears
These are made for a trip to Walt Disney World! Pose in front of the castle with these bad boys.
Cinderella Pattern Leggings
A genuinely unique pattern is showcasing the best parts of the movie. Works for yoga or a lazy day at home.
Cinderella Silhouette Hat
Five colors to choose from, but I think the Cinderella blue is the best. Dad hats aren't just for dads, you know.
Bibbidi Bobbidi Booze Wine Tumbler
Turn water into wine! Just kidding, that's a different classic story.
Engraved Charm Bracelet
Get it customized with a name or message on the back. It truly goes with any outfit.
Glass Slipper Necklace
Has a Swarovski Blue crystal heart and a glass slipper that has been hand-painted. Simple yet stunning.
WDW Castle Blueprint Poster
A bestseller for a reason! And a great addition to any home.
"No Sleep Til Midnight" Pillow Cover
Reminds me of Cinderella's PJs in Ralph Breaks the Internet. Don't be caught sleeping on this great gift!
Cinderella Silhouette Shoes
They are made for trekking through the parks! And I do believe the right pair of shoes is important to have, Cinderella would agree.
Cinderella Knotted Headband
Perfect for that, "I woke up like this" look — a classy gift for a classic movie.
"Have Courage and Be Kind" T-Shirt
Just like any other Disney movie, Cinderella teaches us a lesson. Be kind!
Well, it seems as if the clock has struck midnight. I hope you didn't forget anything! You honestly can't go wrong with any of these gifts. But I'm sure your fairy godmother can help you decide. Be sure to check out these gifts and comment on which one you like best.