Disclosure of Material Connection: Some of the links in this post may be "affiliate links." This means if you click on the link and purchase an item, I will receive an affiliate commission. Disclosure in accordance with the Federal Trade Commission's 16 CFR, Part 255. This site is a participant in the Amazon Services LLC Associates Program, an affiliate advertising program designed to provide a means for sites to earn advertising fees by advertising and linking to Amazon.
20 Super Gift Ideas For Princess Peach Fans
The Mario franchise has been around for quite a long time, as has one of its most beloved characters! Princess Peach has been there since the beginning, always getting herself into some kind of trouble and needing to be rescued. If you're anything like this when it comes to shopping for people, let me be your metaphorical Mario today with this Princess Peach gift guide!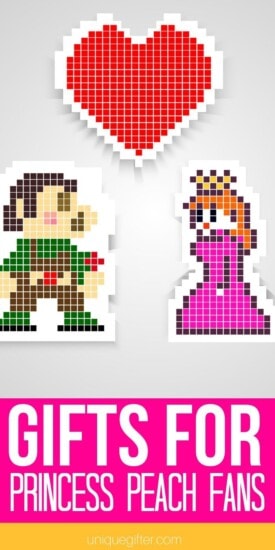 Princess Peach Gifts For Her Biggest Fans
Let's take a look at what I found!
Nintendo Switch Skin
If you're dealing with a fanatic, chances are they have a Nintendo Switch. This skin will add new life to their console!
Action Figure
This six-inch tall action figure is the perfect addition to your Princess Peach fanatic's collection! She's adorable!
Wired Controller
This Nintendo Switch controller is a perfect replica of the GameCube set up. Only this is 100x better because it's Princess Peach themed!
Stainless Steel Water Bottle
If your Princess Peach fan gets thirsty while running from spikey bad guys, this travel bottle is exactly what they need!
Van's
These officially licensed Van's sneakers are amazing! You can't get them on their website anymore, so grab 'em here before they're gone forever!
Plush
Give your fan their very own Princess Peach to rescue with this adorable plush!
Baseball Hat
This baseball cap is great for casual days! Everything about this hat is perfect!
Door Mat
Make your fan feel like the amazing princess. They are with their very own castle doormat! It's made from biodegradable materials and would look great on their porch or deck!
Socks
These socks by Van's are officially licensed! They're super short, so they're invisible when shoes are worn, which is perfect when they wear their new Princess Peach sneakers!
3DS Cover Plates
These awesome cover plates are a Japanese import, so take advantage of the availability of them while you can! They look amazing!
Tank Top
Life will indeed be peachy for your fans when they're wearing their brand new tank top!
Coffee Mug
This cute mug has items revolving around their favorite character!
Soy Candle
This peachy scent is precisely what any obsessed fan is looking for! Handmade gifts (even when bought) always seem so much nicer!
Stained Glass Poster
This poster is absolutely stunning, and any Princess Peach fan needs this in their home! The best part about it is you can change the colors through the seller if you want a different theme!
Chibi Enamel Pin
Some people collect figurines, and some collect enamel pins. This chibi pin is incredibly adorable, and any pin collector will love it!
Sugar Cookies
These awesome cookies are made as soon as your order is placed! The baker has included a ton of options for you, and there's no way your Princess Peach fan won't love these! They're amazing!
iPhone Case
Protect your Princess Peach fan's iPhone 11 in true mustachioed hero fashion with this case featuring their favorite royalty!
Skater Dress
Choose one of many of Princess Peach's outfits from over the years to bring a super special customization to your fan's greatest gift ever!
And you've reached the end of the level! Did you find anything you're definitely getting? I'd love to hear what you loved the most! Give Unique Gifter a shoutout on Twitter (@ugifter) or Instagram (@uniquegifter) and show us what you got off this list!