Disclosure of Material Connection: Some of the links in this post may be "affiliate links." This means if you click on the link and purchase an item, I will receive an affiliate commission. Disclosure in accordance with the Federal Trade Commission's 16 CFR, Part 255. This site is a participant in the Amazon Services LLC Associates Program, an affiliate advertising program designed to provide a means for sites to earn advertising fees by advertising and linking to Amazon.
Disney films are wildly popular and Dumbo is no exception to that rule. Having touched thousands of hearts since its release in 1941, Dumbo doesn't have a shortage of fans and when you've got a film that's been around this long, there are a ton of gifts available for these fans and you know it's going to be tough sorting through all of them.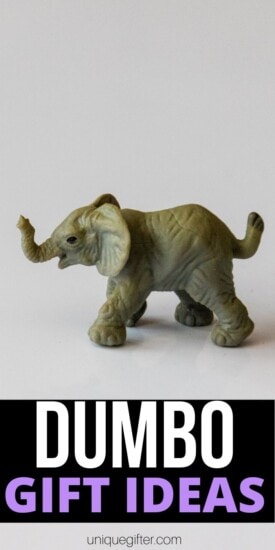 20 Creative Gifts For Dumbo Fans
The odds are pretty good that you've got a fan of this classic film in your life and you're bound to have a hard time nailing down a present for that certain someone. That's where I come in! I've looked far and wide for some of the best gift ideas surrounding this movie, so you can relax and find that perfect gift within these 20 gifts for Dumbo fans!
Dumbo 75th Anniversary Edition (Blu-Ray)
75th anniversary? That's right! This gift is a winner for anyone that absolutely loves the film and doesn't have it on Blu-Ray yet!
Dumbo Floppy Ear Plush
Dumbo is undoubtedly one of the cutest Disney characters and now your loved one can have a floppy-eared plush version sitting around.
Timothy And Dumbo Funko Vynl Figures
Funko doesn't just make pop figures! This set of collectibles features Dumbo himself along with his buddy Timothy.
Mother And Baby Dumbo Ornament
Looking for a lovely mother and son related ornament? Look no further!
Dumbo Crossbody Purse
For that fan that needs to display their love for the film wherever they go. This purse is not only stylish but practical as well!
Decorative Pillow
This lovely pillow is perfect for fans of any age! Colorful yet low-key, it would look at home in a child's bedroom or any collector's living room.
Dumbo Scrunchie
When you've got a fan that wants a subtle way of showing off one of the favorite films, there's this gift. Handmade with love, this scrunchie is sure to catch more than a few appreciative glances.
Dumbo Lamp
A simple yet elegant lamp, you really can't beat this when it comes to a gift for a fan's bedside.
Flying All Over Pencil Case
Sometimes you've gotta have a little flying elephant style even when it comes to art or school supplies, right?
Precious Moments Resin Bank
This bank is definitely going to turn some head and make other fans envious. Fashioned from cold-cast resin and hand-painted, it's sure to be cherished by any gift recipient.
Flying Elephant Starry Night Print
Even Van Gogh's art isn't safe from the flying pachyderm! Dumbo brings his circus-style to one of the most adored works of art in history.
Don't Just Fly Wine Glass
No one is a stranger to wine glasses with inspirational phrases but this one is an absolute winner for Dumbo fans!
Dumbo Funko Pop
I know I said that Funko doesn't make only Pop figures but let's not forget that the Pop figures are some of their most popular. This Dumbo is no exception with its adorable Funko makeover!
Lunch Bag
If you want to ensure that your loved one gets to tote their lunch around in the coolest cartoonish fashion, there's this awesome lunch bag. Just make sure their meal doesn't fly away!
Don't Just Fly Keychain
A cute and simple present, any fan is going to be overjoyed to receive this gift with its inspirational quote: "Don't just fly; Soar!".
Dumbo Oil Burner
Everything Dumbo! Even simple things that keep your house smelling wonderful like oil burners.
Live-Action Dumbo Poster
The live-action Dumbo movie was appreciated by the majority of Dumbo fans and it did have a pretty righteous poster. Get your fan this collectible to put a smile on their face every time they see it hanging on their wall.
Disney Traditions Figurine
The Disney Traditions line of figurines are known for being quality collectibles and this Dumbo statue is no exception. It's well-crafted and beautiful. Sure to be the centerpiece of a collector's stash!
Stemless Wine Glass
This stemless glass is adorable and a great item for collectors.
Dumbo Striped Faux-Leather Wallet
This adorable wallet is great for on the go, plus it's absolutely adorable.
You may have never seen an elephant fly but you have seen the best gifts when it comes to flying elephants! I stand confident that you've managed to pick a gift or two out of these lists with all of the amazing options that I've offered. Did you succeed? Maybe you found something for yourself. Go ahead and let us know on Twitter (@ugifter) or Instagram (@uniquegifter) and thanks for checking out 20 Gifts For Dumbo Fans!