Disclosure of Material Connection: Some of the links in this post may be "affiliate links." This means if you click on the link and purchase an item, I will receive an affiliate commission. Disclosure in accordance with the Federal Trade Commission's 16 CFR, Part 255. This site is a participant in the Amazon Services LLC Associates Program, an affiliate advertising program designed to provide a means for sites to earn advertising fees by advertising and linking to Amazon.
I'm gonna let you in on a little secret really quick: There are people in the world who prefer villains to the good guys in stories. They look cooler, they usually have better super powers (when that applies), and, much like this guide's main star, they have a far superior fashion sense! Cruella de Vil is one of Disney's original villains, but the problem with that is it's kinda hard to find a gift for someone who loves her as much as she loves puppies! But don't worry! That's what I'm here for! These are our best Cruella de Vil gift ideas!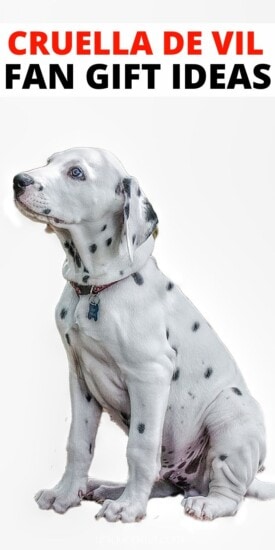 See also: If your favorite Disney fan is more of a Rapunzel type of person, check out our guide to Tangled gift ideas!
20 Cruella de Vil Gifts Where No Dalmations Were Harmed In The Making
Let's get started on these awesome Cruella gifts!
Tsum Tsum Mug
This mug is the embodiment of many caffeine fiends before they've had their first cup of joe for the day. Any Cruella fan is sure to love this!
Cruella De Vil Costume Wig
Channel your inner Cruella de Vil with this iconic wig so you can live it up in style! Any Cruella de Vil fan would be thrilled to be able to play the part with this fabulous gift idea!
Red Satin Cruella De Vil Opera Gloves
These red satin costume gloves are authentically unique, and full of character! Use these as an accessory to really bring your Cruella costume to the max!
Cruella De Vil Faux Fur Coat

This faux fur coat really tops off your Cruella De Vil costume for maximum villainy! Grab one for your favorite 101 Dalmatians fan who loves to dress up.
Cruella De Vil Loungefly Bag
This officially licensed Disney villain loungefly bag is the perfect way to carry your accessories in style! This is a great gift idea for cruella de vil fans if you really want to put an evil grin on their face!
Funko Vinyl Figure
Funko seriously has something for everyone! Even if your puppy kidnapper fan doesn't collect these, they'll love it!
Graphic T-Shirt
Being evil has never looked as good as it does wearing this t-shirt!
Ornament
I personally don't think an ornament necessarily only belongs on a Christmas tree, and maybe your fan feels the same way! Let 'em hang their favorite villain wherever and whenever they want!
Cookie Jar
Everyone loves cookies and you can't go wrong with this gorgeous cookie jar! (We'll blame you later if they end up turning their entire kitchen Cruella de Vil themed.)
Wine Glass
This wine glass is perfect no matter how you look at it! And who doesn't love glitter?!
Skater Dress
This dress is so casual and comfy! Your Cruella fan will want to lay around in it while they watch their favorite movie all the time!
Art Over Music Sheet
If you're looking for a way to get a song stuck in someone's head all the time, this beautiful piece of art is perfect!
Earrings
Holy moly these earrings are super adorable! Buy two pairs so you can keep 'em too!
Vinyl Decal
I'm not gonna lie, this decal is pretty terrifying. But so is Cruella de Vil, so that means it's perfect for your fan!
Lantern
This custom made lantern is a one-of-a-kind addition to your Cruella de Vil fan's home!
Phone Case
Protect your Cruella de Vil fan's expensive electronics with this super awesome phone case!
Hand Bag
This handbag is inspired by your fan's favorite movie and villain! There's no way they won't love this purse!
Soy Candle
If this candle doesn't soothe you, then no burning thing will. (I hope you sang that in your head the way I did. You didn't? Oh…)
And there's the 20 best Cruella de Vil gifts the internet has to offer! Did you find something you just had to grab? Give us a shoutout over on Twitter (@ugifter) or Instagram (@uniquegifter) and tell us what you got!